---
Lifestyle / Gastronomy
Best Yu Sheng in Singapore 2022: Toss To A Prosperous New Year
Toss to a new prosperous year with the best Yu Shengs Singapore has to offer!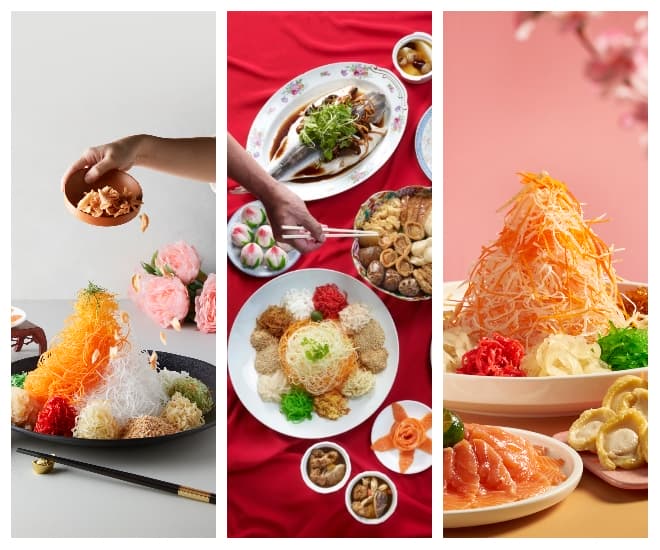 Chinese New Year is less than a month away and some would say it's never too early to start planning for the perfect reunion dinner. And what reunion dinner would be complete without tossing to a prosperous new year with some delicious Yu Sheng?
So why not go all-out and opt for a luxurious take on the much-beloved Yu Sheng with some delectable ingredients, like smoked salmon, or even Maine lobster, and toss to a bountiful new year. We've consolidated a guide with the most delicious and grand Yu Shengs to whet your appetite for the festive season.
JUMBO Seafood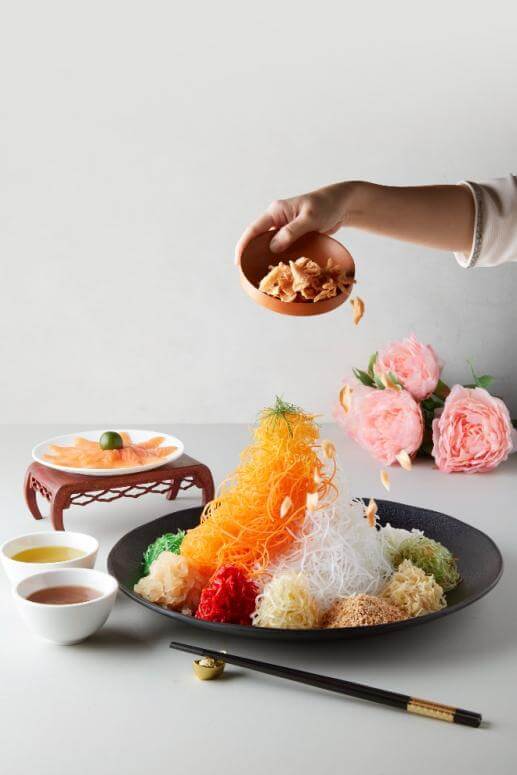 Ever the popular choice, JUMBO Seafood offers "Reunion Sets" available for one day only, on the eve of Chinese New Year (January 31). The set menu offered here provide staples such as "Prosperity Salmon Yu Sheng", "Seafood Soup Braised with Fish Maw and Conpoy" and "5-Head Abalone and Sea Cucumber Braised with Spinach and Fatt Choy".
Prices start at S$328 for four people, with a special promotion that lets you take 15 per cent off your food bill when you dine in on Chinese New Year eve.
Equarius Hotel at Resorts World Sentosa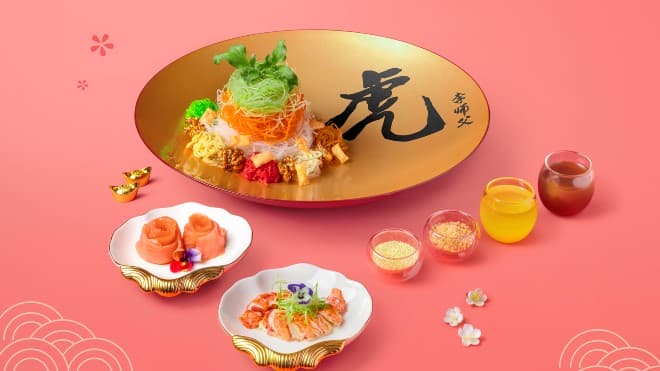 If you'd like some sumptuous value-for-money feast, head on over to Equarius Hotel for its pop-up dinner event called "A Bountiful Reunion by Feng Shui Inn". Its luxurious set menus start from S$88 per person and are hosted by award-winning Feng Shui Inn.
Of course, the selections offer the most lavish flavours, such as the "Smoked Salmon with Amber Walnut and Crystal Iceplant Yu Sheng with Yuzu Dressing" and the mouth-watering "Crispy Suckling Pig".
Reservations are available on its website.
SE7ENTH at Oakwood Premier AMTD Singapore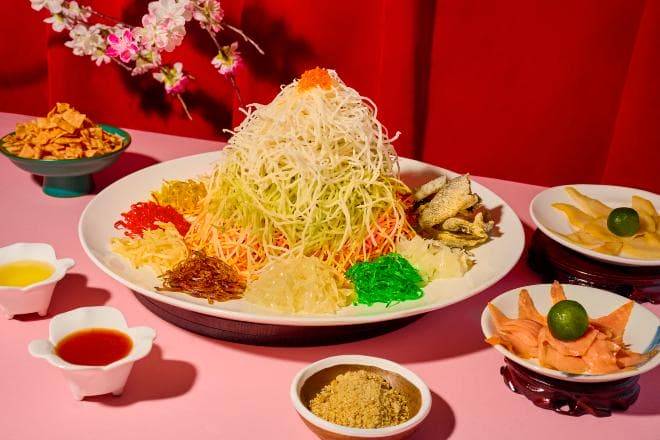 Usher in the year of the tiger with SE7ENTH, with its delectable "Prosperity Yu Sheng" with smoked salmon, smoked snow fish, crispy fish skin topped with strawberry-infused plum sauce. The platter comes in two sizes, small and large, starting from S$48.80 and S$78.80 respectively.
The "Prosperity Yu Sheng" set will be available at SE7ENTH from 24 January to 15 February 2022 for dine-in and takeaways, with pre-orders starting from 17 January. Takeaway orders are available here.
No Signboard Seafood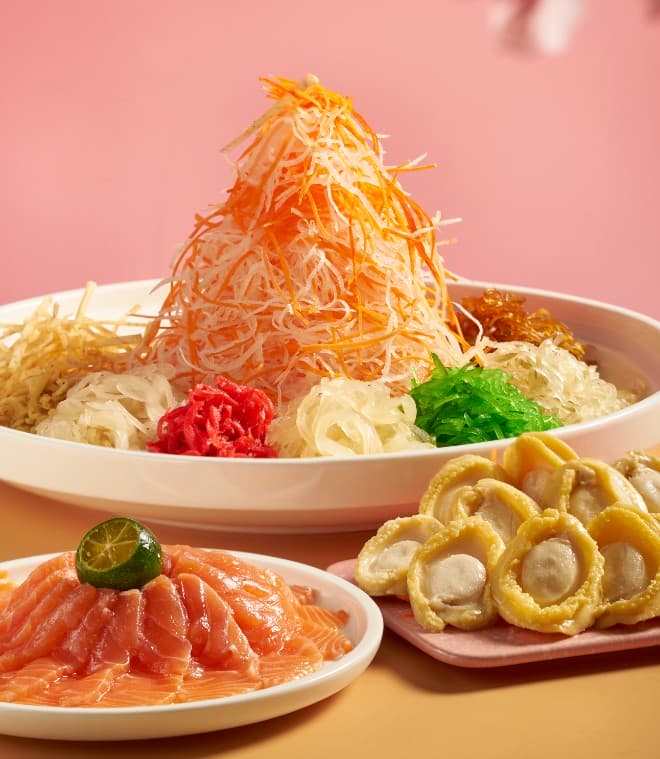 Serving local seafood favourites since the 80s, No Signboard Seafood has curated its own special Chinese New Year set menus catering from two to eight people.
Toss to a new year of prosperity and abundance with its "Prosperity Salmon Yu Sheng", available in three sizes, small medium and large, and prices start upwards from S$39.90, S$49.90, and S$59.90 respectively.
Or if you're feeling a bit indulgent, check out the "Prosperity Abalone Yu Sheng", with an assortment of delicious toppings. Prices start from S$69.90.
The set menus are available exclusively from 14 January to 15 February 2022.
Soup Restaurant
Soup Restaurant has specially designed its Chinese New Year sets to cater to both adults and children, and also feature its signature and new dishes. Each set menu will also come with Coconut Pudding and Longan Red Dates Dessert.
Its two set menus are "Joyous Set Menu" and "Prosperity Set Menu". The "Joyous Set Menu" and can cater up to 10 people. Featuring a delectable Baby Abalone Yu Sheng along with Crab Meat with Kelp and Fish Maw Soup, and Traditional Steam Rice with Chinese Sausage and Mushroom. Prices range from S$118 to S$598
The "Prosperity Set Menu" also caters to 10 pax and features a heartwarming Yu Sheng with Salmon and Baby Abalone with Samsui Ginger Chicken, Asparagus and Mushrooms in White Truffle Oil, and Hong Kong Steamed Uncle Lapan Fish. Prices range from S$168 to S$868.
Dine-in sets are available from 7 January to 15 February, with an early bird promotion of 20 per cent off from 7 to 12 January.
Neo Garden

If you'd prefer to stay in, the popular choice to satisfy hungry stomachs at home is Neo Garden with 11 set menus for up to 15 pax, perfect for the huge reunion dinners at home. The "Majestic Reunion Set" features spinach with 10-head abalone and Chili Crab Sauce Crayfish, along with other delicious ingredients starting from S$598.88.
The "Opulence Menu" offers a lovely Oven Baked Snapper with Mango Salsa and Cantonese-style Har Lok Prawn as stand-out menu items.
The Chinese New Year set menus will be available from 14 January to 20 February 2022, orders are available here.
Esseplore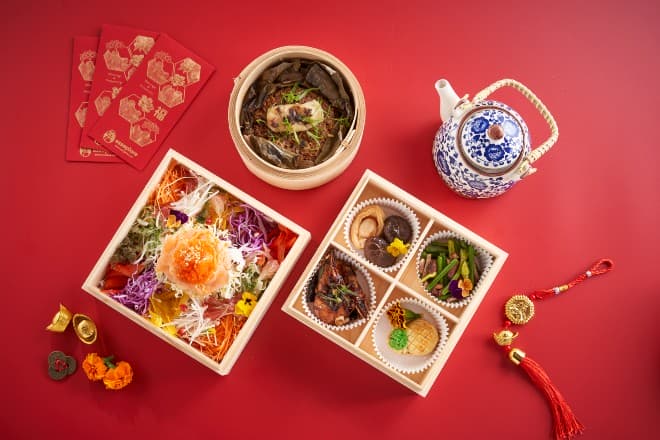 Esseplore's Chinese New Year Gourmand is highlighting the luxury of celebrating the season with your beloved family members, or even colleagues, to come together and soak in the festive spirit. Its offerings are available through sharing boxes or individual portions.
Curated with gourmet food in high-quality pine boxes for an impressive display, the specially created 6-course Chinese New Year Gourmand comes with a 1 pax portion of Yu Sheng and other mouth-watering mains.
Its dishes symbolise blessings, prosperity, happiness, and what better way to kickstart the lunar new year with a lo hei session? Esseplore's Yu Sheng is crafted with 100 per cent natural preservative-free, ideal for six to 10 people, topped with a decadent Otoro Sashimi.
Esseplore's Chinese New Year offerings are available for booking here from 15 January to 15 February 2022.
The Capitol Kempinski Hotel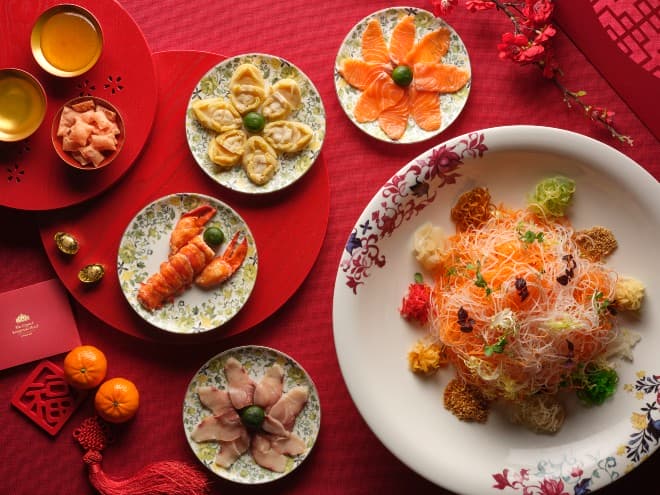 Capitol Kempinski is also giving homebodies a chance to experience an indulgent Chinese New Year treat. Its luxurious melange of handcrafted and limited-edition goodies include the Capitol Kempinski's Signature "Pen Cai", Salmon Yu Sheng Platter, House-made Pineapple Tarts, Mahjong Chocolate Set and more.
The Capitol Kempinski Hotel's Bountiful Takeaways are available for order from 27 December 2021 to 15 February 2022. 15 per cent Early Bird Privilege applies to all advanced online shop purchases until 15 February.
For more gastronomy reads, click here.
---