---
Lifestyle
Conquer The Soviets Overnight With These Unique Chess Sets
If your goal is to be anything at all like Beth Harmon, perhaps acquiring a chess set of any sort would be the best place to start.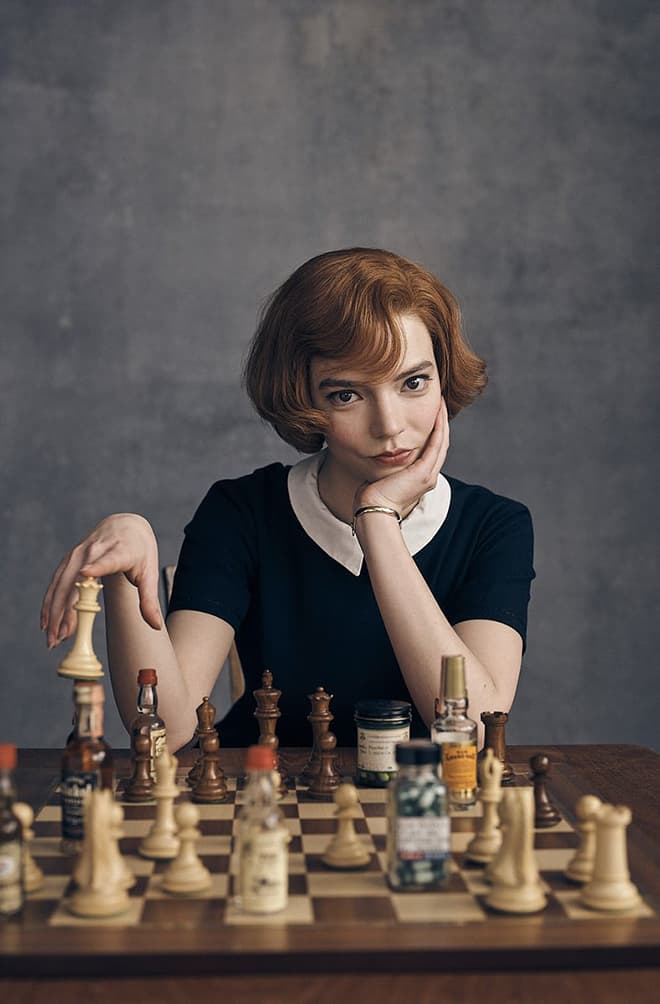 For at least a short yet substantial period of time last year, chess was the hottest game on the block. Giving credit where it is due, Netflix's inclusion of the 2020 American coming-of-age period drama based on Walter Tevis's 1983 novel, had played a significant role in the rise of chess through Twitter's volatile list of trends. Dubbed 'The Queen's Gambit', this seven episode miniseries based on a game most of us have never played, had left innumerable individuals, staring at the ceiling, imagining pieces that aren't there, and pretending to be esoteric pros.
Thankfully despite being a highly niche sport, chess is not at all exclusive, and surprisingly affordable. If your goal is to be anything at all like Beth Harmon, perhaps acquiring a chess set of any sort would be the best place to start.
Ian Flood and Chris Prosser NYC Skyline Chess Set
Founded by two London-based architectural designers, Chris Prosser and Ian Flood, Skyline Chess takes iconic architecture from around the world and pits the greats against each other, bringing impeccable design and gamesmanship into a beautiful set. Celebrating the spiky realness of the Big Apple's unmistakable skyline from the Guggenheim to the Empire State Building, the NYC Skyline Chess Set comes complete with 32 double-weighted acrylic pieces with soft felt bases, and a folding board.
Keith Haring Chess Set
Adapted from some of artist Keith Haring's most beloved works, this cheerful set features pawns made of barking dogs and castles shaped like men with their arms in the air. Crafted from turned and lacquered wood by venerated toy firm Vilac, the Keith Haring Chess Set includes a white fabric bag to hold the pieces when not in use, and the artist's 1989 self-portrait. Measuring 12.6" with pieces ranging from 0.5" (pawn) to 2.5" (king) tall, the Keith Haring Chess Set is worth an estimated $47 and ideal for player above age 6.
William & Son Reversible Leather Backgammon & Chess Board
Handcrafted from British Grampian leather, the William & Son Reversible Backgammon and Chess Board is a stylish update on classic family games. The leather game board features an inlaid chess board with counters on one side and a backgammon board on the reverse. With a matching leather storage box and folding game board design, the William & Son Reversible Backgammon and Chess Board is the perfect luxury game board for playing on the go or on holiday.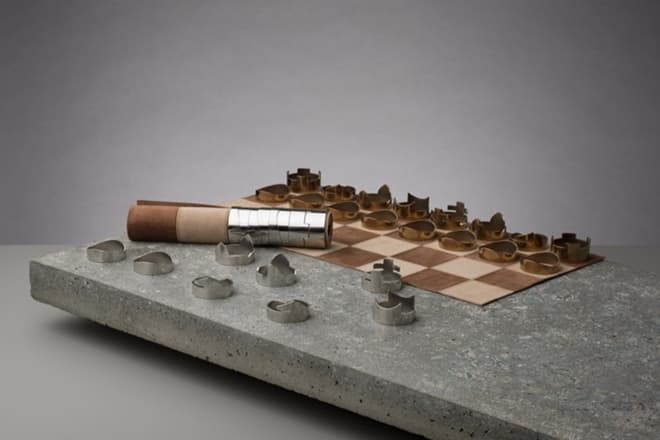 Raw Studio Chess Set
Rawstudio's unique chess set is deceptively simple in its finished beauty. Each set includes a handcrafted stitched leather board and thirty-two precision cut, individually hand polished metal pieces, stowed inside a suede leather pouch and presented in a carbon blue archival box. Characterized by contemporary and minimal design aesthetics, the set's chess pieces and board are simple and elegant. When putting away, the set transforms itself into two batons of interlocking pieces that fit snuggly around the rolled board, presenting an intriguing second puzzle to explore.
Pendleton Roll-Up Chess & Checkers Board
Roll out the fun at home, camp or on the road with this travel-friendly game set. Featuring a canvas playing board in a colourful Pendleton patterns, this set rolls up for easy toting, and includes 32 silkscreened wooden games pieces that reverse for play as chess or checkers. Complete with a vegan leather storage bag, and beginner-friendly instructions, this set measures an estimated 10″ x 14″ when unrolled, and is worth USD $35.
Polo Ralph Lauren Sutton 5-in-1 Game
Nothing screams 'established player' more than a fancy set of Ralph Lauren chess pieces. Encompassing a total of 5 games in 1 box, including, chess, checkers, tic tac toe, backgammon, and poker, this set comes complete with a variety of removable, reversable, magnetized, and sliding lids to accommodate each feature. Finished in black leather, walnut, and carbon fiber leather, with nickel-plated slotted flat screws, and nickel-plated chess pieces, alongside stainless steel checkers and backgammon pieces, the Polo Ralph Lauren Sutton 5-in-1 Game is available for enquiry online.
---