---
Leaders / Yachting
Brand Director Erwin Bamps: Prestige's Move Into Multihull Market
Bamps, as Brand Director of Prestige, has pioneered innovative designs like the X-Line and now the M-Line of multihull motor yachts.
Prestige has arguably changed as much in the last four years as it had in the previous 30 in terms of yachts you're offering. So, when you were appointed Brand Director in November 2018, what was your brief?
When they hired me, they said Prestige is already a brand, but it isn't that well recognised as such and there's still potential to develop. They wanted to really start showing it as an individual brand with its own vision and strategy, not so linked to where it came from, Jeanneau, and to find its own footing.
To take it to the next level, to be face to face with the world's other established motor yacht brands, we needed to give it its own management and vision that's not an extension of another Groupe Beneteau brand, so to find its own way forward.
First, we had to find its soul, what the brand is about. Prestige's soul is about creating and adding quality of life. We believe a lot of that is on the water, so we want to give people the opportunity to enjoy that in comfort, while looking at a wide horizon and spending time with loved ones. We then looked at building opportunities to enhance that.
When we launched the X-Line with the X70 in 2020, that was a first step towards greater spaces than before, and less about speed, which almost naturally led to the multihull concept for even more space without compromising stability. The vision was not only to develop the brand in terms of how people perceive it in the market as a strong competitor but give it an opportunity to set itself apart.
Today, we're not in competition with anybody. As an example, we were the only motor yacht builder in Hall 6 at Boot Dusseldorf with a multihull. Visitors came to the Prestige stand and saw the 520S, which is in competition with Sunseeker, Princess, Azimut, Ferretti Yachts and so on. And then they walk over to the M48 and there's nobody to compete with. We took the struggle and fight to a battlefield where we're almost alone.
What's an example of this?
We're offering something out of the box for a motor yacht manufacturer. We're showing that we're willing to be daring and lead the market somewhere, rather than what we've been known for, which was to consolidate existing trends very well.
The brand has always distilled different market needs and successfully combined them in an original way. For instance, when the Prestige 500 was launched and offered a private staircase to the owner's suite, it was novel at that time. Nobody else was including private access to the owner's cabin at that size range. Today, we maintain that as it's still an elementary need of our owners.
But now it's no longer about detecting some specific trends. Now, we're creating something that's not a response to an existing market demand but instead anticipating what people want, but haven't yet expressed to us.
Nobody came up to us with an explicit request for a multihull with a full-beam master cabin, so we've taken a gamble and gone beyond any changes people expressed. That's where we're taking Prestige right now, to be able to anticipate market trends, with the visibility and the presence we have globally. This is something we didn't do as much as we're doing today.
After choosing to move into multihull motor yachts, how has Prestige tried to distinguish its design and appeal to existing clients?
The idea was based on being a motor yacht owner and if you were given a wider platform, independent of the ship, what you would dream of doing with that. However, we get the volume and increased area from height.
You can see our M48 compared to sailing cats and the height above the water. Sailing cats must keep a low centre of gravity and be wider to counterweight the mast, but this limits your indoor space on the lower deck, in the hulls. So, that's why our M48 is taller and thinner.
Nobody's doing this today, so we're the leader in bringing this to the market from scratch, from a white paper concept. We've tried to integrate all the things that motor yacht owners have been looking for, even the ones that went to sailing cat builders but couldn't find the full-beam cabin. We don't have to compromise because we're not working off an existing concept or GAs.
Where else are multihull motor yacht clients coming from?
I had a background in larger yachts and before I joined Prestige, one of the trends I saw were people upgrading to a 120-footer and then realising they lost their privacy on board, because you need crew to maintain and run a yacht that size.
It's costly, but more than the price, there's no privacy, even if you try to create separate spaces, so we've seen people going back down in size to regain privacy onboard. It's about being comfortable, about being able to throw your shoes in the corner and be on your own or with friends or family, and just be normal.
The second problem was that they couldn't access the same marinas they used to when they had a 60-footer because it's just so much harder to find a berth space. We talk about this issue for multihulls, but you try getting a 120-footer into any small marina during the high season in the Med.
So, we find people going to smaller yachts. I saw people go down in size very, very often in the years before I joined Prestige and I see those people come to us. We realised that by offering a multihull concept, you're not only feeding into the trend of more space but we also see clients who were in or looking at entry-level superyachts coming to us and saying this makes a lot more sense.
The M48 is very manoeuvrable and easy to handle. People who were on our 520 find the M48 is technically less complex. The M48 is easier to run, easier to manoeuvre, easier to maintain. It has smaller engines, V drive, no stabiliser and a simpler equipment list. This all simplifies your maintenance and reduces your operational cost.
A lot of people have done rational analysis and come to the conclusion that the M48 and the multihull concept make a lot of sense, also in terms of how you want to live on board. There are many more reasons than these that are leading people to consider this truly as the way to go.
We've had the question the other way around, where people say, 'Where have you been? Why wasn't this introduced five years ago, 10 years ago?' Honestly, the market wasn't ready for it. I'm not talking about marinas, but a decade ago, people would be more worried about the fact a yacht doesn't do 30 knots.
Even today, I have dealers telling me speed is a key issue because people want to show off, but how long does that really last.
The X-Line was certainly innovative, starting with the extralong aft cockpit and no side decks on the X70. How does that series fit today with your new-look portfolio, which includes the long-established F-Line flybridge models and S-Line sport yachts?
For us, the X-Line is not a transient product. You could imagine it was something we tried as a response to a market request for more space, more elbow space, easier circulation. For us, it's not a transient or temporary step towards multihulls. We believe that there's an existing clientele for all the four universes we have today.
In fact, when a client, a couple or family come to the stand at a boat show, I try to imagine what they might like before I find out. Often, when the husband is looking first at the boat, he will go for something that has a bit of character to the profile and he'll be the first one to say, 'Let's look at the X-Line', because he likes the slanted window and profile, which is a bit more masculine, more daring.
Then very often we find that the wife starts looking at the traditional, sensual lines of the F-Line or S Line, because those models have elegant lines. Then you end up going from the X70 to the 690 and I've seen strong discussions on the stand between husband and wife. He says, 'Look at the X70, my friends are going to love this.'
And the wife says, 'Yeah, but this one is much nicer', even if she loves the space onboard the X70. Then we've seen them going to the M48 and realising that it really feels like home.
That's because when you sit at home watching TV, you prefer not to sit in a narrow, rectangular shape, because if you want to say something to the person on the other side of the sofa, you have to shout and there are only a few people well positioned in front of the TV.
We're not used to enjoying ourselves in a narrow, hallway-style living room. And when you come on traditional motor yachts boats, builders try to make this living room in a narrow, rectangular shape as cosy as possible.
When you come into a multihull, it feels far more natural, like at home, because you're in a squarish shape rather than rectangular and you can talk to the person on the other side of the room much more easily. It feels how we want to live at home.
At the shows, I noticed people were coming on the M48 and saying, 'It's like an apartment'. When they start explaining why, they say it feels lighter as there's a lot more than luminosity and a squarish shape, which gives it a far more homely feeling.
However, we don't think everybody is going to convert to a multihull. Not at all. We don't have this ambition and we're not arrogant enough to think that this is the way to go. We believe the multihull market will grow because it's underrepresented today. We believe there are a lot of clients that have been buying monohulls because they didn't find anything else.
It's for the kind of client who wants to go and cruise around Croatia or other archipelagos, go island hopping and stay overnight on the water, not in a hotel. For a long time, they've been buying monohulls, which are great at planing, but when you do eight knots or are at anchor, they will prefer an M48.
There are always going to be people who prefer a higher speed and nice lines and profile over comfort and space, but we see a faster-growing trend towards bigger space and multihulls than we see towards sport yachts, like the S-Line.
If I'm honest, I see that the F-Line will remain dominant for a while, multihulls will come up and the X-Line will find its own clientele in-between, but will not be the big seller among the ranges.
Where do you imagine the four ranges will be positioned in the next few years?
I've written a plan for the next five years, which is based on what we feel, what we know, what we've analysed from markets, and from research analysing the market and predicting trends in Asia, the Americas and Europe. We believe the traditional flybridge will remain dominant and that the multihull, as a growing industry, will be a close second in about five years from now.
The navetta style will be floating in-between. However, the navetta is expensive because you have a complex technical solution to give people the maximum amount of space, but you must be very crafty at finding ways on a monohull to guarantee stability, even with a stabiliser and this and that.
There's so much built-up area, so when I look at what others are doing with this kind of navetta-style, X-Line type of crossover-style yacht, they're building a cruise ship. It takes a lot of engineering to make this happen because it's basically an inverted pyramid! Naturally, even if you're not a naval architect, you look at the multihull and you understand why it works.
Having seen sail and power catamarans growing for the past few years, do you think your traditional flybridge competitors or others will follow Prestige into the market?
At the boat shows in Cannes, Dusseldorf and so on, the 'who's who' of the yachting industry have come to see the M48. Everybody's thinking about it.
Groupe Beneteau has had Lagoon for a long time and now we have Excess, Prestige and Four Winns building multihulls. So, if the world's biggest production boat builder is betting so heavily on the multihull segment to grow in the future, everybody else will be thinking about it – even if they didn't think about it before.
But even if everybody is thinking about it, are they going to take the step? That's another thing. Through Lagoon, Groupe Beneteau has been the market leader in sailing cats for a long, long time and not every other brand is able to benefit from the likes of Lagoon, Excess and Four Winns, their knowledge, experience, dealer networks, aftersales teams and so on.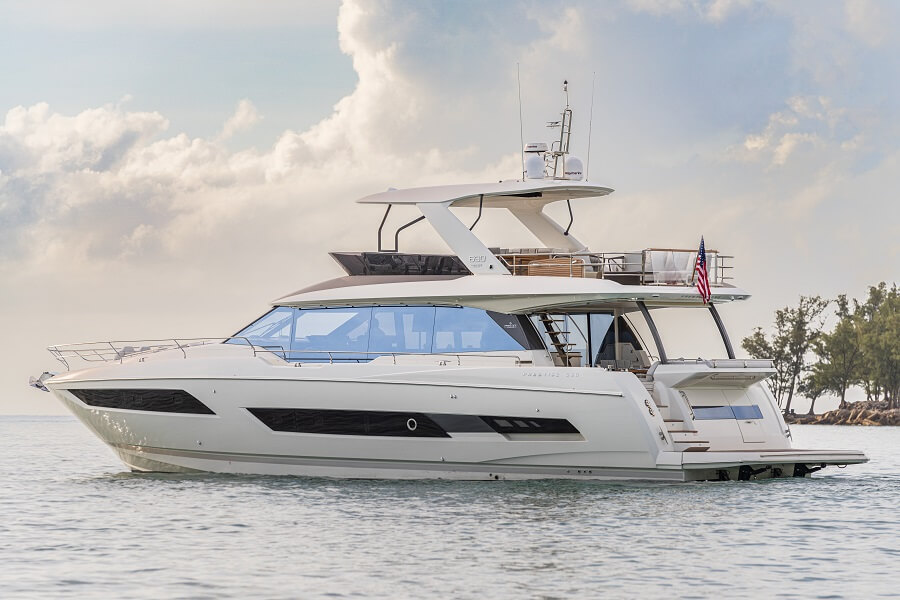 We're benefiting from a lot of the experience of Lagoon. I have a meeting with the Lagoon Brand Director every Monday. A lot of our competitors don't have these resources.
Yet even if everyone is looking at it, it's one thing to say there's a trend and another to respond to it. Look what happened to SUVs in the automobile market. BMW jumped on it quickly, even though they had no heritage in four-wheel drives. The likes of Jeep and Land Rover built four-wheel drives.
But BMW recognised a trend, something they should invest in, and other brands jumped onto the bandwagon, even Lamborghini two decades later, so there are now even four-wheel drives for sports car brands.
So, I believe eventually that our competitors will venture into multihulls. Some will look for niche markets within it, some will look for the middle market, some for specific markets like commuter or for island-hopping markets.
We identified that the market where we are, the mid-size yacht market, is going to be the first to look at it in a big way. We're betting heavily on it because we believe this is what our clients are looking for.
Every Prestige client I meet at shows is asking for enhanced comfort, fit, finish and refinement. Everything is about, 'I want to have a second home'. That's what it is. It's really the 'real estate on water' idea. And there's no better way to give them a floating, loft-style apartment.
This article first appeared on Yacht Style.
For more reads on Leaders, click here.
---