---
Lifestyle / Gadgets
The RÄVIK Awakens
No waves? No problem. Awake's range of electric surfboards were designed to allow people to experience the exhilaration of this technical sport regardless of sea state or proficiency level.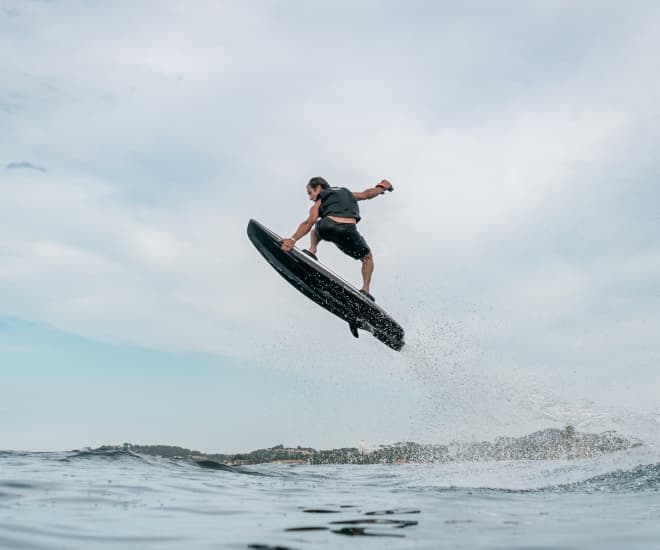 The art of surfing is often dependent on the elements. Those who wish to take up the sport are subject to the whims of Njǫrd. If the old god's mood is anything but ideal, there's rarely a need to even enter the water as surfing requires just the right sea conditions. It was only a matter of time before someone married innovative technology with the humble surfboard, allowing both beginners and professionals to easily pursue the sport. Of course, someone did. Enter the RÄVIK-line, designed by Awake.
As enthusiasts in any field would attest, the acquisition of new gear is part of any hobby but post-acquisition, buyer's regret sets in and they are often left wondering, "why do I need all this gear?"
This question drove Awake's President and Chief Innovator, Philip Werner, then a young Swedish wakeboarder, to design a new, high-performance product that would never go out of style, ultimately revolutionising the industry. In 2012, Werner acted on this passion and built his first electric surboard; a jerry rigged craft consisting of a windsurf board affixed with a small turbine and lithium batteries. While primitive, this humble creation probably made him the original inventor of the electric surfboard. Learning from this humble beginning, Werner's journey would begin a year later.
In 2017, Werner co-founded Awake with two other industry professionals, Mikael Kajbring (CPO) and Daniel Aronsson (CEO). Werner explained how they noticed a lack of innovation in the industry and decided to revitalise it with their own brand of ingenuity.
As Philip explains, "We wanted to show what this cutting-edge industry is really about, and the best way to do that is to push the boundaries. That is how Awake was born."
With refinements and improvements made to Werner's initial, basic, design, they created their flagship range of electric surfboards: the RÄVIK-line.
Awake's RÄVIK-line was designed for ease of use, allowing anybody to enjoy the exhilaration and joy of surfing regardless of their previous experience riding waves. In creating their electric surfboard, Awake's develop team was bent on enhancing its performance and usability.
It is available in three different models, the RÄVIK S, 3, and ONE. All feature sleek, quintessentially Scandinavian designs that increases the hull's hydrodynamics for superior handling when ridden in a variety of positions but with slight variations to better appeal to surfers of different proficiency levels.
Their premier model, the RÄVIK ONE was designed for leisure. With a wide tail and M-shaped hull, it provides the greatest stability and ease of use. Combined with high buoyancy and rearward centre of gravity, the RÄVIK ONE is built for individuals looking for extended and effortless rides.
The RÄVIK S is their race model, engineered with a W-shaped hull, slim tails and aggressive rocker for superior agility, allowing for sharp turns and high jumps. It is catered for the true adrenaline junky with an aquatic need for speed.
Rounding out the trio is the RÄVIK 3 which bridges the gap between the previous two models. It features an improved driveline and motor for better acceleration and an even quieter ride. Its new V-shaped hull means that it switches easily between speed monster and steady cruiser, giving you the best of both worlds.
Awake even has a proprietary app which allows for a greater degree of control through the selection of different riding modes, namely, ECO, SPORT, and EXTREME.
All models are designed with durability and safety in mind. The RÄVIK was designed and constructed using materials that are lightweight, yet robust enough to handle the harsh conditions of Scandinavian waters or the rough handling of over-enthusiastic riders. The RÄVIK's numerous layers of hardware and software work together seamlessly to create a state-of-the-art safety system which includes sensors which monitor temperature, system abnormalities and the surfboard's orientation. Should any abnormalities be detected, Awake's engineers would be able to remotely run diagnostics and guide users through the process via the app.
Every module on the RÄVIK is sensibly water-sealed individually to ensure that in the whole system doesn't malfunction in the event that water get into the internal components. Finally cloud-connectivity technology logs data and allows the system to be updated periodically, ensuring that the software remains relevant no matter when the surfboard was bought.
On top of everything, Awake's RÄVIK-line combination of advanced technology and sustainable development to make it an environmentally friendly product best summed up by a phrase on their website, "zero emission performance". With forward-thinking designs, a wide range of complementary accessories, and a distinct vision which drives the brand forward, it is little surprise that the team at Awake were awarded design awards in 2019, 2020, and 2021. A stylishly sleek PWC built for user enjoyment, the RÄVIK-line is a must-have for water-sport enthusiasts everywhere.
For more information on Awake and the RÄVIK, head over to their website.
---