---
Business / Business of Luxury
Louis Vuitton is the first luxury brand to close a store after prolonged Hong Kong protests deepen economic fallout
Prada is letting its flagship lease lapse in June 2020 but Louis Vuitton is taking immediate steps to mitigate the worsening Hong Kong crisis by closing its Times Square Mall in Causeway Bay
Widespread protests and general civil unrest in Hong Kong have lasted for more than six months and even with Carrie Lam's reversal on her proposed extradition bill, it appears no end is sight; but for LVMH group, the luxury conglomerate which recently made global headlines for its acquisition of Tiffany & Co., have decided to end operations for a Louis Vuitton store in Hong Kong's prime Time Square mall.
With tourists staying away and people staying out of troubled zones, retailers and general commercial operations have been hit. Hong Kong's third quarter 2019 GDP shrank 3.2% from the previous quarter, which had already seen a drop of 0.4%, entering a a technical recession.
Louis Vuitton is the first luxury brand to close a store after prolonged Hong Kong protests deepen economic fallout
Louis Vuitton is the first luxury brand to respond to the growing economic fallout of the anti-government protests that have gripped Hong Kong, amidst a brutal tit-for-tat US-China trade war, and a weaker yuan that has hit spending from mainland visitors and bruised consumer sentiment.
Insiders to South China Morning Post that Louis Vuitton made the decision to shut its Times Square mall boutique in the heart of shopping district Causeway Bay, after the mall's owner, Wharf Real Estate Investment Corporation (Wharf Reic), refused a request to lower the rent on its prime second-floor space.
Wharf Reic first unveiled draft plans to redevelop the site into 1,600,000-square-foot mixed-use office and retail space in 1987 and at the time, this part of Wanchai/Causeway Bay was deemed "not a very attractive part of town". Today, Times Square, the first "vertical mall" in Hong Kong, is considered prime property, commanding some of the highest rents in the world – Louis Vuitton pays an estimated HK$5 million monthly for its boutique in Times Square.
"I believe the retail sector will continue to face a difficult time in the first half of the year, as I still can't envisage that the social unrest will be resolved any time soon," – Annie Tse Yau On-yee, chair of the Hong Kong Retail Management Association.

Hong Kong retail rents are some of the highest in the world
Oddly, Wharf Reic's refusal to cut rates for Louis Vuitton runs counter-intuitively to what other Hong Kong property owners and developers have done to alleviate commercial pressures on their occupants. In August last year, Prada announced that it would cease operations of its HK$9 million per month store at Plaza 2000 after its lease ended in June 2020. According to Cushman & Wakefield, Russell Street where Plaza 2000 is situated commands rents higher than New York's fabled 5th Avenue.  Francis Choi Chee Ming, owner of Plaza 2000 offered a 44% discount for its next tenant as well as opportunities for sub-dividing the sprawling 15,000-square foot into smaller spaces for smaller tenants. Meanwhile Swire Properties, owner of the Pacific Place luxury mall in Admiralty, and Hongkong Land, owner of the Landmark luxury mall in Central have offered concessions to help tenants.
Plaza 2000 falls within the Causeway Bay shopping district which has been hardest hit, with over 100 shops out of a reported 1,087 in the district closed by August 2019. Meanwhile, Retailers can't absorb these losses for long. So far, real estate agency Midland IC&I reports nearly 500 of the 7,400 shops in Hong Kong's four prime shopping districts have closed and it expects another 600 to be shuttered in 2020.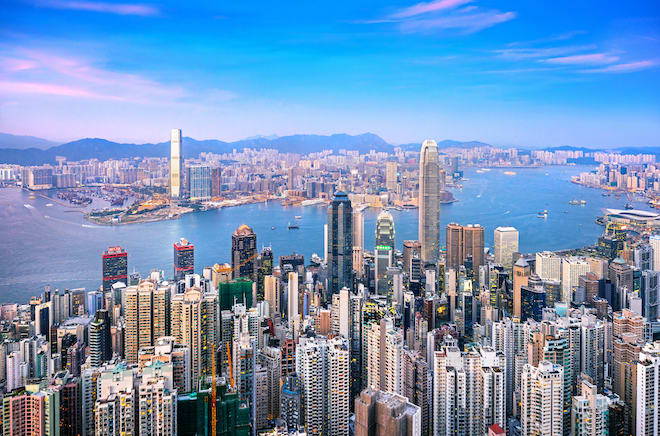 This is Hong Kong's first recession in a decade and analysts like Iris Pang, greater China economist at Dutch bank ING, believe it could get worse for Hong Kong with Pang projecting the city's annual gross domestic product to fall another 5.8% in 2020.
"The outlook for retail sales very much depends on the repercussions of the social turmoil, which has severely dampened consumer sentiment," – Annie Tse Yau On-yee, chair of the Hong Kong Retail Management Association.
A deepening economic crisis in Hong Kong
Historically, luxury brands have had significant presence in Hong Kong, mainly to serve the daigou market of shoppers when tariffs and taxes made shopping in the mainland more expensive. The larger retail presence also catered to travellers taking advantage of lower prices for luxury goods since Hong Kong is a free port and does not impose duties on imported goods. So important is the retail sector that private consumption accounts for approximately 65% of Hong Kong's GDP.
According to Hong Kong's census and statistics department, the city's retail sector has slumped from its peak in Jan 2019 of HK$56 billion to a new low of approximately HK$9 billion in October 2019. Declining tourist arrivals have also impacted the city, falling from 7 million international arrivals in January to a new low of 3 million in September that same year. With growing anti-Chinese sentiment, Mandarin Chinese speakers and China-linked businesses have been repeatedly attacked physically causing many mainland Chinese visitors to stay away, leading to a decline of 56% from the same period last year. Travellers from China account for up to 70% in the luxury sector, given these conditions, it's unsurprising that brands such as Hugo Boss, Ralph Lauren, Gucci and Moncler have reported drops in sales of up to 45% during the end of the 3rd quarter 2019.
Hong Kong has injected more than HK$20bn into transport, tourism and retail sectors to alleviate the slowdown so far with more relief measures expected but even analysts say such injections are one-offs and in a protracted decline, ineffective.
LVMH has seven other Louis Vuitton stores in Hong Kong, one of them is just a four-minute walk from Times Square in the Lee Gardens mall. The brand did not get back to LUXUO on whether it intends to follow through with previously announced plans for an additional boutique at Hong Kong International Airport in 2021, but given the city's status as a regional hub, transit arrivals and departures should not be unduly affected with the civil unrest in the metropolis.
---