---
Culture
Lexus Teams Up With Salehe Bembury to Spark Creative Conversations
In addition to revealing an innovative electric concept car, Lexus is working with respected creatives to produce some refreshing virtual interiors.
Lexus unveiled its latest concept electric car, the LF-Z Electrified, at the end of March and took the automotive industry by storm. With a plethora of technological innovations such as Direct4 and steer-by-wire, Lexus left consumers clamouring for more. The automotive maker then took advantage of the generated buzz to spark further dialogue by working with a number of esteemed creatives to design virtual interiors for the new car. The first on this list of creatives is Salehe Bembury.
Salehe Bembury is an acclaimed footwear designer known for creations such as the New Balance 2002R and Anta SB-02 sneakers. His designs reflect what he perceives the future of footwear to be, while remaining rife with features and colours.
In coming up with the design for the LF-Z Electrified's interior, Salehe Bembury drew from his love of the outdoors, and aimed to convey the joy and peace he derived from being in nature through a mix of natural and manmade materials.
"The goal was to bring the same benefits that nature has for the mind, body and soul into the car," Bembury said.
The car's default open and minimalist interior acted as the canvas onto which Bembury applied his own distinctively dynamic touch. With his mix of manmade and natural textures Bembury turned the LF-Z Electrified into a "seamless juxtaposition of machine and nature". The conceptual design mixes the mechanical functionality of the vehicle with the calming effects of nature ensure passenger comfort as they move on to their destination.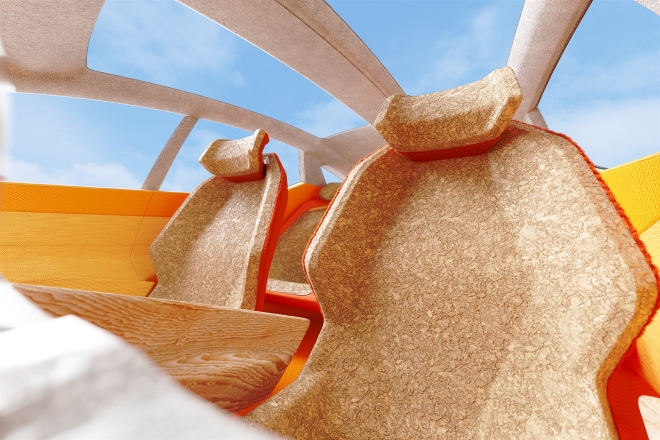 Ordinarily, the contrast between the synthetic and organic materials used might be too stark, but Bembury's artful use of colours helped to smoothen the transition between the two. Furthermore, it showcased the potential of natural materials in elevating sustainability and innovation when used in place of traditional materials when designing automobiles. According to Bembury, cork, which he uses in the seats, has a cushioning function similar to that of synthetic memory foam, as well as a "consistent meditative pattern". The steering wheel, hewn from stone, provides and elevated feel, courtesy of a high-shine polish.
Bembury's though-provoking virtual concept goes hand-in-hand with Lexus' forward-thinking plans for the LF-Z Electrified, shining a light on the marque's next generation of electric vehicles.
All images courtesy of Salehe Bembury.
---