---
Leaders / Style
In conversation with Datin Sri Zarida Noordin of Habib Jewels Group
LUXUO recently caught up with Datin Sri Zarida to discover just what makes this woman of achievement tick in the highly competitive world of jewellery while juggling the roles of wife, mother and business partner.
Bringing over 60 years of experience and craftsmanship, Habib Jewels is a brand synonymous with homegrown jewellery-making and heritage luxury. Datin Sri Zarida Noordin is the Executive Director of Habib Group, one half of a husband (Dato' Sri Meer Sadik Habib) and wife team that recently included their daughter Marissa who had come of age and was starting to learn the ropes of the family business.
The youngest of eight siblings, LUXUO recently caught up with the enterprising Datin Sri Zarida to discover just what makes this woman of achievement tick in the highly competitive world of jewellery and the demands of juggling the roles of wife, mother and business partner.
You're high accomplished today, what was young Zarida Noordin like?
I wanted my studies at Stanford to be quick and fast because I had a taste of work and dreams of freedom. My first job while waiting for my results was at the old Hilton which was then the hottest hotel in KL; because it was a business hotel, I had a lot of fun meeting business people, and other captains of industry including high ranking politicians. I was inspired to study secretarial science and marketing where I eventually joined Barclays Bank as a marketing officer in their representative office in KL.
Given that you came from an influential family, was it smooth sailing?
I got to meet all the branch managers at Barclays and I have to say some were very hard to deal with but it was a good challenge for me because, you know, it really encouraged me to grow up. There were days I came back crying because it was not easy convincing the bankers and I think they were also trying to be difficult with a 20 year old girl.
I was with Barclays for almost seven years and the only reason I left was because I got married and that was the agreement that I had with my future hubby was that I had to leave my job and join him in the business after we got married.
What was it like going into the family jewellery business (Habib) with no prior experience?
When I first joined Habib Jewels, my husband had just moved from Penang to open the first retail shop in KL. Back in Penang, my late father-in-law was focusing more on the wholesale business where there were a lot of traders from the east coast of Malaysia who would purchase from him and sell in states as far as Kelantan. The jewellery business was conducted very differently in those days. After many years, my father-in-law suggested to my husband, "why don't you start your own jewellery business?".
When my hubby started the retail expansion of the family business, he revolutionised the jewellery store. It used to be like a pawn shop, all bars and thick, secure, anti-theft display cases, it was very unwelcoming. So you know that you can't really take the trays out of the counter, unless they are very comfortable with the customer: you just put your hand in, take it out. He developed a new open concept which you see now in all modern jewellery shops.
I've been in the business for over 30 years now. I learned everything you know from scratch. I believe this is the only way to learn something, starting from the beginning. I learned how to be a cashier, how to do stocks, and helped my husband develop business systems and processes with my background with Barclays.
Tell us more about being the first jewellery business on the Malaysian Stock Exchange…
Dato' Sri Meer Sadik was very ambitious, he wanted to list the business on the Malaysian Stock Exchange. Because of this, it forced us to come up with a lot of systems in the business to get the necessary approvals. We created new standards for jewellery and worked with the government to come up with defined gold standards like 916 where in the past it was an informal system of ratings of gold purity because Malaysian consumers didn't know better at the time.
When we finally got the approval to list, the 1997 Asian Financial Crisis happened. We had many issues with the banks because they all wanted to pull out as they were not sure that this was going to be a success but we were determined to see it through, so my husband met with the banks, made a personal guarantee and took personal responsibility. We eventually managed to get the company listed, at first on the second board but getting on the main board was a real feather in the cap. Then we wondered: Now what? Because other jewellers were paying attention and were evolving from being just goldsmiths and paying more attention to design.
Ah, the next evolution of Habib Jewels?
In America, it's all about marketing and my husband implemented a lot of marketing strategies which was quite unheard of at that time. That a local jewellery company would invest money in marketing, and at a new TV station no less (TV3), it was very innovative. TV3 was very willing to go along with us and we came up with a lot of fun stuff. We also went on radio and to expose the company through talk shows puts one in a position of vulnerability because people can call in and complain about your products on the air. But that's also the best way to do it because if you're not confident of your products you will not expose yourself to such publicity and scrutiny and that garnered a lot of respect for the brand.
Having been in three industries: hospitality, banking and now jewellery, which would you say is the most challenging for you, and which felt like a more natural fit for you?
If you think about it, it's all customer service; whether it is the hotel, bank or jeweller, everything we do is about customer service, only the products are different. The real challenge is in the difference of responsibility: being employed is very different from being self-employed and running your own jewellery business, alongside with your husband.
Is it difficult running a jewellery company with your own in house design?
It's actually fun. We have a team of about 10 designers, and we can create beautiful things,  we can be the trendsetters and shape what customers will desire just like the fashion industry. We set the stage for what is going to be the design for next year, the colour and all that on the basis of understanding what your customers want because in our part of the world, Singapore, Malaysia, we are not just one homogenous ethnic race. So the real difficulty is understanding how to put these three together and come up with a design that would please either one or all of these ethnic groups.
Would you say that the taste was always very international since you started or only became more international because of social media?
We bring an international aesthetic to the table because we travel and participate in international exhibitions, we've become very exposed to what's happening around the world. Our designers travel with us to these trade shows and so they are also exposed to all the international brands as well. But the best part, is that we get to design something with a distinct Malaysian flavour yet with cross-cultural appeal. What is very important to us is that one of our core values is to offer world class products.
Our customers get tremendous value for what they pay because we make everything ourselves, we purchase everything so we can control our costs. We will go for the best diamonds, the best gemstones and at the cost that we are able to negotiate with the suppliers, we can really bring down the price and give the savings to the customers.
In terms of working relationships, how do you divide your work functions (at home and in the office)?
I have the mindset that in the office he is my boss, even though he treats me as an equal and we discuss a lot of things together. We often have different perspectives but that has worked very well for us, because at the end of the day whatever decision that is to be taken is his to make. I don't seek the limelight. I don't fight for the limelight. I'm quite happy to be the supportive partner and at home, I'm the boss.
I suppose the coronavirus situation means that you've been the boss for most of 2020?
We realised that the house that we've been staying in for the last 16 years, came to full use, because otherwise, we go out in the morning we come back at night. He's got a wing that has become his home office and I've got a room that became my home office.
My son and daughter were all in the house and we all had our own space. What we did is like okay we'll meet up in the morning for breakfast. And then after that, because you see in our company we have this thing called alignment meeting, which we do every morning at 10am. Well now we do twice a week, but during the MCR we did every day. So whether you like it or not at 10am, you are in front of the zoom alignment meeting with all the department heads.
We are home and I'm also the wife. So, in between meetings, I managing the household and checking if lunch is ready and whatnot. We are very lucky to have good help. I just decide what to cook or sometimes decide that the help prepares it and then we meet up at 12.30pm for lunch. Then after that, we all disappear into our own space, and we meet up again for tea.
With your years of business experience, do you think a female boss should be feared or respected?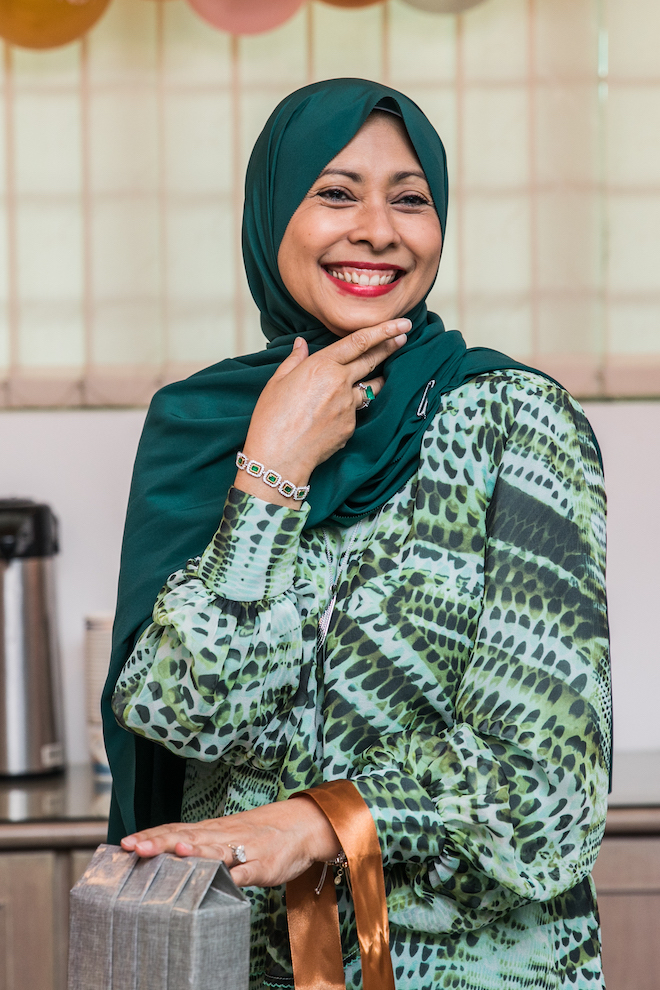 I truly don't believe in this fear factor. You know, as humans, I don't think we should really fear anyone except God. Respect is earned. At the end of the day, a boss is simply a human playing different roles. I believe in working along with my team and I respect you for the job that you put in the effort that you put in. And so in that way we learn to respect each other.
Do you know or do you think in this business being a woman is a natural advantage and what are some of those advantages?
We are customers ourselves so sometimes you put yourself in their shoes. You are more sensitive to what their needs are, what they're looking for, that really helps. But you'd be surprised, male designers can be better, sometimes. Also, female customers prefer to be attended by male attendants.
What's the one tip you have for business leadership?
I always tell my team this. We're in a jewellery business, we are like a Pandora chain, one link breaks and the chain is useless. We have to work together as a team. It's not my success, or your success, it is our success.
---