---
Culture / Events
Chanel's cruise collection: highlights
Celebrities including Vanessa Paradis, Blake Lively, and Rachel Bilson looked on as Karl Lagerfeld showed his annual Croisière collection at the Hotel du Cap in Antibes on the French Riviera on May 9. Loose fittings The Kaiser's new clothes at Chanel's Croisière showing. Maharajah chic Lagerfeld muse Baptiste Giabiconi gets to channel an Indian prince. […]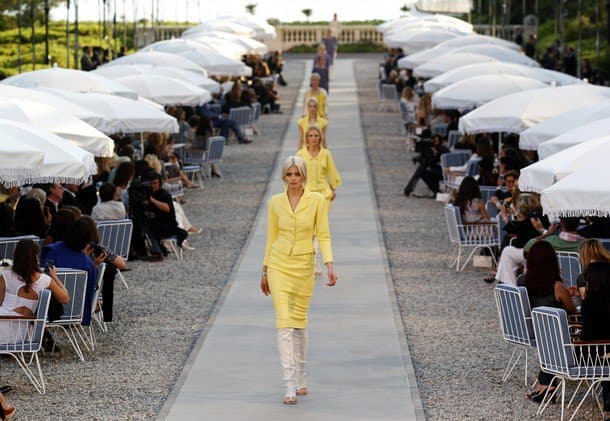 Celebrities including Vanessa Paradis, Blake Lively, and Rachel Bilson looked on as Karl Lagerfeld showed his annual Croisière collection at the Hotel du Cap in Antibes on the French Riviera on May 9.


Loose fittings
The Kaiser's new clothes at Chanel's Croisière showing.
Maharajah chic
Lagerfeld muse Baptiste Giabiconi gets to channel an Indian prince.
Beachy pearls
Matching their surroundings, this look's embellishments almost look like small sea shells.
Dirndl dress
A simple yet elegant outfit, seemingly inspired by German traditional costumes.
Smoking swimsuits
Menswear-inspired beachwear, one of the eye-catchers of the show.
Sorbet shades
Rich and sunny colors give a fresh twist to Chanel's classics.
Mini cape
New silhouettes and material mixes on latest it-model Daphne Groeneveld.
Timeless style
Lagerfeld shows that his creations look good on more mature women, such as Kristen McMenamy, too.
All hail the Kaiser
Chanel head designer Karl Lagerfeld at the end of the show.
---