---
Culture / Events
Cartier's Southeast Asia TAKEOVER: The Clash De Cartier Studio
Following this year's successful global launch of the Clash de Cartier collection in Paris, the Maison presents its first and largest ever Southeast Asian experimental pop-up.
It's a Cartier TAKEOVER this weekend at The Singapore Creative Workshop & Gallery. With Maison's iconic red hue cascading across the block, the brand presents its first and largest ever Southeast Asian pop-up, the Clash De Cartier Studio.
Following this year's successful global launch of the Clash de Cartier collection in Paris, the Maison's experiential pop-up is features the collection in an exploratively unconventional and immersive space – creating an engaging journey for guests through the expression of contradictions and unveiling of their own unique "Clash" attitudes. Guests are also encouraged to discover the collection through interaction in the form of product inspiration animation and on-site product testing.
Expect the unexpected, including subtle Singaporean twists inspired by the nation's contrasting diversity.
Cartier's Southeast Asia TAKEOVER: The Clash De Cartier Studio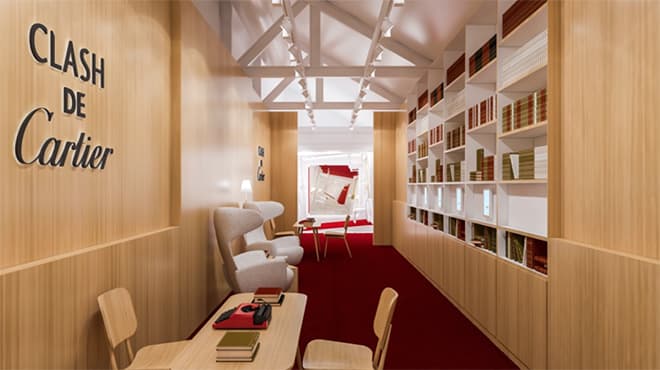 The Clash de Cartier Collection features a range of jewelry that champion and eschew classic forms, while simultaneously balancing clean design with an excess of serious ye energetic spirit and charm. Shaking up the Maison's signature aesthetic and heritage of studs, beads and clous carrés, to form a singular, rubbed mesh.
The pop-up features familiar themes of literature, music and art, all in opposition, echoing the collection's initial Paris launch. Indulge in the creative masterpieces of fashion's leading sound director, Michel Gaubert as well as, revered French graphic designer-cum-artistic-director and publisher, Thomas Lélu.
Upon arrival, the "Clash" journey commences through a simple questionnaire, determining whether guests will start from the Bookstore or Record Store.
At the Bookstore, Cartier has specifically curated a series of books for display, featuring an immense contradiction in genre, content and theme. Besides browsing the various picks, guests are invited to participate in a simplified personality test, determining their "Clash" alter ego. The results are then translated into a personalized Haiku crafted by the room's resident poets. Each guest may then leave with a memento in the form of the customized, old-school typewritten poem.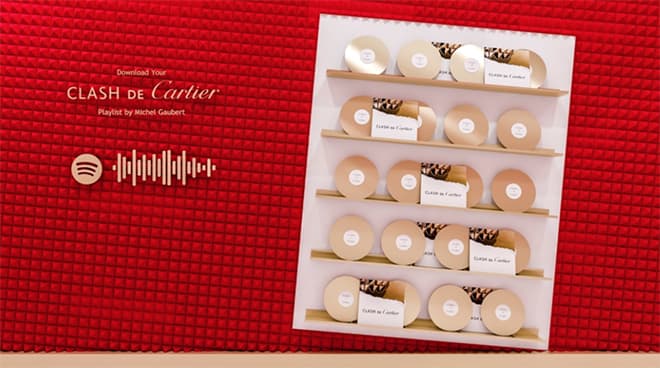 With futuristic sound showers installed and a Clash de Cartier playlist curated by Michel Gaubert, guests are exclusively invited to both listen and download the playlists unto their phones through scanning the displayed Spotify code. Encapsulating the collection's 'spirit', the playlist features a unique blend of diverse attitude and genre, ranging anywhere from classical to rock.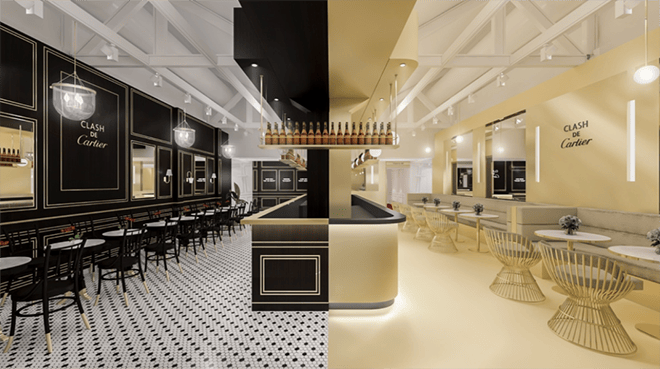 Save some things for Instagram too! Dedicated photo moments await guests at multiple touchpoints within the space. View the world upside down through playing on optical illusions, or have a portrait printed with specially created elements centering on the Clash de Cartier's key product codes or have it decorated with typography by the esteemed Thomas Lélu.
Rest, relax and refuel. The pop-up's main lounge area doubles up as a Café, featuring complimentary "Clash" pastry and drinks. On theme, the café presents oppositions of its own. In an "East meets West" design concept, the café is split in half, featuring both Singaporean culture and contemporary European metallic design PLUS a daily local DJ performance from 6pm to 9pm.
The Clash de Cartier Studio is open to the public from 15 to 17 November 2019 at the STPI Creative Workshop & Gallery on 41 Robertson Quay. Offering a complimentary shuttle service to the venue from Fort Canning MRT Station (Exit B, C29 Taxi Stand). The service to the venue will begin at 10.40AM and finish by 7.40PM. Guests are encouraged to pre-register an hourly session before arrival.
---