---
Culture / Design
Louis Vuitton's Red Square Trunk To Be Removed
Politicians didn't like it, the public didn't like it, so the gigantic Louis Vuitton suitcase is being booted out of Red Square.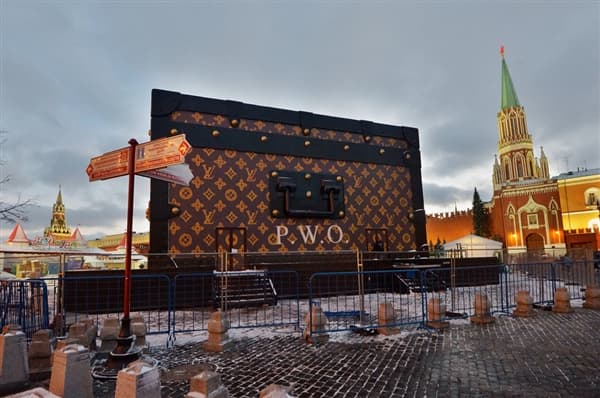 Louis Vuitton thought a two-story designer suitcase plonked in the middle of Red Square was a way to celebrate its more than century-old ties to Russia. Turns out not so much
The massive trunk measures 100 feet long and 30 feet high. It's actually a pavilion set up, in front of Lenin's Mausoleum to host an exhibition of the company's luggage for the next six weeks.
But despite their apparently insatiable appetite for luxury brands, Muscovites saw the structure as a tacky. That message appears to have finally gotten the Kremlin's ear.
Russian officials today reportedly announced they would have the massive structure removed, citing complaints from residents as well has building code violations.
A spokesman for the GUM shopping center, which takes up one side of Red Square and is home to LV and other ultra-high end shops, also said it would ask the company to remove the suitcase.
The trunk was not only considered an eyesore, but also an impediment to the upcoming New Year's celebrations. Muscovites usually gather in the square for fireworks and drinking at midnight and were not happy about the prospects of sharing the space with a massive suitcase.
---