---
Culture / Design
Dubai Lights Burj Khalifa Up In Pink
Dubai is using its iconic skyscraper all for a good cause and has announced a new contender that may be the tallest building in the world.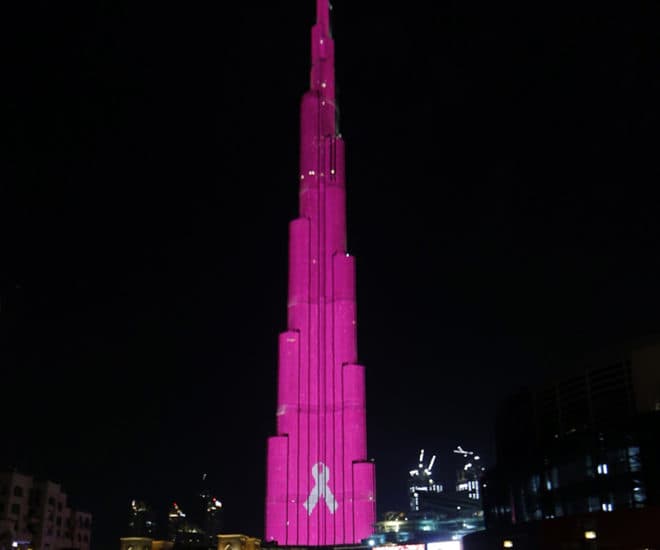 Thursday saw the Burj Khalifa become more than just the tallest building in the world. The façade of the building was bathed in pink, to help draw attention and raise funds for breast cancer. The developer of the Burj, Emaar Properties, will see that the lights are turned on for the next two days and will continue it on the same days for the rest of October.
Visitors to the 823-meter tower are encouraged to show their support by dressing in pink. For each item sold by shops in the Tower during the month, one Emirati dirham will be donated to the Al-Jalila Foundation. Founded by Dubai ruler Sheikh Mohamed bin Rashed Al-Maktoum, the foundation seeks to promote early detection and prevention as well as research on breast cancer.
The ruler also announced this week a new development in the Gulf emirate of Dubai with the construction of The Tower at Dubai Creek Harbour. Upon completion, that is expected to be in 2020, it will dethrone the Burj Khalifa to become the world's tallest building. Set to stand at 828-meters, the tower is expected to cost US$1 billion and will feature observation decks and a 360-degree view of the city.
The slender tower is designed by Spanish-Swiss architect Santiago Calatrava Valls and resembles a minaret that is anchored to the ground with sturdy cables. This new addition highlights Dubai's reputation for building dozens of futuristic skyscrapers that have transformed the skyline. Saudi Arabia's Kingdom Holding is building a tower in Jeddah that is planned to surpass the Burj Khalifa, rising more than a kilometer. Obviously, that tower will be taller than even The Tower at Dubai Creek Harbour.
---