---
Style / Fashion
Jean Paul Gaultier is Leaving Haute Couture but his Legacy is Immortalised in The Fifth Element
A fashion prodigy, Gaultier came to prominence during the 1980s at the height of Parisian decadence, his genius has him recognised as the Enfant Terrible of Fashion and one might not remember individual garments but his legacy is immortalised in Luc Besson's The Fifth Element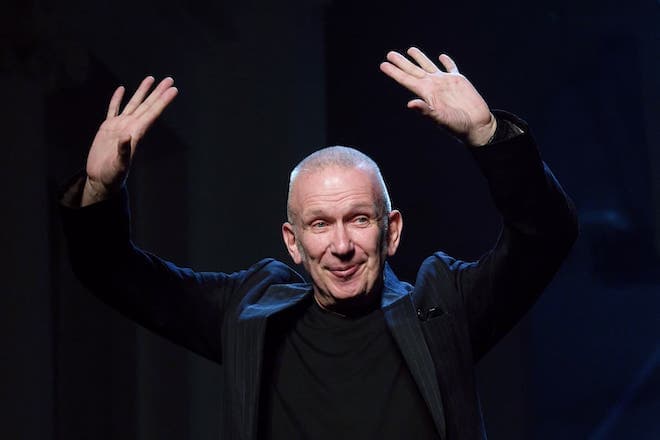 Growing tired with mass-produced collections and the relentless pace of seasonal launches,  Gaultier dissolved his ready-to-wear label in In 2014. After 50 years creating and curating looks and aesthetics for the runway, Jean Paul Gaultier announced that his upcoming Haute Couture show during the Paris week, set to take place on January 22, would be his last. The 67-year-old designer added that while he was leaving, the Jean Paul Gaultier haute couture label (including parfum) would live on as he continues to lead the brand, hinting that he would be working on a new project but was not yet ready to give more details.
This show celebrating 50 years of my career will also be my last. But rest assured Haute Couture will continue with a new concept. pic.twitter.com/PJCC53K4tm

— Jean Paul Gaultier (@JPGaultier) January 17, 2020
Jean Paul Gaultier is Leaving Haute Couture and his genius is forever immortalised in Luc Besson's The Fifth Element
"I wanted the best and that is Jean-Paul," – Luc Besson
Gaultier founded his namesake label in 1976 and started doing haute couture in 1997. Prolific, he became known as the Enfant Terrible of Fashion, adding tasteful camp and sensuality to an often self-serious industry and combining intricate tailoring with everything from striped suits to bustiers. Best known for dressing celebrities, including Madonna, Rihanna, Nicole Kidman and Lady Gaga, Gaultier is equally known for his bustiers and lingerie-inspired couture, best evidenced, arguably, in Luc Besson's The 5th Element.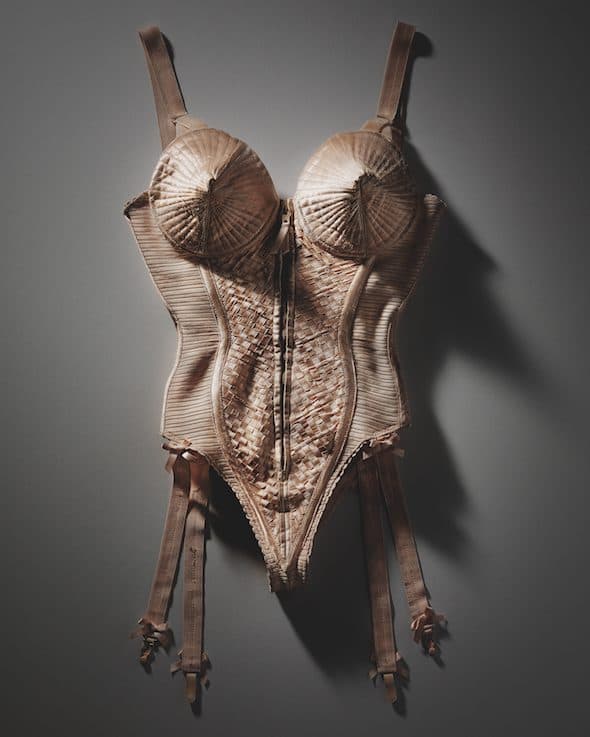 Gaultier famously put Madonna in a conical bra and his provocative, irreverent style was best immortalised in the polarising but critically celebrated cult sci-fi movie, where costumes gorgeously blurred the lines between menswear and women's couture in a gender ambiguous yet undeniably appealing manner.
In costuming Ruby Rhod, The 5th Element's larger-than-life radio host, Jean Paul Gaultier fitted Christ Tucker with a flamboyant wardrobe – it's fairly androgynous but it does not make Rhod look overly effeminate, instead, walking into frame with a skin tight leopard print couture "spacesuit", it managed to play up Tucker's skinny masculinity further accessorised with a myriad of hairstyles ranging from bleached quiff to a curled mane. Tucker pulled off Gaultier's vision with such aplomb that its even hard to imagine that Prince himself turned down the chance at an over-the-top satin bodysuit with almost off-the-shoulder opening of red roses.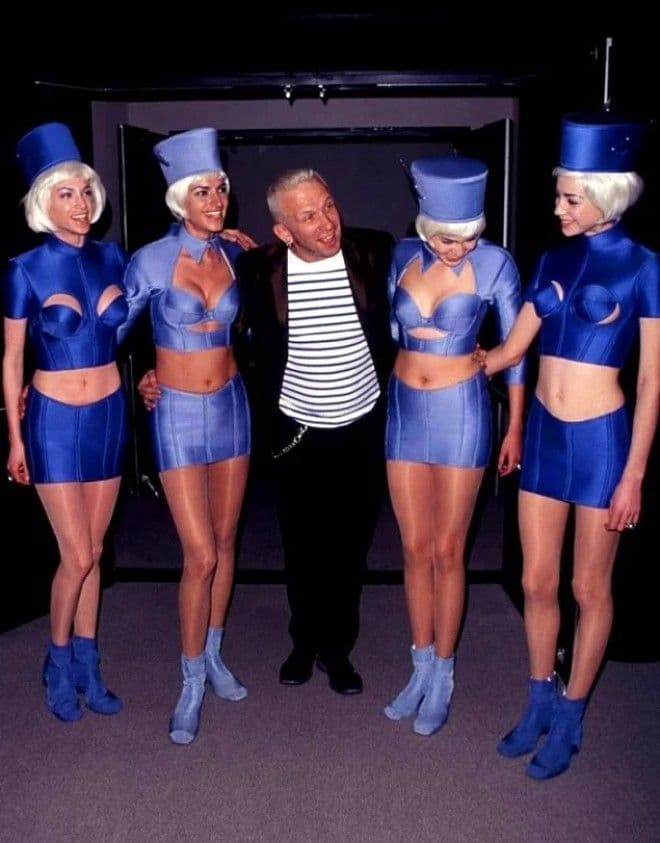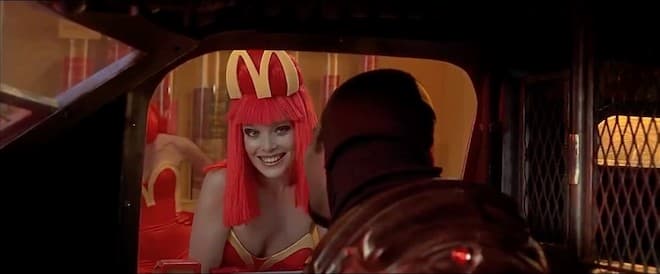 Though Writer-Director Luc Besson had not intended The Fifth Element to be a "big theme movie" with social cultural undertones, Gaultier's genius was in collaborative world-building, imbuing the 23rd century earth with fashion overtones emblematic of Gaultier's signature attention to details. Like the futurist "AirFrance" stewardesses seen cavorting with Ruby Rhod, McDonald's wait-staff are supermodel-esque – buxom, flirty and possessed of the signature Gaultier silhouette where he ingeniously plays on McDonald's golden arches to fantastic effect – it makes the movie gorgeous yet provides a sinister undertone of the eternal idea that "sex sells".
Gaultier's women don't need men to objectify them. Gaultier's women harness their sexuality and sensuality in a manner akin to re-claiming their power. It's a concept echoed in Besson's protagonist Leeloo narratively as well, she does not automatically fall in love with the heroic Korben Dallas nor do the AirFrance stewardesses fall in love with Rhod's overt masculinity – Gaultier's world turns by the power of personality and personal magnetism, sexuality and sexual attraction are present but not harnessed in the traditional manner, in a sense, its freedom and liberty – much alike Leeloo's bandage outfit.
The muse of Leeloo's bandage "pantsuit" comes straight out from Gaultier's Women's prêt-à-porter, spring/summer 1989 – Milla Jojovich's Leeloo fronts The Fifth Element as its most memorable protagonist much in the same vein as unforgettable Gaultier's pioneering underwear-as-outerwear aesthetic, kicking off over 20 years of streetstyle and a retinue of Halloween celebrants with the wherewithal (not necessarily the physical countenance) to pull off what is likely to be Gaultier's most iconic creation since Madonna's conical bra/bustier.
"I spoke with Luc about what is futuristic, and we decided that there could be elements of today. You could even imagine that there will be only retro clothes in the future. Everything's possible." – Jean Paul Gaultier
A fashion prodigy who rose to prominence in the 1980s, during the height of the Parisian decadence, Gaultier's futuristic vision of 23rd century New York fashion aren't so outrageous when you consider that today, these outfits don't seem so outlandish and outrageous anymore. From Korben Dallas's puffer vests and his orange ruched wife beaters. Gaultier has been pitch perfect in 1997, predicting how humans in the future might have dressed, he just might have been 200 years ahead.
Paris Fashion Week's Haute Couture will run from January 20 to 23.
---