---
Culture / Celebrities
Gaga on the catwalk for Mugler
Lady Gaga hit Mugler's runway on March 2, while premiering her new track, "Government Hooker." A live broadcast showed backstage preparations before following Gaga onto the stage where she walked among fashion models, dramatically demonstrating the flowy fabrics of Nicola Formichetti's creations for the fashion house. What came down the runway was not as alienesque […]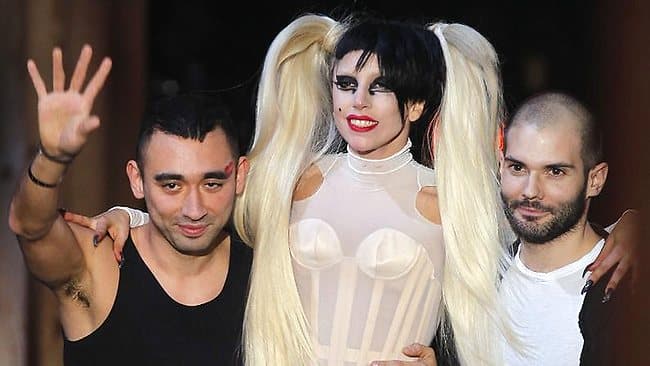 Lady Gaga hit Mugler's runway on March 2, while premiering her new track, "Government Hooker."
A live broadcast showed backstage preparations before following Gaga onto the stage where she walked among fashion models, dramatically demonstrating the flowy fabrics of Nicola Formichetti's creations for the fashion house.
What came down the runway was not as alienesque or 'anatomic' as expected — apart from the fully tattooed Rick Genest's appearance and the occasional sculpted pointy ears of course.

Rather, there were some bondage- and S&M-inspired pieces, sometimes paired with Asian elements such as the hat Gaga wore for her walk.
And there were some elegantly structured, voluminous pieces that looked surprisingly wearable.
But Formichetti's biggest triumph wasn't Gaga or the music or the 'freaks' on his runway: it was Anna Wintour's smile (!) at the end of the show.
Source: AFPrelaxnews
Lady Gaga – Government Hooker
(Preview at Thierry Mugler Womenswear Autumn/Winter)
---