---
Culture / Auctions
Rare jade elephants to go under hammer‎
A pair of jade elephants that sat on either side of a Chinese emperor's throne are set to sell for millions of pounds after being unearthed in Dorset. The important pale green pieces made for Emperor Qianlong in the 18th century have been sitting in Crichel House in Moor Crichel (UK) for the last 60 […]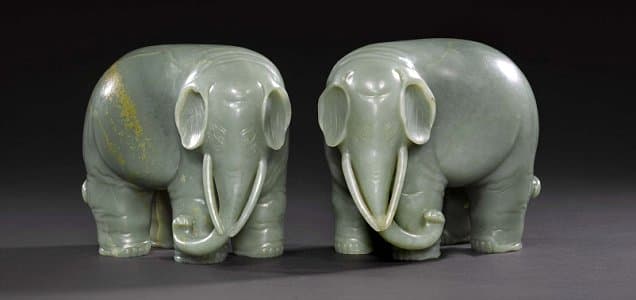 A pair of jade elephants that sat on either side of a Chinese emperor's throne are set to sell for millions of pounds after being unearthed in Dorset.
The important pale green pieces made for Emperor Qianlong in the 18th century have been sitting in Crichel House in Moor Crichel (UK) for the last 60 years.
Measuring 7.5 inches long and 6.5 inches high, the Asian elephants have tusks and were made by China's finest craftsmen.

They were bought by one of the Queen Mother's goddaughters, Mary Anna Marten OBE, who died earlier this year.
Clare Durham, from Woolley and Wallis auction house, described the elephants as "incredible objects which are very rare".
"Nothing really similar has been seen on the market before, not two of them certainly.
"Elephants are very significant in Chinese culture, which could boost their value."
The ornaments will be auctioned by Woolley and Wallis in Salisbury on 19 May.
Sources: BBC – Bournemouthecho – Photo: Dailymail
---