---
Culture / Art Republik
Street Art Goes Mainstream at Paris Gallery
Street art is at last graduating to the gallery as Paris opens its first permanent exhibition of the genre.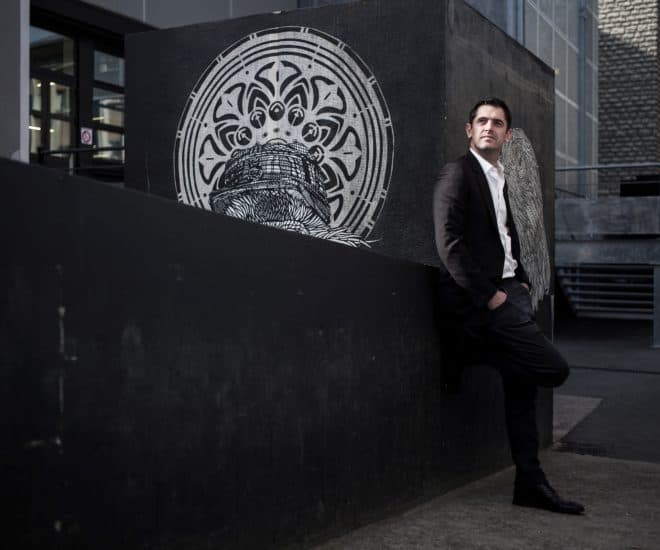 Not content with spray painting its way into the urban collective consciousness, street art is at last graduating to the gallery as Paris opens its first permanent exhibition of the genre.
After a Rome exhibition for British graffiti king Banksy, French counterpart JR's trompe l'oeil wrapping of the Louvre Pyramid and a feast of "Urban Exploration" at Villa Medicis, now comes a Parisian sequel – 150 works on permanent show at the Art 42 peer-to-peer learning center.
The exhibition which opens this month is a further sign of how street art is establishing itself as an art form in its own right, some 50 years after early proponents used metro tunnels and handy walls as blank canvases.
Street art's earliest incarnations may well conjure up visions of artists toiling surreptitiously in quasi-derelict surroundings on work that was merely decorative.
But British artist Banksy has notably and astutely used his creations to make powerful political points, not least with his unique take on the refugee crisis.
He recently depicted Steve Jobs as a migrant at the infamous Jungle camp in the French port of Calais to underscore that the late Apple guru's biological father was a Syrian immigrant to the United States.
Militant Wallscapes
"The essence of street art is its militant wallscapes," said Nicolas Laugero-Lasserre, who has lent 150 works from his own personal collection for the Paris exhibition.
But remaining faithful to its "edgy" traditions hasn't stopped street art from moving into the more formal world of museums, from Amsterdam and Saint Petersburg and now Paris with Berlin to follow next year.
Some, not least 1980s US American pioneer Futura 2000, have consciously chosen to head from the streets into the galleries.
Laugero-Lasserre has amassed a sizeable collection of works from the likes of Frank Shepard Fairey, who was behind the "Hope" mural for Barack Obama's 2008 presidential campaign, and Italian artist Blu, who allowed his Berlin murals to be painted over fearing they might fuel soaring real estate values.
The new permanent exhibition will feature works by Banksy and JR but also a range of lesser-known, emerging names from an ever-growing graffiti globe.
The idea is to showcase upcoming and established talents' eyecatching and sometimes outlandish creations, tableaux worth in many cases thousands of euros (dollars) which can be seen for free during guided visits.
Despite entering the shop window provided by exhibitions, Magda Danysz, who runs galleries in Paris and Shanghai, says street art has not quite arrived yet.
Big-hitting Exhibition
"Street art is not three graffiti-sprayers on an empty bit of terrain. It is an artistic phenomenon which has managed to adorn walls right across the globe," Danysz said.
"(But) in terms of recognition, we are still waiting for the big-hitting exhibition on the subject."
Now, the genre, whose raison d'etre French artist JR has termed "bringing art to people who never go to museums", is looking to broaden its general appeal beyond the fringes.
"The more you talk up street art the better," quips Mehdi Ben Cheikh, a gallery owner behind the Tour Paris 13 project, a block transformed into a huge temporary exhibition area in 2014 which brought together some 100 artists before its eventual demolition.
That was also what happened at the 5 Pointz mural space on Long Island, New York, used by some 1,500 artists who made artistic hay before the area was demolished in 2013 for construction of a condominium complex.
Ben Cheikh was also involved in the "Djerbahood" project, bringing dozens of international street artists to the Tunisian island of Djerba two years ago.
Though Ben Cheikh welcomes the spreading of the message indoors there are others who believe that the outdoors is a more natural habitat.
"The street remains essential for artists, it's what gives them their inspiration. There remain many places in the world where street art is illegal," notes Danysz.
The barely legal tag is underscored by the run-ins with police experienced by the likes of French urban artist Invader, whose 'pixellated' works using bathroom tiles hark back stylistically to early video games such as "Space Invaders".
Some of his Stateside "invasions" have resulted in him being questioned by police.
Similarly, one of compatriot Monsieur Chat's laughing feline daubings at a Paris railway station undergoing renovation may yet earn him a three-month residency, not in a gallery – but in jail.
This permanent exhibition is hosted by l'Ecole 42 –  96 Boulevard Bessières, 75017 Paris, France 
---