---
Culture / Art Republik
LouiseM Creates Art So Personal, It Embodies The Soul
LouiseM is renowned for her distinct ability to create personalised art that represents you.
Imagine an art piece that could effortlessly embody the most intimate aspects of your existence. Now imagine having a part to play in its creation. LouiseM, is a French artist based in Singapore, who is renowned for her distinct ability to create personalised art that represents you. Her work which focuses on crafting a timeline of special moments, is based on intimate dialogue and intricate listening – allowing LouiseM the in-depth understanding necessary to create art which speaks to the soul.
LouiseM Creates Art So Personal, It Embodies The Soul
You were born in France, you started as an artist-entrepreneur in Paris, what brought you to Singapore?
We wanted a new family adventure! After living in the US, we returned to France; This is when LouiseM was born more than 10 years ago. Singapore came up as an opportunity for us last year; and so we jumped at the chance to live in this fantastic equatorial island state. Travel has always fed my soul, in fact, as a young adult, I had the opportunity to travel around the world for about three years.
You mentioned several times in our discussion that you adapt your art to people, and not the reverse. Tell us more about this concept of "Personalized Art"?
It is personalized in the sense that I completely erase myself and retreat behind the wishes and desires of my client. I listen to their story, the slices of life they want to highlight and turn that into images. My approach is to ensure my clients are happy – that in turn brings a lot of satisfaction to me. When planning a piece with a client, we exchange many ideas and stories. It's extremely motivating! Ultimately, my inspiration comes from them …
You seem to have a special liking for Pop Art… .. any pop art artists who has influenced your views on art?
I do love Pop Art, but for the record, it all started in Dallas many years ago, where I lived at the time. My family and I wanted to treat ourselves to a Pop Art painting but we couldn't find the style we liked in the galleries. Having always painted, I said to myself "I'm going to do one"! Then my friends wanted one too – that's how it all started! Pop Art style is perfect for telling a story; it's colourful and happy …
My other source of inspiration are graffiti artists – especially French ones – including Speedy Grafito for the energy and intensity of his works, Darko FBI (a friendly neighbour in France) as well as Zenoy for the movement that he injects into his art. I love their work but more so, their stories. I even collaborated with some of them. They are part of my "family".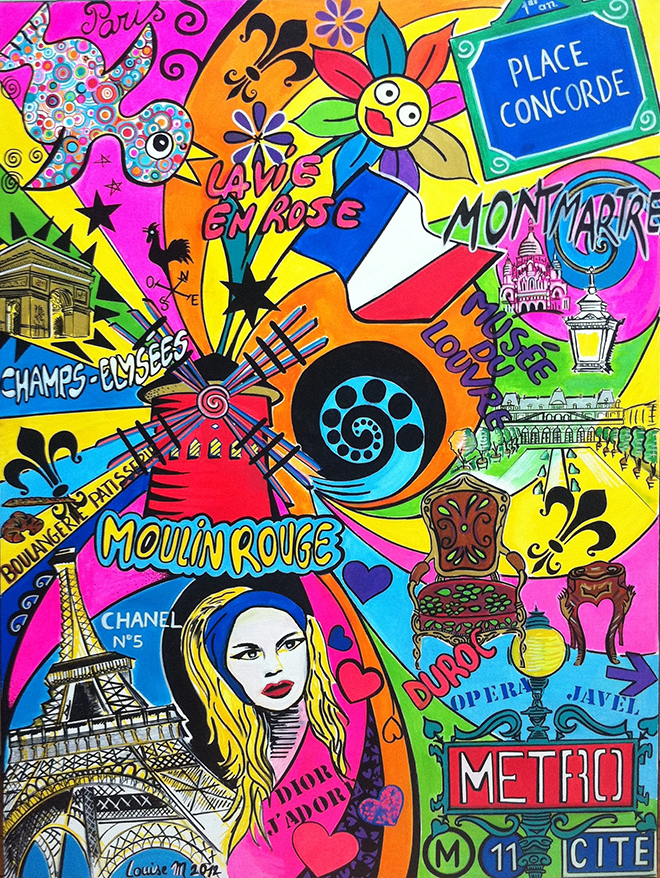 You accept commissions. What is the working process there? How specific should a commission be?
In reality, I only work when a client commissions me to do a piece, because my whole creative process is based on this exchange of ideas and on telling their very personal story; This is what is at the core of my work and it is very important to me. I can then organize, convert all the ideas and put them into images.
In addition, I very often show the work to the clients as it progresses. There is a constant feedback loop. And often I say to myself "hey, if I do this, perhaps the person will like it and be pleasantly surprised." Nothing pleases me more than seeing the satisfaction and joy on my clients' faces!
There is no limit to the type of order that can be commissioned. A piece can be a painting made from a variety of mediums or decorative elements. It can be a kitchen splashback or a wall fresco … This contributes even more to the uniqueness of the artwork – the fact that it also has its own unique function.
The five words that best describe your creative process once you have a brief on hand?
Listening, exchanges, colour balance, power, accuracy, passion (that is more than 5!)
You love kitchens and feel that this is the best place at home to share art amongst the family. Why is that?
In French culture, the kitchen and the culinary arts have a very important place because, like in Singapore, the pleasures that surround food and cooking are extremely important. The kitchen is a place of exchange, a place of passion, a place where we meet with family and friends around a good meal or a drink. This is the place where we cook and often talk to each other about anything under the sun. This is the place where strong bonds are created. Hence the growing popularity of open kitchens in interior design. This being said, with the current trends, kitchens all seem to look the same. How can one have a totally different kitchen, which reflects the lives of the people who live there? That is where the idea of ​​a personalized backsplash can come in, to tell the story of the life of the family. I can transform something that is functional into something beautiful and very meaningful.
Some of your most memorable artworks & creations which you can share with us?
Of course, I have a soft spot for the first painting I made for my own family. I am also attached to the "Logos" backsplash, which is inspired, as its name suggests, by the logos of well-known brands; It was the first time I had ventured into the world of interior design and it was a success. A very special memory.
Every painting has a different story and its own emotional journey.
Last but not the least, I am currently working on a fresco for an apartment in Singapore. It is very exciting and it makes me want to continue working with this particular medium.
Your best experience so far of Singapore?
We moved to Singapore in July 2019. Of course, the situation is special at the moment given Covid-19l, but not being able to travel has actually allowed my family and me to discover Singapore in a more in-depth way. I have to say that the lush vegetation inspires me deeply and I hike around MacRitchie Reservoir regularly to immerse myself in the beauty of nature .
However, ultimately my favourite activity remains my meetings with clients. I love this quintessentially Singaporean melting pot of people and cultures. It's inspiring and vibrant. Human relations are very rich here. I get to travel and grow thanks to the people
–
LouiseM is contactable via –
Email: Contact@louisem.fr
Website: LouiseM.fr
Instagram: louisem_artiste
Whatsapp: +6589077037
---