---
Culture / Art Republik
Lacoste Porcelain Polo Shirt by Li Xiaofeng
Lacoste invited Chinese porcelain artist Li Xiaofeng to create two different polos for their Holiday 2010 Collector's Series. Li is a muralist-turned-sculptor who uses shards of broken porcelain recovered from ancient archeological digs to create armor-esque clothing sculptures. Described as "Post-Orientalism," the artist's collaged artifacts often take the form of traditional Chinese dresses, jackets, neckties, […]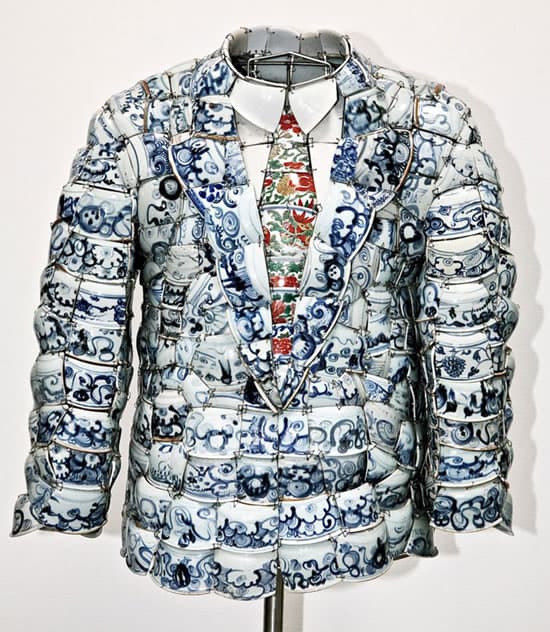 Lacoste invited Chinese porcelain artist Li Xiaofeng to create two different polos for their Holiday 2010 Collector's Series.
Li is a muralist-turned-sculptor who uses shards of broken porcelain recovered from ancient archeological digs to create armor-esque clothing sculptures.
Described as "Post-Orientalism," the artist's collaged artifacts often take the form of traditional Chinese dresses, jackets, neckties, and now, a Lacoste Polo.
The printed polo is created from photographs of blue and white porcelain shards with lotus and children designs from the Kangxi Period of the Qing Dynasty.


The lotus grows from mud underwater to emerge as a flower, symbolizing purity and rebirth.
Images of babies represent fertility, as during that period the high infant mortality rate meant that people decorated ceramics with babies hoping they would be blessed with children.
The printed Porcelain Polo is limited to 20,000 pieces for both men and women, and comes packaged in a silk pouch stamped with the red seal Li Xiaofeng Lacoste logo.
The second, is an actual porcelain polo inspired by the early Ming Dynasty.
However since China forbids the export of ancient artifacts, the artist created his own porcelain bowls, drew custom motifs on them, broke them into pieces and tied them into the shape of a polo shirt.
The artist painted porcelain bowls with orchids, bamboo, plum blossoms and a phoenix, which represents good luck.
The artist also brushed some traditional Chinese well-wishing expressions on the bowls, making sure to have the characters broken up into different shards so that the characters are fragmented and no longer evident on the completed sculpture.
His idea here was to reflect the mixing of the old and the new which echoes contemporary Chinese society.
At the back of the Porcelain Polo, Xiaofeng used two parallel rows of the half-circle broken bottoms of the bowls to represent the raised scales of a crocodile.
At the center of the polo, Xiaofeng inverted the Lacoste crocodile logo and letters, following the Chinese tradition of turning characters upside down for good luck.
It took Xiaofeng three full months to paint, fire, fragment, shape, polish, and finally link together the 317 shards to create the Porcelain Polo, which is the most expensive and most exclusive Lacoste polo to date.
The porcelain shirts are currently on display in France at the Musée des Arts et Métiers and will then head to Bejing in the Fall at Li Xiaofeng's first one-man at the Red Gate Gallery.
---