---
Culture / Art Republik
Jeff Koons paints BMW for Le Mans
Talk about pimping your ride. US pop artist Jeff Koons' latest work is a BMW M3 GT2 decorated with exploding, multi-colored rays. Unveiled by Koons in New York on Tuesday, the car will compete this June at the Le Mans 24 Hours road race in France. The garish work is number 17 in a series […]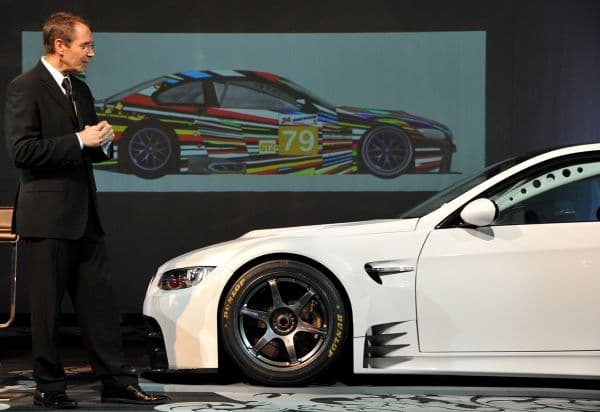 Talk about pimping your ride. US pop artist Jeff Koons' latest work is a BMW M3 GT2 decorated with exploding, multi-colored rays.
Unveiled by Koons in New York on Tuesday, the car will compete this June at the Le Mans 24 Hours road race in France.
The garish work is number 17 in a series dating back to 1975 in which famous contemporary artists, including Andy Warhol, Roy Lichtenstein and David Hockney, have painted BMWs ahead of Le Mans.

The projects, resembling high-end versions of cars transformed on MTV's "Pimp My Ride" series, have exhibited everywhere from the Louvre to Sydney's Powerhouse Museum.
Whether the go-fast stripes will make the car faster is another question. "This car is designed for one purpose: the race," Koons told journalists.
"We look forward to BMW's return to Le Mans – and perhaps even sharing a toast with Jeff at the finish line," said Jim O' Donnell, President BMW of North America.
Jeff Koons is no stranger to decorating large vessels of transportation with his trademark pop stylings.
His 2009 design for collector Dakis Joannou's personal yacht is based on "dazzle painting" camouflage techniques from World War II.
Source: AFPrelaxnews, 2010
---