---
Culture / Art Republik
Interview: Artist Wang Guangyi
Our friends at Art Republik learn a lesson or two from the wise Wang Guangyi.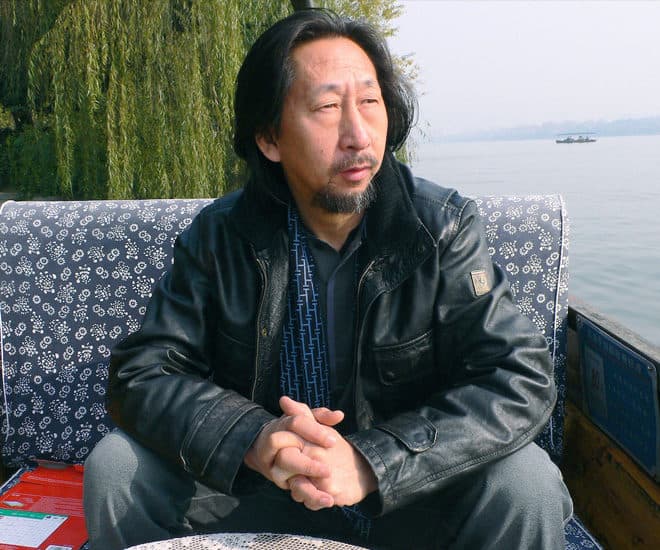 Best known for his 'Great Criticism' series of paintings, which uses imagery of propaganda from the Cultural Revolution juxtaposed against household Western contemporary brand names such as Coca Cola, Google and Louis Vuitton, Wang Guangyi is undeniably one of the leaders of the new art movement that started in China after 1989.
Despite facing constant criticism for his works, Wang sees these criticisms as a motivation to step out of his psychological comfort zone, to make changes, and seek objects, which can come into effect in our contemporary society. Wang begins to think about the final form of artistic practice by creating works associated with great men, symbols and myths. These works involve no direct representation, but instead focuses on the exploration of the concept.
Born in Harbin, Heilongjiang Province in 1957, Wang Guangyi studied art within the context of the Cultural Revolution initiated by Mao Zedong in the 1970's. Wang enrolled at Zhejiang Academy of Fine Arts and graduated from the oil painting department of the academy in 1984. Wang currently lives and works in Beijing, China.
From 12 January to 12 February 2016, MoCA@Loewen presents 'Image Correction', an exhibition showcasing Wang's aesthetic expression of the political paradox. Wang illustrates major historical events, which we are unable to ignore. Through his works, Wang considers this series as him "playing a serious game". The works in his new series have strong connections with each other – specific, relevant and correlating.
Our friends at Art Republik spoke with Wang to find out more about his iconic works and living through the Cultural Revolution.
What is it like being an artist in China during, and then after, the Cultural Revolution?
For an artist, all the experience is meaningful that will enrich his art creation after that. About the Cultural Revelation, for me, there is sense of the aesthetic feeling in that chaos.
Tell us more about your series 'Great Criticism' and why you decided to stop that series?
There is no doubt that what my 'Great Criticism' series represents are the two different ways of brainwashing: fetishism and socialist utopian. I put these two kinds of images with totally different meanings together, which leads to a paradox of them. Probably there are peculiarities of transcendence and theology behind this paradox. After I've created the images, the cultural context has changed, there is now risk that the original meaning of these images have been wrenched. The sense of this risk is one of the reasons that I stopped making the works of 'Great Criticism'.
You've noted in your works political and commercial brainwashing through propaganda in this world. Having achieved great success as an artist, do you think you have been affected by any kind of propaganda at all?
Of course, all things that people experience will leave marks.
How are you dealing with criticism and government scrutiny towards the political and religious depictions in your works?
As an artist, I am concerned more about the mysterious and unknowable things. I'm not interested in practical and specific issues.
Tell us more about your new series 'Image Correction'.
In my view, there are complex historical elements in images, and these elements have formed very complex historical memories for an artist's creation today. When the artist arouses this memory, there is no doubt that the memory will be unconsciously corrected as individual interpretation. When I myself correct massive idol-like images, they come to mind as negative film. Hence, image correction.
*For more information, please visit www.mocaloewen.sg
Story Credits
This article was originally published in Art Republik
---