---
Culture / Art Republik
Focus: Yoshitomo Nara Singapore Exhibition
Kato Art Duo gallery in Singapore is holding an exhibition of artworks by the globally acclaimed Japanese painter Yoshitomo Nara.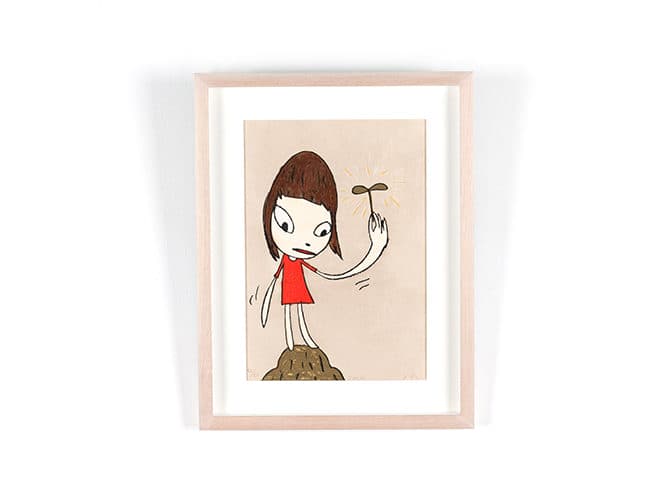 Yoshitomo Nara (b. 1959) is an artist whose paintings of big-eyed, enigmatic young girls and little dolls have become iconic imagery in Japanese contemporary visual culture. Highly sought-after and appreciated, his paintings have not only attained blue chip status in the global art market but also been transformed into different forms of merchandising, from notebooks to postcards to phone covers.
Nara is often associated with the generation of Japanese artists brought together under the 'Superflat' movement, which was a movement coined by Takashi Murakami at the end of the 1990s. This movement refers to the various flattened forms in Japanese graphic art, animation, pop culture and fine arts. While Nara's works are often compared to other significant genres of Japanese pop culture like manga and animation, his narrative style is actually very different. In fact, he is more interested in creating single impactful images that contain an entire narrative, rather than constructing a series of images that tell a story (as seen in manga and animation).
He is best known for his cartoon-like drawings, paintings, and sculptures of children and animals, often laced with provocative and suggestive messages. His work, which won him critical acclaim and international popularity, consist mostly of paintings of children with glaring, challenging expressions.
Born in the quiet countryside of Aomori, the artist was often left alone to dream and imagine. His fiercely independent subjects that recur in his artwork may be a reaction to Nara's own largely independent childhood.
Nara was also notably born during post-World War II reconstruction, where he was not given access to Western popular culture, art and music. As there were hardly any museum or galleries in his quiet province, the artist's only source of art was through weekly manga comics and Japanese TV animation. Nara's response to these rigid social conventions during his childhood is reflected in the evil and sinister expressions juxtaposed with his innocent child figures.
Nara's works are also largely inspired by music, specifically punk rock music. When he was a teenager, Nara recalled drawing inspiration from the cover art of punk music records, which he illegally purchased via mail. Because of his poor English, he would admire the album cover artworks to gain meaning of the music. Nara's art embraces the punk ethos, capturing its rebellious and provocative nature.
Nara completed his master's program at Aichi Prefectural University of Fine Arts and Music in 1987 but truly broadened his scope of artistic perspective when he moved to Germany in 1988. Here, he enrolled in the prestigious Kunstakademie in Dusseldorf and was also taught by Neo-Expressionist painter, A. R. Penck. Nara lived and worked in Cologne from 1994 to 2000, before returning to Japan. While overseas, he also served as a guest professor over a three-month stint at UCLA, together with Takashi Murakami, and has exhibited extensively around the world. He also currently has works in collections of prestigious institutions such as the Museum of Modern Art in New York, and the Museum of contemporary Art in LA, to name a few.
From 16 June to 18 July 2016, Kato Art Duo in Singapore is holding an exhibition titled 'Nara Yoshitomo – Picture Box'. This exhibition explores Nara's challenge to communicate stories through his works in a single frame rather than a collection of pictures, and will feature a selection of the artist's woodblock prints and lithograph work as well. He emphasizes the importance of having a personal narrative in his artwork, and delivering a story in a single captivating image.
His exhibition reflects his inner world in the midst of his ever-changing, external environment. Due to his isolation growing up, Nara is an artist with a wild imagination, and with multiple stories to tell from his experience. Despite the horrific and nihilistic qualities of some illustrations, his work actually seeks to inspire optimism and encourage the viewer to look for hope. He invites his viewer to look beyond the deceptive 'kawaii-ness' of little children and animals, and to embrace the freedom of imagination, and our ability to create a world of our own.
The Opening Reception of 'Nara Yoshitomo – Picture Box' will take place on 16 June 2016, 7pm at Kato Art Duo Gallery, Raffles Hotel Arcade #01-26. RSVP for free admission at info@katoartduo.com
---