---
Culture / Art Republik
Energies Unleashed: Singapore Art Exhibition
Art Republik gets a recharge at Opera Gallery Singapore with artists Katrin Fridriks & Liu Jiu Tong.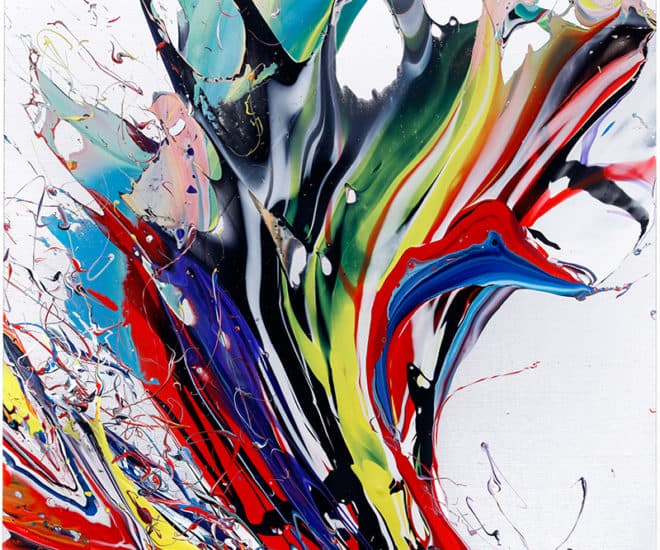 Opera Gallery Singapore, is proud to present 'ENERGIES UNLEASHED – Katrin Fridriks & Liu Jiu Tong' from now to 1 May 2016. Through their works, this exhibition explores the pictorial vocabularies of energy and movement in various stages of metamorphosis. Applied through visual manifestations of suspended movement – both physical and metaphysical – Katrin Fridriks and Liu Jiu Tong seek stillness within incessant changeability.
Katrin Fridriks (b. 1974) is an abstract painter from Iceland, currently living and working in Paris and Luxembourg. Addressing the political atmosphere of her remote home country and the controversy of scientific innovation, her explosive works are striking in their dynamics of color and movement. Maintaining a liquid-like viscosity on the canvas, Fridriks' paintings are surreal and incessant, resulting in striking and energetic works that entrance the viewers down to the finest details. Using vivid and explosive strokes to create her works, Fridriks' works of abstract expressionism are as emotional as they are intelligent.
By concentrating the 'explosions' in the centre of her paintings, Fridriks confers a sense of mastery to them which cannot be attained in all-overs, where the paint covers all parts of a canvas in a similar pattern. Here all the energy is concentrated in an epicentre, a centre of gravity. Many of Fridriks' works indeed look like they had a source of energy at their heart rather than having a form being imposed on them from the outside. The feeling that her paintings emerge from the centre contributes to the feeling of self-containment they evoke.
Liu Jiu Tong (b. 1977) was born in Suide, a province in the highlands of northwest of China. He graduated from the Art Institute of Xi'an and was influenced by the ancient and majestic styles of ChangAn art. He went on to work in Beijing before moving to Shanghai, where the multicultural spirit of the city was an important influence to his style. The international cultural changes he witnessed enabled his art language to evolve, and his works are integrated with both Western technique and Eastern artistic concepts. As he was also heavily influenced by the Shanghainese way of life, his artworks are presented with the tensions and lively rhythms of life.
Despite his young age, Liu's artworks have been exhibited in many prestigious international shows such as: the International Contemporary Art Exhibition of Paris and the ninth Contemporary Art Exhibition in Milano. In particular his painting 'Distant Traveler' was nominated for the seventh International Price Arte Laguna. A great number of his works have been published in the Sotheby and Christie's catalogues.
For 'ENERGIES UNLEASHED – Katrin Fridriks & Liu Jiu Tong', the works of Fridriks feature infinitely expanding color splashes across finely crafted surfaces. Including subtle influences of Japanese calligraphy and almost imperceptible line details, Fridriks' artworks depict the natural interconnectivity of different elements that can or cannot be directed and controlled.
Interplaying the abstract and the figurative, Liu's unrestrained landscapes are inspired by renowned Chinese poets of the Warring States and Tang Dynasty. Eluding to form, Liu expresses a lyricism swathed in tenacious layers of paint, vigorously applied and condensed onto canvas like a fleeting moment trapped between open fingers.
Through the spectacular works of these two artists, they reflect on the beauty of movement captured in the present moment.
*For more information, please visit www.operagallery.com
---