---
Culture / Art Republik
Costa Rican Artist John Paul Fauves On Capturing Society's Loss of Innocence
Mickey Mouse is a symbol of innocence for many but for John Paul, it represents the temptation of a hedonist lifestyle.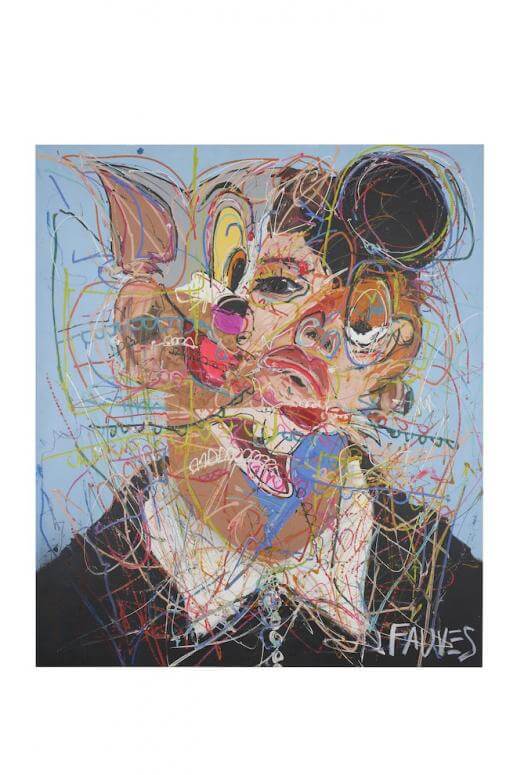 Not much is known about John Paul Fauves, the Costa Rican artist who has yet to reveal his face to the public. However, even without knowing how John Paul looks like, his works are distinctive enough to warrant himself known to the world. The most striking feature would be how he collages iconic personalities such as Marilyn Monroe and James Dean with art history references.
John Paul's inspiration stems from the Fauvist movement and it is typified by the use of vibrant colours and a high degree of abstraction and simplification. Having trained under one of Costa Rica's most prominent modern art tutors Joaquin Rodriguez del Paso and subsequently spending 15 years honing his skills, John Paul's first steps as an artist was not a walk in the park. This is especially true when the artist shares that being an artist is "not an easy path in Costa Rica, or probably any other country in the world."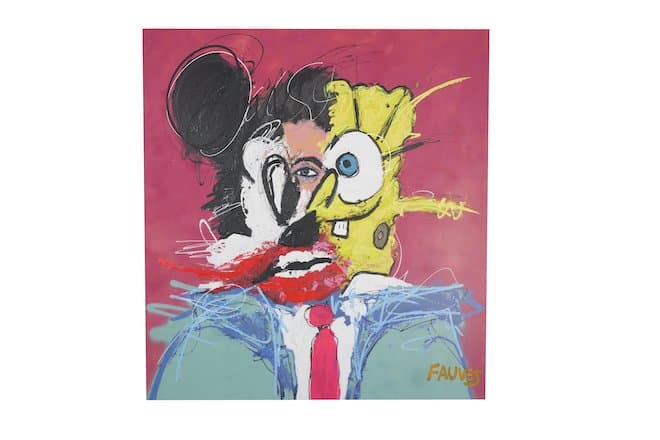 "Honestly I don't believe there is the first stage or a final stage for an artist," says John Paul about how he came to be an artist. "I believe it was more of a spiritual awakening that happened to me." He discovered his "soul", the passion to create art pieces and be fearless in his endeavour. It is a journey that never ceases to end and along the way, he has taken no notice of what others think of him and focused on bettering himself.
Taking the style of Fauvism, John Paul looks towards fellow artists such as Henri Matisse whenever he feels stuck and needed a creative breakthrough. Closer to the contemporary times, it is Jean-Michel Basquiat that he relates to the most and he also shared that the late eminent artist was one mentor that constantly inspired him as he makes strides as an artist. Apart from harnessing the energy around him, the artist is more intrigued with human nature and tries to encapsulate the essence in his body of works.
One of the recurring themes in John Paul's array of artworks is the exploration of society's infatuation with mainstream culture and social media. Admittedly, the pandemic has become a conduit for this phenomenon. While the consumption of these content has helped many to tide through the loneliness of lockdowns, it has also created a lifestyle where satisfaction can only be found through external means as mentioned earlier.
John Paul's art is a reflection of this new way of life. He wishes to convey a message that seeking enjoyment through an external medium is not viable in the long run. To find peace and happiness, one should look inwards and be comfortable with the silence that often comes with it.
Going a step further, John Paul thinks that our obsession with leading a hedonistic lifestyle has robbed us of our innocence and he captures this through his use of the Mickey Mouse motif across his paintings. "The hedonist Mickey is a character that seeks pleasure no matter what the consequence [and] he's a worldwide iconic figure of innocence. Mickey being a worldwide figure of innocence represents the hedonistic lifestyle we have all been tempted," explains the artist. By placing the emblematic character out of context and into another setting, viewers are somewhat forced to rethink their relationship with Mickey.
Even though John Paul's style is heavily influenced by Fauvism, he describes his own paintings to be Neo Pop Expressionism. A look across his works, one would observe that the artist loves to mix colour and texture. Furthermore, he is fond of deconstructive ideas that "creates art with harmony between the chaos."
The artist is one of the many that Singapore-based art gallery and boutique advisory firm, Art Works works with. Having exhibited in numerous galleries across the world, John Paul has always wanted to break into the Asian markets and choosing Art Works was a deliberate choice because the artist believes that the company fully understands him. In the coming future, John Paul hopes to build a good relationship with fans about the region and also to hold an exhibition with Art Works.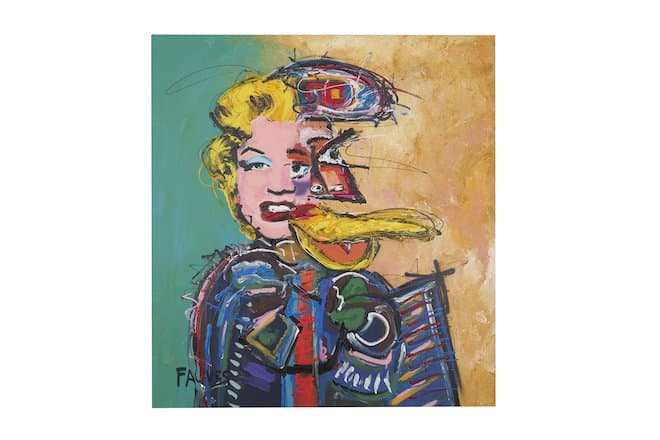 Apart from dabbling with the physical world, John Paul has looked towards creating NFTs as well. So far, the artist has shared that some of his NFT projects have done well, especially in the US, and is waiting for his chance to launch one with Art Works. Being open to new ideas is a strong point for the firm and a partnership to create NFT between the two could stand to be the first in Southeast Asia. From the business perspective, it is a way to gain market share and for the artist, a gateway to expand his reach to potential clients.
Currently based in Costa Rica, the artist has confirmed that he will be visiting Singapore next year and we can't wait to catch up with him.
Click here to read the interview with Troy Sadler, Managing Director of Art Works Group. Follow Art Works on their Instagram: @artworks_sg and John Paul on his Instagram: @lefauves
---