---
Cars
Sanlorenzo SX112: 'Crossover Queen' coming to HK
A big step up from the SX88 and SX76, the new Sanlorenzo SX112 is the flagship of the Italian builder's iconic crossover series, with the first hull in Asia scheduled to arrive in Hong Kong later this year.
Sanlorenzo calls its SX series 'crossover' yachts because they combine the best features of explorers with the comfort of flybridge yachts. But a visit to the range's new flagship, the SX112, shows that these yachts bridge more than just vessel types.
Like the SX88 and the SX76 before her, the 33m SX112 offers a 'no barriers' experience of life at sea. Bernardo Zuccon of Zuccon International Project has designed the exteriors of the entire SX line and has used no-nonsense, workboat-like features such as vertical bows, forward-slanted glass and long, open aft sections throughout the range. The look is strong, distinctive and modern without being radical.
While the exteriors of the SX range have a family resemblance that recalls seafaring traditions, the interiors were designed by Piero Lissoni, a man who has been determined to shake up the nautical world's preconceptions ever since he became Sanlorenzo's Art Director in 2018.
Lissoni begins his tour of the yacht with an announcement: "I don't see why a yacht should be a compendium of all things associated with wealth — marbles, hides, exotic woods — because luxury and vulgarity often go hand in hand," he says.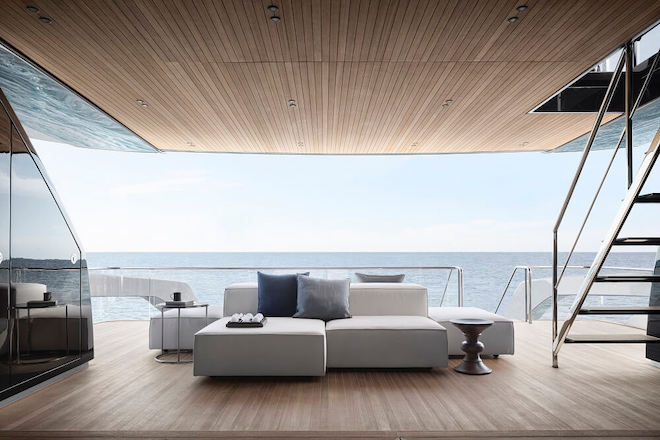 "I have asked yacht designers and I asked myself: Why do people who have beautiful homes have such vulgar yachts? I think that the source of this vulgarity more often than not comes from the shipyard architects who seem to think that wealthy owners want splashy materials. I don't agree with that."
SPACE IS SANCTUARY
After Lissoni's words, it's no surprise to board the yacht and find a space where nothing glitters but
everything shines in its own way. In the saloon, built-in pieces blend discreetly into the yacht's structure while tatami and natural wood tones offer a subtle backdrop to design icons such as electric-blue Utrecht armchairs by Gerrit Thomas Rietveld and produced by Cassina.
There are also B&B Italia couches, a Poul Kjaerholm PK-80 daybed and Achille and Pier Giacomo Castiglioni's classic Toio lamps produced by Flos.
"When I design a yacht, I approach it just as I would any other project, aiming to create something functional, comfortable and beautiful," Lissoni continues. "It used to be that a yacht and everything aboard it had to be made by a yacht designer.
"Outsiders like me have changed the rules by showing that a yacht can be a floating villa furnished with some of the most beautiful design pieces on the market today. We are modern people living in this day and age. Why not design an interior that reflects that?"
But Lissoni's bold new approach to yacht interiors goes far beyond furnishings. Entering the yacht, you look straight through an open and airy space accented by a glass-enclosed swirl of a steel staircase that runs to all decks and disguises an engineering feat behind deceptively simple lines.
There is a living area aft and a dining area fore. There is no lobby and the bridge area is notably absent. In fact, Lissoni requisitioned the area with the best views from the captain and put it at the disposal of the owners and their guests.
The SX112 only has one helm and it's on the fly deck. While this arrangement breaks with tradition, it makes for a main saloon that's flooded with light and immersed in nature.
Proceeding down the spiralling staircase to the lower deck leads to an alcove where tatami is used extensively, introducing an East/West mixture that represents another crossover on the SX112.
With its neutral colour, interesting texture and inherent soundproofing qualities, tatami is used extensively in the guest cabins that, on this hull, include an owner's cabin aft and two VIPs.
Walnut and Verde Alpi marble are other recurring materials while the chromed porthole frames are left visible, so the industrial-grade beauty of the yacht's build technology shows through.
OUTDOOR PLAYGROUND
While it mixes features of flybridge yachts with explorers and blends Eastern vibes with Western icons, the SX112 really crosses over when it blurs the boundaries between indoor and outdoor living. A world opens up when you turn a handle concealed in the panelling of the owner's cabin and find that it leads directly to the gym, beach lounge and a spectacular aft deck.
Much, much more than a swim platform, this 90sqm expanse of free, open space is a private 'beach' whose size and airiness increase exponentially when the yacht's side terraces are opened over the water.
Access to the water is easy, the sense of freedom and space is unlimited, and the owner literally has all of this at his or her fingertips at any time of the day or night. In keeping with his minimalist approach, Lissoni has furnished the SX112's outdoor spaces with simple, linear pieces that are commercially available.
"In my opinion, everything that's used aboard a yacht should be commercial because industrial designers are better attuned than nautical designers to how we live today," he says. "On top of that, commercially available products are made from certified materials that only industries have access to. They can guarantee quality and durability."
Lissoni paid as much attention to flow through the yacht as he did to its furnishings. The stern deck and the main deck aft connect both physically and philosophically. The stairs are straight and easy to walk up and the space, with loose furniture facing aft, is planned as a continuation of the stern, not as an introduction to the saloon.
From there, it's another quick hop up to the fly deck with its excellent views. Here, the space under the hardtop can be entirely enclosed to become a kind of cabana with a dining area, bar and the helm station.
LOOKING AHEAD
Much as Lissoni believes that a yacht should feel like a villa, we all know that they are complicated pieces of machinery. But with spaces such as a dining room where the bridge usually is and a gym and beach club where the engine room is often located, it's hard to imagine where the SX112's four Volvo IPS engines are tucked away.
As it turns out, the engine room is accessed from a hatch on the stern deck and from a small door on the starboard side of the beach club. But even when the yacht's fast displacement hull is launched at top speed, the pod's smooth and quiet ride means that you'd barely know they were there.
The SX112 fills the bill for anyone who wants a yacht for living freely, in easy contact with the water and in great style. And Lissoni is looking forward to continuing in his work with Sanlorenzo.
"I'm attracted by the difficulty of nautical projects, by the challenge of designing something that moves, that exists in nature and that is impacted by it. At the same time, I want to stay an architect first and foremost," Lissoni says.
"I like being the outsider in the nautical world and I'd really like to convince my insider colleagues to have the guts to change. Look ahead to the future, not back on tradition." The SX112 is that forward-looking yacht that crosses over boundaries to create a new style of life at sea.
Simpson Marine, under Sanlorenzo Asia, has sold the first unit into the region, which is arriving in Hong Kong by the end of the year.
www.sanlorenzoyacht.com
www.simpsonmarine.com
---