---
Cars / Yachts
Pretty Fly: Azimut 100 Leonardo Superyacht
Considered a giant amongst other yachts of its kind, the new launch by Azimut is a sight to behold, especially the flybridge.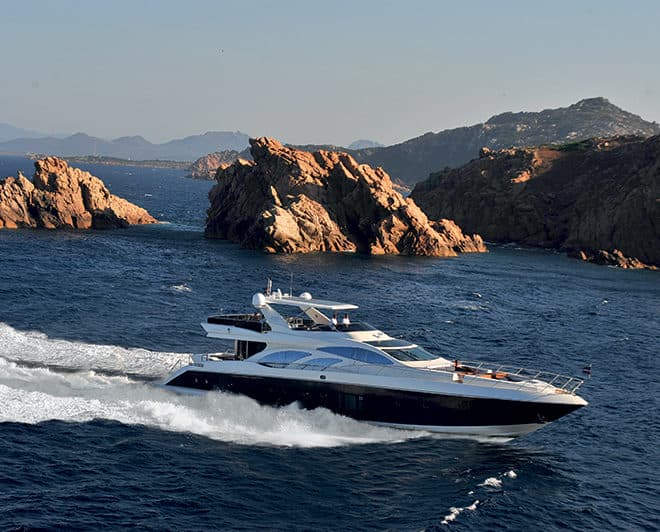 Bigger is always better — at least that is what we have been told when it comes to yachts (and beds). With the new Azimut 100 Leonardo, it truly is the case. What sets this superyacht apart from the competition is the flybridge that maximizes space in a clever way.
Boasting a main deck that stretches out across 30 meters, the superyacht is one that provides luxury and comfort. An ingenious play on the design of the space, allows for guests to enjoy the large refined areas onboard. Overlooking the sea, is a terrace that once again reinforces the scale of the superyacht.
Over on the flybridge sits the perfect area for entertaining guests. Yes, the flybridge is really a great place to entertain! Thanks to the dining area, sofas and a whirlpool bath, it would be difficult for one to say that this superyacht lacks seating space. If two entertainment spaces aren't enough, Azimut has included a third area for relaxation.
Able to accommodate 12 guests, the Azimut 100 Leonardo offers a master suite in the center of the yacht with large rectangular windows on both sides for a panoramic view. Other facilities here include are wardrobes, a vanity area and bathroom with a large whirlpool shower and a double washstand made of blown glass. Playing on contrasts, the superyacht pairs teak flooring with shades of ivory and cream that add to the sophistication of the interior.
Mr. Choppy Tan, CEO of Azimut Yachts Singapore has stated that "it has been extremely gratifying to witness the extent to which the Singapore market has embraced us." He goes on to say, "we look forward to introducing Singapore to the range of yachts from our broad catalogue and also plan to expand into other key Southeast Asian markets. We've built a strong local network within a year and look forward to many more successful years ahead."  The new dealer in Singapore is part of Azimut's revised Asian distribution partnership strategy.
This story is also available in Bahasa Indonesia. Read it here: Pretty Fly: Azimut 100 Leonardo Superyacht
---