---
Cars / Yachts
LUXUO Travels: Cruising Along on a 48m Croatian Superyacht, Freedom
Fresh from a refit, the 48m Freedom operated by Goolets offers a suite of luxurious amenities all from €100,000 per week.
"Michael Jordan. Magic Johnson. Beyonce and Jay-Z," our driver says. I feel a bit embarrassed to join the list of people he has picked up from Split Airport and driven to a superyacht. "Also, Rod Stewart and Bill Gates are regular visitors." Okay, I get it.
Situated across from Italy on the east side of the Adriatic Sea, Croatia emerged as a popular hot spot for superyachts at the start of this century. The country's remarkably clear water is among its main attractions, but what makes the southerly Dalmatia region different to most Mediterranean destinations is the remarkable network of islands that are close to each other and the mainland.
This means short, relaxed voyages of just an hour or two between destinations, so more time to enjoy swimming and watersports or exploring historic coastal cities, towns and villages. Its remarkable geography makes Croatia ideal for everything from day trips to three-week charter bookings when you could stay somewhere different every day.
While many of the world's most famous superyachts have been visiting Croatia for the past two decades, an alternative superyacht market has also evolved, with locally built yachts in the 50m range offering 18 or so cabins.
Due to international maritime regulations, such yachts are restricted to chartering in Croatia and can be booked by the cabin, so are effectively 'cruise yachts' compared to the giant cruise ships that also ply this remarkable coastline.
However, a new trend has emerged, with a handful of owners converting these large yachts into 11-cabin versions and offering superyacht-like amenities and service, yet at surprisingly affordable prices.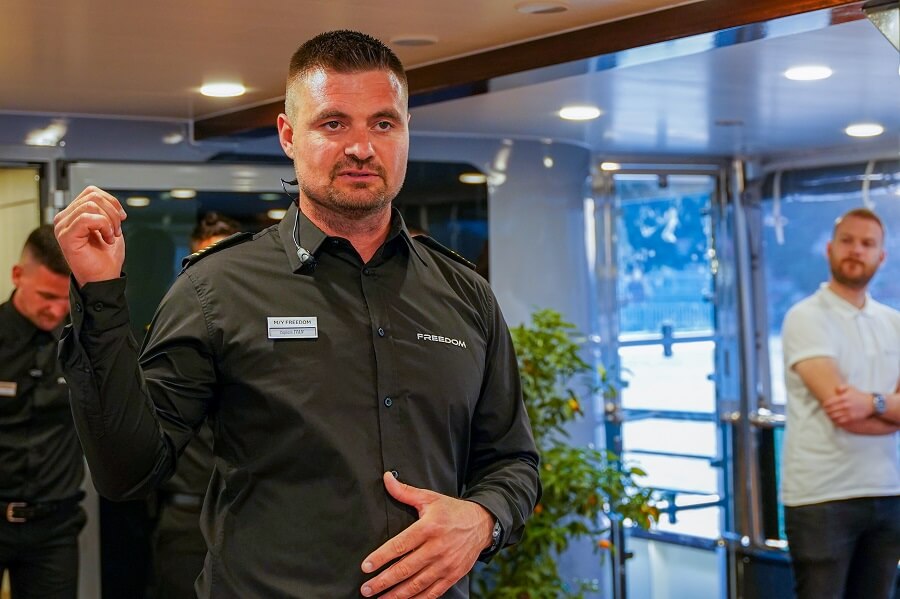 Freedom, among Goolets' Central Agency charter fleet, is only the third yacht to make this transition and the best according to Captain Ivan Rakuljic, who owns the 158-footer built in the Radez Shipyard on the island of Korcula and launched in 2019.
"I saw the first yachts to make this transition from 18 to 11 cabins, so having seen that it worked commercially, we were able to do more with our redesign and upgrade, and make the experience on Freedom even more luxurious," says Rakuljic, who also increased the crew from eight to 12.
Freedom is considered the Goolets flagship – if not quite in length, then certainly in quality, offerings and service. And the company works closely with both the yacht and the charter client to provide a unique experience for one week or more for up to 24 guests, ideal for extended family gatherings or a week-long wedding party and everything in-between.
Setting off From Split
Ivan Ramljak, Goolets' Country Manager for Croatia, says the Slovenia-based company founded in 2005 by Mitja and Alenka Mirtic differs from other charter operators because of its concierge-style service and emphasis on tailor-made journeys and experiences for its clients.
"Goolets is involved in every aspect of the charter experience, from the enquiry, to planning the trip, during the trip and afterwards, and this separates us from the competition," says Split-based Ramljak, who's also a licensed tour guide. "We're always available for the client, which means the crew can focus on service, operations and hospitality."
Split is a great place to start your visit and you could spend an enjoyable day or two in this historic port before or even after your charter.
Croatia's largest coastal city and second-biggest overall behind Zagreb, Split is packed with attractions including the iconic Riva promenade along its waterfront. Packed with cafes, restaurants and popup market stalls, the Riva is the centre of waterfront activity and even hosts public events and parades, such as for local hero Goran Ivanisevic following his Wimbledon victory in 2001.
Behind the Riva in the 'old town' is the beautifully preserved Diocletian Palace, which was built for the Roman emperor from about 300AD – or over 1,700 years ago. More like a fortress, this four-section rectangular slice of history measures 215m by 180m and is well worth a guided tour.
West of the harbour is the stunning hillside Marjan Forest Park featuring jogging trails, a botanical garden and great views over the city centre. East of the harbour, just 10 minutes' walk from the Riva, is Bacvice Beach, a protected sandy beach with clear, shallow water that leads around to waterfront restaurants and bars, as well as several more swimming beaches and Marina Zenta.
Features Of Freedom
After boarding Freedom in Split, it's time to look around the fully air-conditioned yacht and find out how they manage to fit in 11 en-suite guest cabins with TVs, as well as a cinema, massage room, sauna, two bars, a gym, jacuzzi and a pool!
Instead of being home to the saloon as on standard layouts, the main deck includes six guest cabins comprising one full-width master stateroom aft, a VIP suite in the bow and four convertible double/twin cabins. The lower deck includes a double, twin and two triples featuring a double and single bed.
A separate staircase to the lower deck leads to the massage room, the sauna room with large shower, and the huge movie, media and gaming room, which features two rows of sofa-style seating and is great for an intimate evening or a large gathering. A guitar is included.
The upper deck houses the second master stateroom, a stunning full-beam suite with a curved bathtub in the corner and enormous walk-in dressing room. Forward is the wheelhouse, the domain of Captain Ivan.
The central staircase leads to a hall at the front of the saloon where there's a piano to continue the musical theme. The long saloon features sofas and coffee tables along the port side of the room, while the starboard side features two long dining tables lined tip to tip and capable of seating two-dozen guests.
The aft deck offers covered alfresco dining, with two long tables either side of the stairs as well as a full-beam sofa aft, a large but quiet lounging area protected from the sun and the action on the deck above.
The food is top class and there's an emphasis on fresh local produce, with seafood to the fore as well as plenty of local wines such as Kozlovic Malvazija and Kozlovic Mušcat Momjanski. Our meals included the daily catch, glazed scallops, tuna steak, cuttlefish and mango salad, homemade tortellini stuffed with crab meat, and scampi risotto with saffron and sheep cheese.
Other dishes included braised veal leg, beef steak, lamb racks and homemade pasta with braised beef tail. A range of cuisines and options such as vegetarian or gluten-free are available, with all menus catered to the charter clients and arranged in advance.
This article first appeared on Yacht Style.
For more yacht reads, click here.
---