---
Cars
Dolceriva Sports Hard Top
Riva has released an updated version of the 48ft Dolceriva with a new exterior design and a hard top featuring carbon-fibre detailing.
Riva has launched a new edition of its popular Dolceriva featuring a hard top that shelters the boat's central social areas from the sun and rain while sporting carbon-fibre detailing.
The 48-footer has a beam of 14ft and features a refined exterior by Officina Italiana Design, which has designed Riva models for over 25 years and works with the Ferretti Group's Engineering Department and Product Strategy Committee.
The new hard top is made from a carbon-vinyl ester hybrid composite material to reduce weight and increase strength and stiffness, while several sections are made of steel. Designed to cover the external cockpit and helm station, the hard top can help enclose the entire area in tandem with transparent awnings on both sides, forward and aft. Air-conditioning can also be installed.
The hull window design stems from a research process by Officina Italiana Design. Generated by a black pencil stroke along the silver side of the yacht, it deftly ascends towards the deck. This has led to an innovative hull-deck coupling system: the aft area, totally freed from the fender bar, features a carbon-fibre air vent with a steel frame.
Aesthetic touches include the windshield made with innovative spherical crystals and featuring a slight counter-curvature.
The forward surface on the main deck sports high-gloss mahogany with 20 coats of varnish, punctuated by a crystal section with a built-in skylight, which allows the master cabin below to receive natural sunlight. The exterior part in glossy mahogany features classic white maple seams.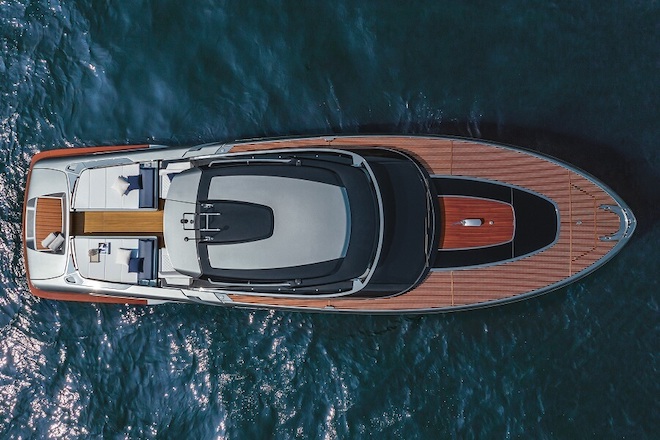 At the centre is chrome-plated aluminium alloy casing completed by a mahogany mast flying the Riva pennant, reminiscent of the fittings found on past models. Other details that pay tribute to the Riva tradition include the aft, forward and side lifelines in mahogany and steel, as well as the mahogany aft wings. Steel also plays a leading role, often used as a separation between the various elements.
The hatch, which features a structural bench when closed, swings open to reveal inbuilt mahogany steps as well as a large surface. Using the inclination of the stern and the level beach area, two specially designed ergonomic sun pads can be positioned over the hatch. With the hatch open, more steps appear, complete with two storage compartments that can be used to house Seabobs.
Beyond the two sun pads, separated by a central walkway, is the cockpit leading to the dinette located amidships, furnished with two large facing sofas and a folding steel-and-mahogany table that seats up to eight people.
Beyond this is the helm station, with pilot and co-pilot seats, which are enhanced by details such as the leather and chromed-steel inserts and a carbon lifeline on the left side of the windshield.
A steel-and-glass hatch accesses stairs that lead down to a lower lounge featuring a dinette with a spacious sofa, a kitchen and a bathroom with separate shower and closet. A 43-inch TV is installed on the starboard bulwark.
The owner's cabin is located forward and has a central bed, two walk-in closets and storage trunks. A second double cabin has two separable beds. In keeping with Riva style, interior materials include fine woods, mirrored surfaces, leather elements, and steel and lacquered woods with both matt and glossy finishes.
Dolceriva features a V-Drive shaft line propulsion system and mounts twin Volvo Penta D13 engines, each rated 1,000mhp at 2,400 rpm (optional). In terms of performance, the model can reach a top speed of 40 knots, with a cruising speed of 35 knots. The auto-trim function is provided by interceptor management.
The helm station features one 12-inch touchscreen and an additional 16-inch touchscreen as an option. It is equipped with EmpirBus, the Garmin monitoring system that incorporates functions including generator state and parameter display, Seakeeper stabilisation system management (if installed), manoeuvre and alarm management.
The optional manoeuvring joystick features docking mode for easy handling in confined waters, such as when mooring alongside, with lateral movement obtained by the combined action of the main propellers and the proportional bow thruster.
Also available on request is the driving mode function, allowing the Dolceriva to be piloted exclusively through the joystick. On request, a Seakeeper NG6 stabilizer can be installed to minimise rolling at anchor.
For more information, please visit www.riva-yacht.com and www.ferrettigroupasiapacific.com
---