---
Cars / Cars and Bikes
Rolls-Royce Phantom II endures trans-continental Peking to Paris Rally with Dato' Sia Hok Kiang
The Peking to Paris Rally is a gruelling 8,080 km endurance trial and Malaysian Dato Sia Hok Kiang demonstrated just how well built a Rolls-Royce is by completing it in a classic 1931 Phantom II
Luxuries only became luxuries because they were made to last. Rolls-Royce cars are no different. The Rolls-Royce Phantom II was among one of the British marque's most iconic and legendary automobiles. Immortalised in Steven Spielberg's Indiana Jones and the Last Crusade, the renown luxury car was considered a kingly offering:
Sultan : Rolls-Royce Phantom II. 4.3 litre, 30 horsepower, six cylinder engine, with Stromberg downdraft carburettor, can go from zero to 100 kilometres an hour in 12.5 seconds. And I even like the color.

Walter Donovan : The keys are in the ignition, your highness.
The third and last of Rolls-Royce's 40/50 horsepower models, the Rolls-Royce Phantom II replaced 1929's New Phantom which itself was a descendant of the original Silver Ghost. While built to be luxuriously fitted with the latest in creature comforts of the era, the Phantom II was indeed built to last as Dato' Sia Hok Kiang would attest in 2016, taking his own Rolls-Royce Phantom II Brumby on an epic rally race from Beijing to Paris
How Rolls-Royce continues to demonstrate the enduring legacy of Robust, Classic Elegance
Born a thoroughbred Rolls Royce in December of 1933 in England, Dato' Sia Hok Kiang's Rolls-Royce Phantom II was named Brumby. A long wheel base Phantom 2 Saloon which was first owned by Mr John Bell Armstrong in Melbourne, Australia.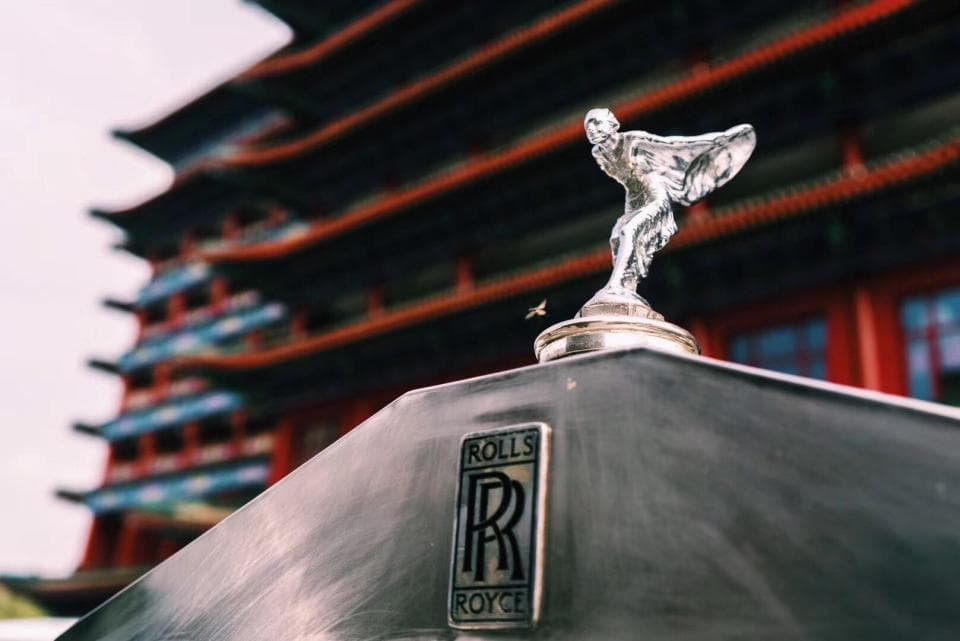 Following a string of high profile owners, including Rolls-Royce aficionado Edward John Connellan, founder of Connellan Airway which kickstarted aviation in the Australian Northern Territory. Joining its other Rolls-Royce siblings at Alice Springs – a a 1931 Phantom 2 red label and a 1920 Silver Ghost Alpine Eagle, it was not to be a life of stately servicing to Mr. Connellan but one of running through the dirt tracks and ferrying cargo at the cattle station when required.
"I like adventures. Taking part in classic rallies is challenging, what with old technology vehicles traveling on old condition roads/tracks across the Globe. Meeting and overcoming obstacles to arrive at the destination on time is a strong test of the will power, that's no difference in our corporate life." – Dato' Sia Hok Kiang
In 1988, Brumby  was sold by the Connella family and re-bodied by as a tourer for life in a small coastal town in Queensland. There is served as a family car until in 2013 when it acquired its newest and most adventurous owner, Dato' Sia Hok Kiang of Kuala Lumpur, Malaysia. Refurbished and dubbed "Brumby", the Rolls-Royce Phantom II competed with its new master in the Trans America Rally in June 2015, covering 9500 km from Halifax to San Francisco in 3 weeks.
A professional geologist by training, Dato' Sia, is currently a senior council member of the Malaysian Chamber of Mines, and an Honorary Member of the Geological Society of Malaysia. An avid driver and adventurer, Sia began his career with Osbourne & Chappel International Ltd, working at the Gopeng tin mine in Perak, Malaysia but his immense geological talents brought him to exciting positions around the world during his stints with International Finance Corporation, a subsidiary of the World bank which conducted mine evaluations in Africa, North and South America. Eventually becoming an owner of mines rather than mere evaluator, his last project took him to Mt Cuthbert Copper Mine at Mt Isa, Queensland, Australia in 2012.
By boat alone, Sia's classic Phantom II has travelled the world in 160 days. Christened "Brumby" to reflect its thoroughbred beginning and its subsequent life as a hard riding stallion, Brumby was modified once again into a "London to Edinburgh" style sports tourer in order to reduce its body weight for the arduous Peking to Paris Rally.
Peking to Paris Rally with Dato' Sia Hok Kiang: A Story of Resilience in the Face of Overwhelming Adversity
The London to Edinburgh style sports tourer takes its nomenclature from one of the earliest Rolls-Royce The Silver Ghost chassis – In production from 1907, the Rolls-Royce 40/50hp, (only later named 'The Silver Ghost'), was powered by a 7,036cc, six-cylinder engine from 1907-1909, later enlarged to 7,428cc.
My Rolls-Royce caught fire in Mongolia. Partially burnt, I towed her 1000 km back to Ulan Bator, frantically repaired her using secondhand Japanese car parts in 3 days, and chased 8 days 5000 km to catch the Rally proper at Kazan, Russia: then continued with the rally to finish at Paris. Earning Man of the year 2016 by Polish Classic Cars Club and True Grit Award by the Peking Paris Rally.
The London to Edinburgh rally was a trial by fire for the Phantom II's predecessor – The Silver Ghost. Indeed, it demonstrated to the world that a Rolls-Royce could travel from London to Edinburgh and back entirely on the top gear – something that was impossible to imagine based on prevailing automotive and mechanical technology at the time. Not only that, the Silver Ghost could make such a long trip with an exceptional level of economical petrol consumption: 24.32 miles per gallon, and at a brutal pace no less, attaining a speed of 78.26 miles per hour.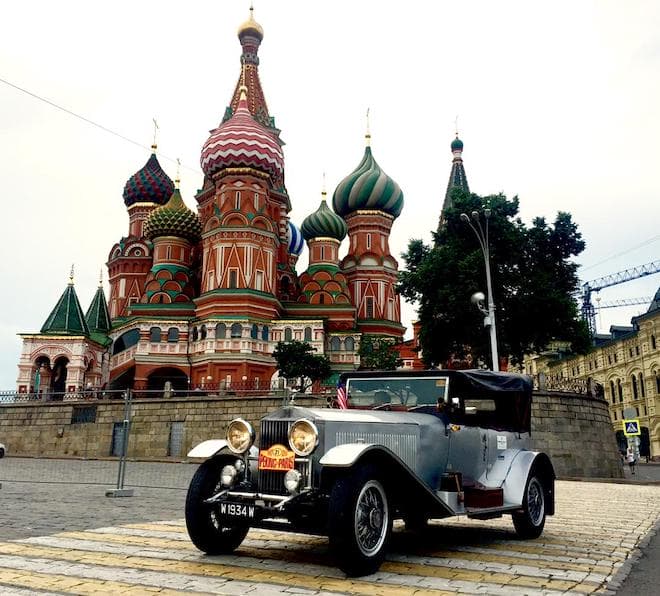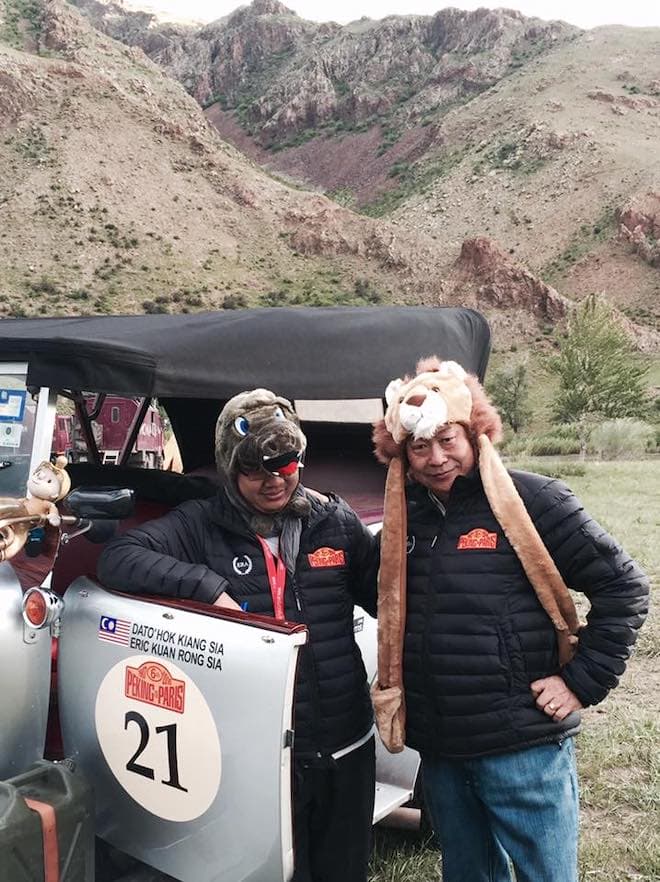 The first Peking to Paris motor rally was held in 1907 and with the automotive technology at the time, took about two months to complete. Today, with nary a stipulation but only to use classic cars (that is anything before the 1970s), the adventure takes 36 days; the London to Edinburgh journey is obviously incomparable to the Peking to Paris rally.
Following in tracks of antiquity like the Silk Road caravan traders, participating drivers cover some 8,080 miles, passing through 10 countries as they journey through the Asian continent to western Europe, traversing a myriad of terrain, sleeping in tents on the hostile steppes of Mongolia, and environments including the Gobi desert and the frigid expanse of Siberia, it is easily considered one of the world's toughest motoring challenges.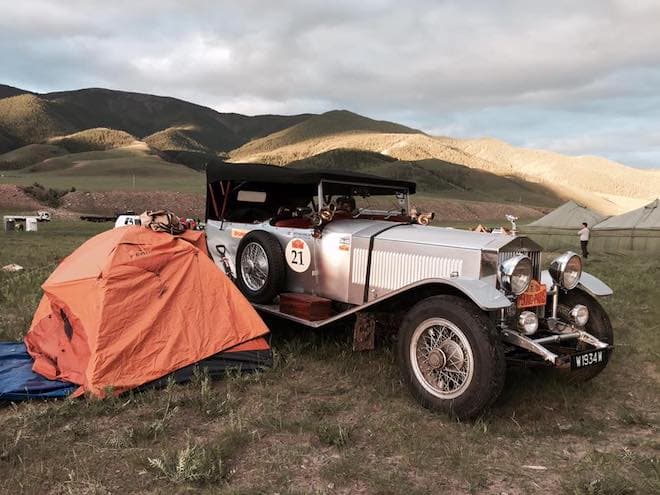 Indeed, no one is more familiar with the trials and tribulations of the gruelling Peking to Paris rally is something that Dato' Sia is well acquainted with. Barely through Mongolia, a route reputed for its particularly challenging road conditions, Brumby burst into flames, requiring him and his co-pilot to beat a hasty exit though the trailing support and logistics group assisted them with putting out the flames, the Phantom II was badly damaged, requiring it to be sent back 1,000km to Ulan Bator.
It is like climbing Everest. You get there using your own effort, with a tool no one thought possible – Dato' Sia on why he used a Rolls-Royce Phantom II
Speaking exclusively to LUUO, Dato' Sia tells Jonathan Ho, Chief Editor that after spending 3 days cobbling together whatever parts they could find in one of the most remote capitols of the developing world, it was a mad 8 day scramble, pushing Brumby hard to catch up on the 5000 km lead the other cars had amassed. "We managed to catch the Rally proper at Kazan, Russia: then continued with the rally to finish at Paris. Earning Man of the year 2016 by Polish Classic Cars Club and True Grit Award by the Peking Paris Rally," says Dato' Sia with exuberant pride.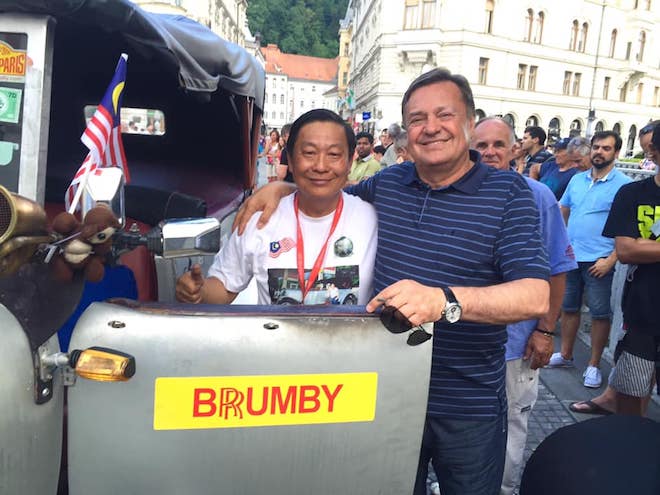 Certainly, other automotive marques too have completed the Peking to Paris Rally already in its 8th edition, but none have completed it with the panache of Dato' Sia and his Rolls-Royce Phantom II. Surely a story for the ages and testament of the Goodwood carmaker's enduring legacy.
The entry fee for the Peking to Paris Rally costs around $70,000. You set off from the Juyongguan section of the Great Wall and drive into Paris with the finish line in historic Place Vendome, mecca of high luxury. Brumby is currently undergoing restoration.
---