---
Cars / Cars and Bikes
Rare European Classics to Grace 2023 Pebble Beach Auctions, Including A 1933 Bugatti Type 55 Roadster
Delightfully rare and heritage-rich vintage marques from Bugatti, Bentley, Alfa Romeo and Peugeot will be on offer at Pebble Beach this coming August.
Internationally acclaimed automotive auction house, Gooding & Company, has announced its newest consignments to the annual Pebble Beach Auctions taking place this August, including a highly sought-after 1933 Bugatti Type 55 Roadster. This marks the American auction house's 19th year collaborating with the Pebble Beach Concours d'Elegance, the premier car show of the motoring world.
Live auctions run from 18 to 19 August, though hopeful buyers outside Pebble Beach, California can now make their bids online as well.
"Collectors are always in search of exceptional classics to enter into the most prestigious international concours d'elegance, and these outstanding, stylish and prewar European cars are all tickets to the very best events in the world," said David Brynan, Gooding & Company senior specialist. "These exclusive, limited production and one-off cars are candidates for top awards at events like Pebble Beach, Hampton Court, Amelia Island, and Villa d'Este. The Type 55 Roadster, in particular, is especially desirable as it is among the best examples of an extremely exclusive Bugatti suitable for both concours d'elegance and driving events like the 1000 Miglia for which it has been accepted for 2024. This upcoming event is quite fitting for the car which served as both a motor show display and a competition car in-period."
1933 Bugatti Type 55 Roadster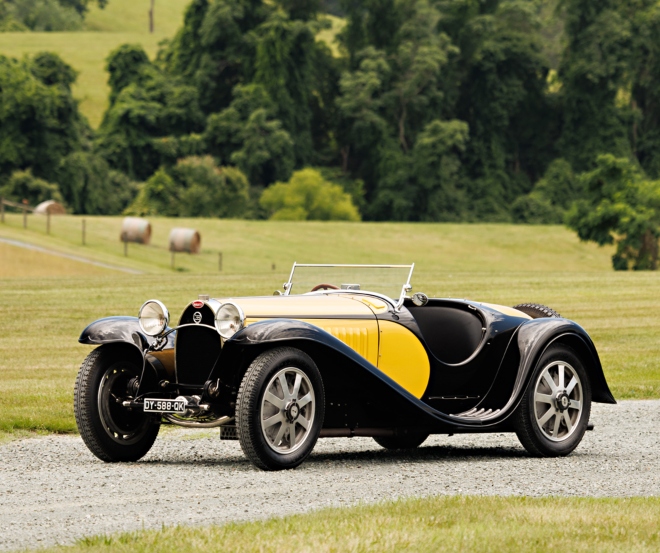 Unveiled at the Paris Motor Show in October 1931, Jean Bugatti's Type 55 was an ultra-high-performance machine capable of reaching a top speed in excess of 177 km/h. The Type 55 Roadster is considered the spiritual successor to the Type 43 Grand Sport, a road-going Grand Prix car integrating the mechanics of the Type 35B with sporting coachwork.
Between 1931 and 1936, Bugatti built 38 Type 55 units, of which 14 were originally fashioned with Jean Bugatti's sublime roadster bodywork, including the unit to be auctioned come August. Of the 13 other surviving roadsters, just seven are understood to have retained their original coachwork and matching-numbers mechanical components, making them the precious few original Jean Bugatti Roadsters around today.
Factory records state that the Type 55 to be on auction was completed in March 1933 with chassis number 55231. It was first exhibited on Henri Sagnier's Bugatti and Talbot stand at the inaugural Foire d'Alger, a major national trade fair held in Algiers, Algeria. The roadster was eventually sold to its first private owner, Juvénal Emile Jarron, the son of prominent Algerian doctor, Juvénal Constant Jarron. Its racing debut came shortly after in the 1935 Bouzaréa Hill Climb where it was driven to an overwhelming victory.
55231 would remain in Algeria throughout WWII, passed around several local owners before eventually coming under the ownership of Bernard Viallo who recommissioned the roadster in the late 1950s much by himself. Viallon sourced parts directly from the Bugatti factory in Molsheim, driving the Type 55 until 1960 when it entered a long period of on-and-off restoration works. This bout of restoration works would only be fully completed in March 1986, with 55231 finding itself in the personal prized collection of fashion icon Ralph Lauren himself.
During this time, 55231 was shipped to English marque specialists, Crosthwaite & Gardine, for final restoration works where it was refinished in a chic new black with dark blue coves. The roadster remained with Lauren till 2003, switching owners twice more before reaching Dutch connoisseur Ton Meijer, who commissioned a mechanical restoration performed by esteemed French automotive group, Ventoux Moteurs Engineering.
55231 would eventually grace the stages of concours d'elegance shows around the world at Villa d'Este, Pebble Beach and notably, on Bugatti's own stand during the 2007 Geneva Motor Show. The historic roadster would finally land in the hands of Henri Chambon who repainted it in the original black and yellow colour scheme. An inspection by leading Bugatti historians, Pierre-Yves Laugier and Mark Morris, concluded that 55231 retains its original chassis frame, engine, gearbox, rear end, and coachwork, making it one of best maintained units of this exceptionally rare breed of Bugatti.
The next owner of 55231 will also be pleased to find in their possession an accepted candidate for two upcoming 1000 Miglia events — Warm Up USA in Washington, DC taking place at the start of November 2023 and the classic 1000 Miglia across Brescia to Rome, Italy come 2024 (subject to registration and entry fees).
1930 Bentley Speed Six Sports Saloon
With the introduction of the Speed Six in the late 1920s, Bentley promised speed, comfort and reliability all in a single marque, instilling in the driver a level of confidence unmatched in its day. A total of 182 Speed Six units were built during its two-year production run, with three chassis lengths available to accommodate running coachwork ranging from Le Mans tourers to formal saloons.
To be auctioned is a 1930 Bentley Speed Six Sports Saloon, chassis LR2778. It is a handsome coupé originally bodied with coachwork from English H.J. Mulliner & Co. and first owned by Sawai Man Singh II, Maharaja of Jaipur, India. LR2778 remained in India until 1937 when it returned to London to join the collection of Dennis Becker. The Becker family enjoyed the car on many travels in the coming decades, including a 1950 European tour. LR2778 would remain with the Beckers until 1974, when it was purchased by Ian Finlator who owned the car for nearly 30 years. Finlator participated in various events with the Speed Six, including the 1985 Rallye Monte-Carlo Historique and the 1994 opening ceremonies of the English Channel Tunnel where it served as the British automotive representative.
LR2778 would pass through several hands before making its way to its current owner in 2010. The consignor embarked on an exhaustive restoration of the car, beginning with an extensive documentation process overseen by a foremost voice of authority on Bentley history, Dr. Clare Hay. The works were carried out by Vintage Bentley specialist Graham Moss of R.C. Moss, who restored the Speed Six to its original specifications.
LR2778 finally made its post-restoration debut at the 2012 Pebble Beach Concours d'Elegance, claiming three awards including a Second in Class win, the Montagu of Beaulieu Award for the most historically significant British car, and the J.B. & Dorothy Nethercutt Award for Most Elegant Closed Car. This iconic Bentley comes to the auction equipped with its original chassis, engine and coachwork, making it a car fit for the most sophisticated collections.
1958 Bentley S1 Continental Drophead Coupe
The Bentley S-Type was introduced in 1955 following the successful R-Type, incorporating significant improvements which now stand as notable features to the Vintage Bentley collector's eye, such as a longer wheelbase, electrically adjustable rear shock absorbers, lighter steering and a four-speed automatic transmission. A total of 3072 S1 units were built until the line ceased in 1959, with around 150 units equipped with custom coachwork. 431 of the S1s were built as high-performance Continental model utilising a lighter aluminium coachwork with slightly under a quarter of them fitted as drophead coupés — the ultimate Bentley S1 Continental body style.
The 1958 Bentley S1 Continental, chassis BC42LDJ, to be auctioned is one such drophead coupé, configured specially for a left-hand drive by the now defunct English coach builder, Park Ward, which was then backed by Rolls-Royce. BC42LDJ was part of a special 31-unit production with this now collector's edition left-hand drive configuration. It is also believed to be one of just three fitted from scratch with both powered steering and soft top.
Upon completion, the BC42LDJ was first displayed at the 1958 Amsterdam International Motor Show where it was purchased by a buyer going by the family name of Mayne in Brussels, Belgium. It remained in Europe till 2005 when it was imported to the United States by Rolls-Royce and Bentley specialist, Vantage Motorworks. Vantage Motorworks's documentation file at the time indicated a history of extensive maintenance work including new paint and plating and an engine rebuild.
BC42LDJ would finally reach the hands of its current consignor in 2014, and has since been carefully maintained and regularly exercised by their team of in-house technicians. Presented beautifully in its original shade of Steel Blue, this 1958 S1 Continental Drophead Coupe will be the ultimate mid-century British luxury cabriolet on auction come August.
1937 Alfa Romeo 6C 2300B Turismo Cabriolet
Engineered by Alfa Romeo's brilliant Vittorio Jano in 1934, the 6C 2300 was originally intended as a more affordable alternative to its cousin, the 8C — the "C" stands for how many cylinders the engines had. The 6C 2300 featured a 2.3-litre twin-cam inline six engine, while its 1935 "B" series edition included a completely redesigned chassis with independent suspension front and rear, hydraulic brakes and an improved gearbox.
The 6C 2300B was offered in three iterations: the long chassis (Turismo/ Lungo), the short chassis (Corto), and the high-performance short chassis (Pescara/ Mille Miglia). In total, Alfa Romeo built fewer than 900 units of the 6C 2300B through 1938.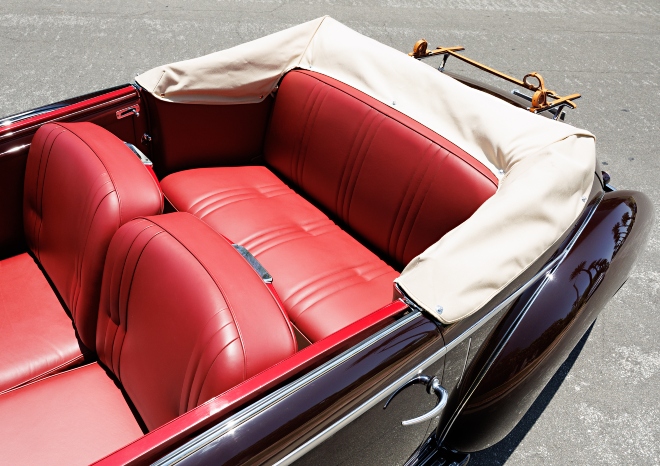 To be auctioned in August is a 1937 Alfa Romeo 6C 2300B, chassis 814047, one of 81 of the Turismo models. Featuring coachwork by Turin-based design firm, Carrozzeria Pininfarina, the chassis was fashioned with a one-of-a-kind cabriolet body designed by Mario Revelli di Beaumont, widely regarded as one of the most influential Italian designers of his time. This Pininfarina cabriolet features a streamlined front end with bullet-shape headlamps and Revelli's signature bow nose, visually highlighting its aerodynamic design. Upon completion, the cabriolet was photographed and illustrated in the 28 February 1938 issue of L'Auto Italiana and debuted at the 1938 International Auto Show in Berlin.
Passed around various European collectors, 814047 resided in Switzerland for half of the century before relocating to France in the 1990s. In 1996, it was acquired by one of Italy's foremost Alfa Romeo collectors, Dr. Luca Savoia, who had it handsomely restored to its original burgundy with red leather upholstery and a tan soft top. This one-off Alfa Romeo cabriolet of great style and distinction has never been exhibited in the US, making it a fitting entrant for the 2023 Pebble Beach Concours d'Elegance.
1938 Peugeot 402 Darl'mat Special Sport Competition Roadster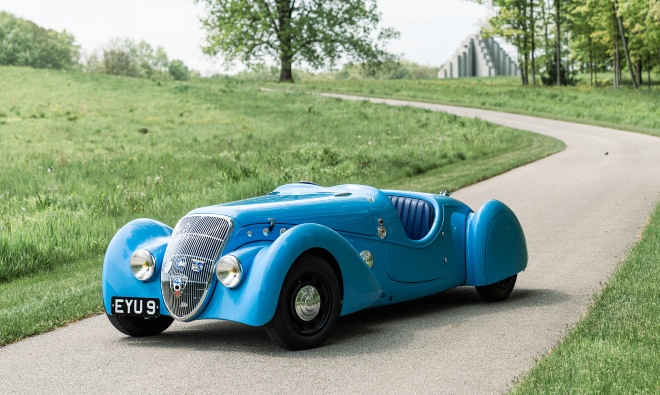 Émile Darl'mat was an automobile businessman who made a name for himself working with designer Georges Paulin and coach builder Marcel Pourtout in the development of the Eclipse, a Peugeot equipped with the first technically retractable hardtop. Driven by a desire to elevate the Peugeot brand, Darl'mat became so respected that Peugeot gave him access and resources to create his own Peugeot sports car. Thus it came to be that Darl'mat would birth one of the most enigmatic Art Deco styled sports cars of all time.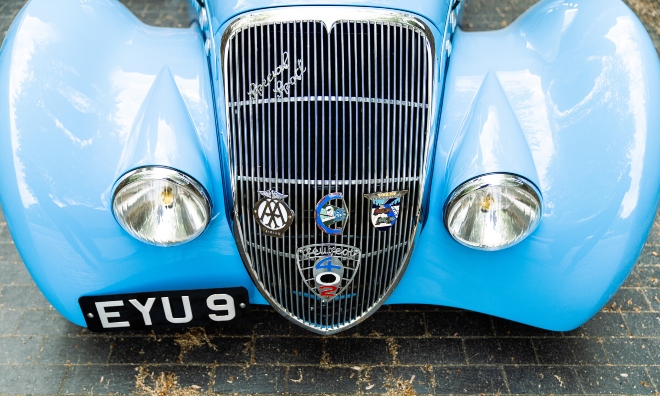 The Peugeot 402 Darl'mat debuted at the 1936 Paris Motor Show with several of them competing in the 1937 and 1938 24 Hours of Le Mans. From the total of 104 Darl'mats built in coupé, convertible, roadster, or competition roadster styles between January 1937 and June 1938, only 30 remain known and intact today. To be auctioned in August is a 1938 402 Darl'mat Special Sport Competition Roadster, chassis 400248, originally built with an alloy body in a baby blue finish for a racing driver by the name of Dorothy Patten. Intended for driving in the United Kingdom, 400248 is one of the very Darl'mats with a built in right-hand drive. It also has doors, which most other racing Darl'mats do not possess.
Patten raced 400248 in 1939 where it charmed both English and French onlookers. 400248 was finally purchased by the consignor in 2017, its restoration entrusted to historian and restoration expert, David Cooper in Bristol, Wisconsin. 400248 was thoroughly researched and returned to the configuration as raced by Patten in 1939: an original set of competition-specification brakes were found and reinstalled and the coachwork's stunning baby blue was faithfully reproduced. This gorgeous, classic sports car embodies the tale of Dorothy Patten's fascinating years as a racer and carries in its design DNA the entrepreneurial spirit and creative innovation of Darl'mat from a remarkable chapter of Peugeot's early motorsport history.
Alongside these offerings, the Pebble Beach Auctions will present a sporting 1927 Bentley 6 1/2 Tourer (Estimate: US$900,000 – $1,200,000), a bespoke 1932 Bugatti Type 49 Roadster (Estimate: US$900,000 – $1,200,000) featuring one-off coachwork by Henri Labourdette and a 1928 Isotta Fraschini Tipo 8A S Landaulet (Estimate: US$500,000 – $700,000) with multiple CCCA First Place Awards and two Pebble Beach Concours d'Elegance Class Awards. The Pebble Beach Auctions will be broadcast live. Bidders can register now.
For more motoring news, click here.
---