---
Cars / Cars and Bikes
Nostalgia Motorcycle: reviving the mythological BMW R7
The mythological BMW R7, which has never seen the light of day, incarnates into the Nostalgia Motorcycle through the adroit hands of NMoto

The BMW R7 is considered by classic motorbike collectors to be the "Mona Lisa" of bikes—extraordinarily adorned in the Art Deco style, with its mystery and allure enhanced with a shroud of fuzzy accounts and myths of its purported prowess, and like mythical curios, an objet clandestinely tucked away in BMW's repository. In 2012, nearly 80 year since its conceptualisation in 1934, the restored BMW R7 swaggered into the famed Pebble Beach Concours d'Elegance and clinched the best-in-class honours.
Nostalgia Motorcycle: rebirthing the mythological BMW R7
The swanky black bike—whose frame is defined by curvaceous white lines, and hosts an aerodynamically hardtail silhouette and wickedly flared fenders—had an unmatched moxie that was ahead of its time. It masterfully integrated the Art Deco style with cutting-edge technology of the time, featuring a car-style gear shifter and a telescopic fork, which was the first of its kind. A pity that it was never materialised as the endemic anxiety during the 1930s pre-war era enervated men of their ambitions of owning a retro-futuristic bike.
One inspired Pebble Beach participant was Alex Niznik, who, utterly impressed by its exquisiteness, devoted his ingenuity to rebirth the legendary unicorn—the Nostalgia Project. Using the BMW nineT as the base model, Alex fastidiously installed 96 handcrafted parts, 11 of which sourced from Motogadget, to create the stylishly wild, yet tamed, biking beast.
The Nostalgia Motorcycle, which was inspired by the mythological BMW R7, is a marvel by itself. Just as the original prototype, it is embellished in the 1930s' Art Deco style and comes with front and rear suspension as well as a chiselled silver-colour exhaust.
There are some differences, but they are rightfully justified. Ergonomically, the Nostalgia Motorcycle has a lower but adjustable seat at 31-inches and is made softtail to provide a smoother riding experience. This modified rendition of the BMW nineT, retains the default 1170cc boxer engine with 110hp and 86Nm of torque but boasts a lighter aluminium frame to offer a top speed of 225km/h. This is invariably superior to the BMW R7 prototype's 793 cc boxer engine that put out 35hp; those numbers were exceptional then, not now.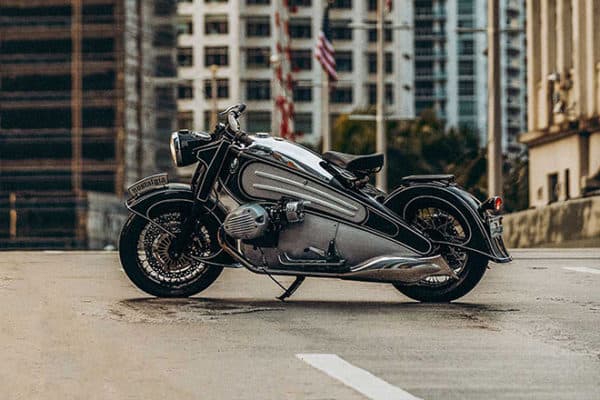 With new school elements—like the modern six-speed gearbox, traction control, anti-lock braking system and keyless ignition—fashioned in the old-school cafe-racer style, the founding philosophy of Nostalgia motorcycle is clear: reinvigorating the splendour of the 1934 BMW R7 from the technological high ground of today.
NMoto is currently taking in order for the limited production of this extravagantly customised bike at US$49,500; not so hefty if you realise that the only BMW R7 prototype may be going at millions, if at all.
---