---
Cars / Cars and Bikes
Michael Jordan is the Proud Owner of the Hennessey Venom F5 Roadster
Only 30 units will be made for the world's fastest convertible.
Back in 2018, we reported that Hennessey had unveiled the world's fastest roadster with a top speed of 301 mph. The mechanical beast was the brainchild of Shell, Pennzoil and Hennessey. Released as a replacement for the powerful Venom GT, the Hennessey Venom F5 can rake in over 1,600 horsepower and accelerate from 0 to 186 mph in less than 10 seconds. This makes it on par or even faster than some of the Formula One race cars. 
As a brand that's constantly pushing the limits of motoring, Hennessey is no stranger in breaking barriers. Last year, it announced a new model to join its suite of hypercars. The Venom F5 Roadster is the brand's continuation of excellence and it follows the sold-out Venom F5 Coupe that premiered in 2021. Just like its older sibling, the Roadster is almost mechanically identical but aesthetically distinct.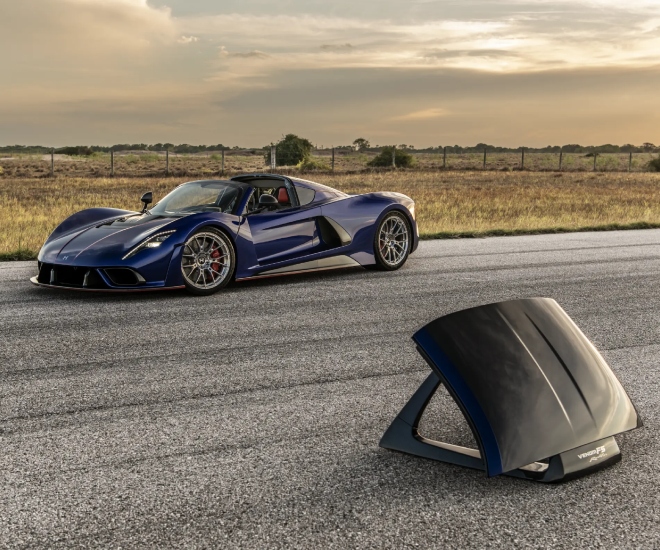 Most poignant would have to be the hypercar's roofline which has been re-engineered differently from the Coupe with its removable panel crafted from sturdy carbon fibre composites. Weighing only 8kg, the lightweight panel can be installed when needed with ease.
The Roadster boasts a powerful twin-turbocharged, 6.6-litre 'Fury' V8 engine, which is located in the carbon-fibre monocoque chassis. It can produce an impressive 1,817 horsepower and power is transmitted to the rear wheels through a sturdy automated single-clutch gearbox. Hennessey expects the Roadster to beat its own record of the "world's fastest convertible" that is currently held by the Venom GT Spyder.
At the launch, it is said that only 30 units of the Roadster will be made customised to each individual owner. While the brand has not shared who bought the Roadster, it was recently revealed that Michael Jordan was delivered a unit. A photo was posted on Hennessey Performance's Instagram showing the basketball legend standing beside CEO John Hennessey and the Roadster just in the foreground. The handover ceremony appeared to have taken place outside Jordan's private golf club in Florida, Grove XXIII. From the single image, one can make out that the Roadster has a glossy carbon-fibre body with yellow pinstripes.
Production of the Hennessey Venom F5 Roadster started late 2022 and costs US$3 million.
For more car reads, click here.
---