---
Business / Billionaires
India's Ambani shows off 'world's priciest home'
Indian billionaire Mukesh Ambani has hosted a lavish housewarming party to show off his just-completed new skyscraper residence. Some 80 of India's rich and famous attended the party on Friday night at the 27-storey building, which dominates the Mumbai skyline. Indian novelist Shobhaa De called the building – reported to be the world's priciest private […]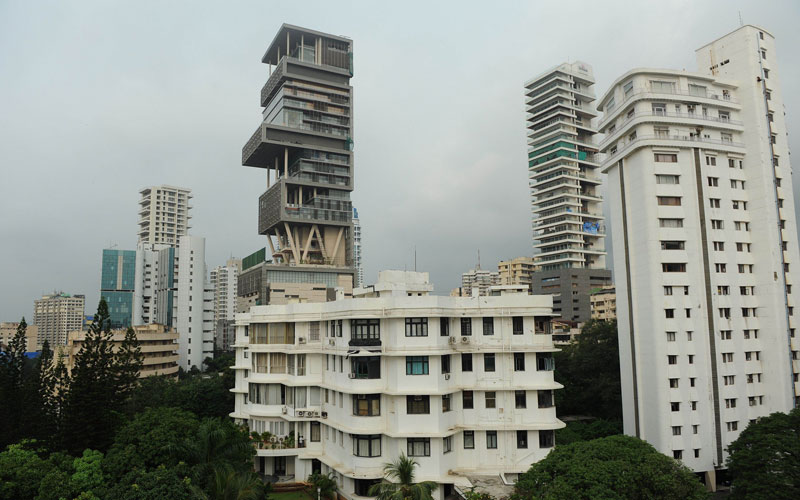 Indian billionaire Mukesh Ambani has hosted a lavish housewarming party to show off his just-completed new skyscraper residence.
Some 80 of India's rich and famous attended the party on Friday night at the 27-storey building, which dominates the Mumbai skyline.
Indian novelist Shobhaa De called the building – reported to be the world's priciest private residence -"the Taj Mahal of the 21st century".

Ambani, who heads India's largest private company, petrochemical giant Reliance Industries, will need 600 employees to maintain the palatial residence.
De described visiting "what has got to be the biggest, glitziest ballroom in India — the Palace of Versailles is a poor cousin" with groaning buffet tables lining "one of the unending walls".
Ambani, his wife and three children are to live in the 174-metre (570-feet) tall home, which according to reports has six floors of parking, swimming pools and a cinema. It is named after the mythical Atlantic island "Antilia".
One newspaper said the residence epitomised "the swagger and confidence of India's economically buoyant upper echelons".
Ambani, 53, is India's wealthiest man with a 27-billion-dollar fortune, according to Forbes.
Anti-poverty campaigners have highlighted the contrast between the home and the plight of many in Mumbai, where half of the estimated 18 million population live in slums, with sketchy or non-existent power and water supplies.
The gulf between rich and poor is visible just a short walk from Ambani's residence on Altamount Road, where entire families can be found living under a flyover and on pavements near foreign consulates and exclusive boutiques.
Guests at the residence, which has a temple on the ground floor and a personal library on the top, included Bollywood stars Preity Zinta and Aamir Khan as well as Indian billionaire Kumar Mangalam Birla.
"It's great to breathe fresh air at this height and leave Mumbai's pollution down below," one unnamed guest was quoted as saying about the vertical mansion with its panoramic views of Mumbai and the Arabian Sea beyond.
Designed according to Vaastu principles, an Indian tradition much like feng shui — said to move energy beneficially through the building — the building looks from the outside like a tall pile of books of varying sizes.
Mukesh Ambani's elderly mother also has quarters at the new home.
She will commute between Antilia and the 14-storey residence of her younger son Anil where all family members previously lived under one roof — albeit on separate floors, novelist De reported.
Ambani's younger brother Anil held a "parallel party" at the family's original Seawind residence the same night, De said.
The siblings in May publicly ended a bitter feud arising from the division of the vast conglomerate left by their rags-to-riches father Dhirubhai, who died in 2002 without a will. However they are still rarely seen together.
Source: AFPrelaxnews
---