---
Business / Billionaires
5 Singapore Entrepreneurs Dreaming Big
There is rise of a new breed of Gen-Ys. Hipsters? Not exactly. Entrepreneurially creative? More likely, just like the five you're about to meet.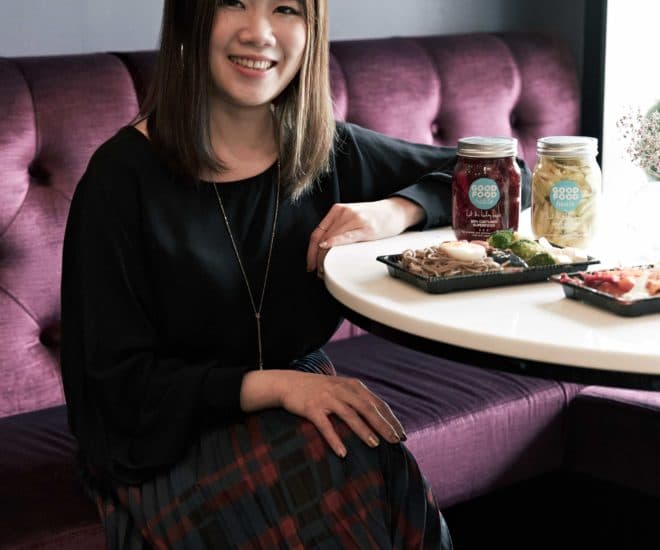 There is rise of a new breed of Gen-Ys. Hipsters? Not exactly. Entrepreneurially creative? More likely, just like the five you're about to meet. Dubbed the Young Urban Creatives or more affectionately "Yuccies", they profit from the brave pursuit of their dreams despite a tough start or pay cut. In the end, win or lose it doesn't matter, because they went for it. Our friends at L'Officiel Singapore interviewed and shot these five young entrepreneurs in a recent issue.
Valerie Teo; Good Food Heals; (@goodfoodheals)
Good Food Heals is all about probiotic food. Probiotics are good bacteria for a healthy gut. It is a 12,000-year-old way of eating – way before fridges were invented. People like Cleopatra, the Han Dynasty Emperors and even those who built the Great Wall subsisted on cultured food.
75 to 80 per cent of your immune system is in your gut. I bounced back from an eight-year eating disorder to realise how food can impact the body and mind. People with mood and skin issues tend to have very poor gut health. Probiotic food was played a big part in my recovery and I want to share it with the world.
Good food is hard to find. It is how business people are marketing it, to make it exclusive. On the other hand, I am trying to make eating well as affordable as I can. It is possible to eat wisely and affordably.
We don't count calories. We count nutrients. I can give you a zero-calorie Coke Zero and an avocado that stands at a few hundred, but which one is going to do you good in the long run? With good, healthy fat, it is the latter. Our bentos are each designed with a specific health goal, from protein absorption to detox.
Valerie is pictured above in a cotton blouse by H&M and silk skirt by Max Mara
Sarah Tan & Michelle Looi; L'eclair by Sarah Michelle; (@leclairpatisserie)
Eclairs came about towards the end of our time at Le Cordon Bleu in Paris. Initially we wanted to specialise in tarts, but at that time there were a few of those cafes opening in Singapore and we did not want to be the same. There's a cafe in Paris we'd visit weekly and it's best known for its eclairs. So one day over dinner, we thought, "Let's work with eclairs because hardly anyone in Singapore does it," and that's how it all started.
Singaporeans tend to get bored very easily. That, coupled with the saturated food and beverage market here, scares us. We get people telling us how brave we are with this venture, but I guess if you don't take the plunge, you'll never know if something could work.
Our pop-ups indicated a demand. The owners of Wimbly Lu had opened a new cafe and they let us have the space on weekends for a month. We ran our pop-up solely by reservations and it was completely booked-out way ahead of our opening.
We only use the best of ingredients. Like French butter, because it's richer, creamier and is more flavorful. Our chocolates are gourmet and they come from Cacao Barry, which has been unveiling many new blends so that's great for us.
Greg Swyny; The Woodwork Initiative; (@thewoodworkinitiative)
Carpentry is a growing trend. If you look at hipster cafes, for example, there's always an industrial feel to its decor. People are looking back at a forgotten trade and actually finding interest. I think now that there are less people working on carpentry, there is inevitably more of a demand and desire in our culture for such a craft.
I hated woodwork. I was 16 when I started helping my dad who's a contractor. I was a kid and wanted to be with my friends, I didn't want to feel sweaty and be covered in dust. When I was in my 20s, I realised with the skills I had I could create what I wanted. I was playing with excess material at home and I decided to build my own shelving, so I began sketching. That was when I started finding interest in the craft.
My home was my first major project. We spoke to a couple of contractors who quoted me prices for kitchen cabinets and wardrobes, and I thought I could do this at a fraction of the cost. It was the first time I had undertaken an entire project myself.
I want to eventually introduce a retail element. I do three main kinds of work – customization, restoration and workshops, and retail seems like the next obvious step. I want to play with materials and make cool stuff that hopefully people would like.
Yi Lian Ng; Yi Lian Ng Floral Atelier; (@yilianng)
If you want something to work, it would because you'd find a way. Flowers didn't consume so much of my time. I spent about 10 hours on it a week when I was a full-time fashion news editor so that was totally manageable with a day over the weekend and maybe two evenings on weekdays. Miraculously, I still managed to have a social life and time to spend with my family.
I knew I wouldn't starve if I quit my full-time job. That was when I started making double of what I used to earn with one-fifth of the time I put into my work as an editor. However, I persisted juggling both because I loved my job then. Though highly stressful, I had so many opportunities to meet inspiring, creative people and get to have equally inspiring conversations with them. That was the best part of my former stint, and that exposure cannot be bought with money.
People say my work with flowers is 'different'. But to be honest, I don't quite know what they exactly mean because my personal eye and taste is such an intangible thing. I guess all these years of exposure to the fashion industry has set me apart from other florists and moulded my aesthetics. I'm not too concerned with the names of flowers but more on their colors, shapes and how they look together – very much like styling outfits or creating a piece of jewelry.
My first professional project was for Loewe. The label's public relations manager then was an old schoolmate who gave me a chance and it went well. Today, my regular brand clients include Tiffany & Co., Valiram, Gucci, Chopard and Van Cleef & Arpels. Some editors and brand executives have also engaged me for their personal orders. Besides fashion, I also get many well-heeled customers because they are very discerning about their flower preferences and understand the value of the floral arrangements they are paying for.
Story Credits
All text by Kenny Loh
Photography by Mun Kong
Hair and beauty by Nikki Fu using Redken and Urban Decay
---