---
Business
Empower Your Wealth Management with Altoo's Intuitive Wealth Platform
Altoo enables affluent individuals and their families to conveniently centralise and engage with their entire wealth.
In today's quick-paced society, time is truly a luxury that not many can afford to spare. For those whose wealth surpasses the general population, time is of the essence. And having a platform that consolidates one's wealth is definitely welcomed. This is where the Altoo Wealth Platform fills in the gap as a centralised world wealth aggregation system.
Altoo enables affluent individuals and their families to conveniently centralise and engage with their entire wealth. This solution surpasses mere data collection and analysis. It serves as a secure digital hub for overall wealth, thoughtfully crafted to provide user-friendly daily functionality, facilitate comprehension of, and proficiently handle the crucial and intricate components of wealth.
You are based in Switzerland, in Zug precisely. When and how did the concept of Altoo come to fruition?
Altoo's journey began in late 2017, born out of a unique situation where a bank in Zug was closing. The technology that underpinned the bank's operations was recognised as having potential beyond its original application. The employees at the time saw this potential and were convinced of the product's fit within the market, specifically within the ultra-high-net-worth (UHNW) segment. Believing in the viability of the software as a standalone proposition, they successfully pitched to investors and secured the necessary funding to buy out the technology, thus giving birth to Altoo.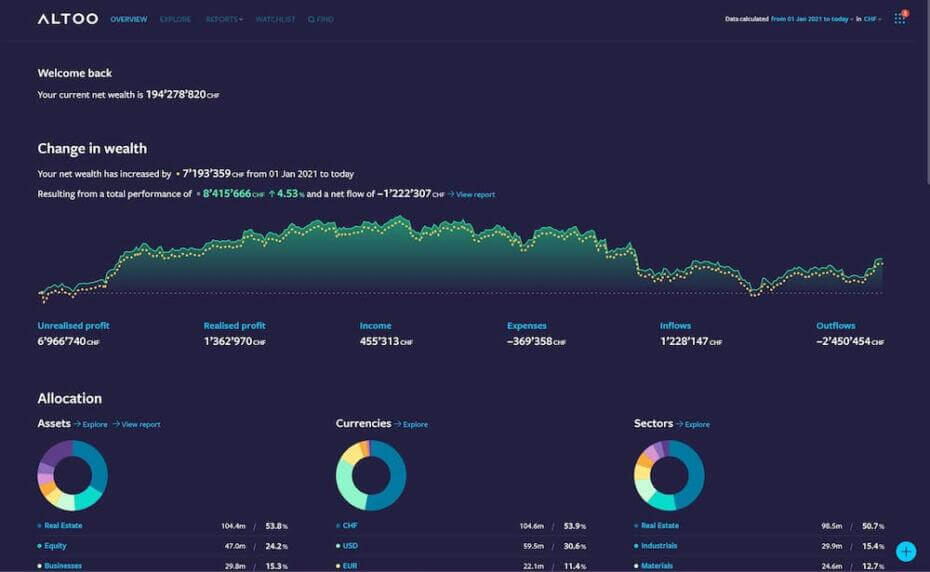 Who are the key team members behind this ambitious project, and what are their respective backgrounds?
Ian Keates (CEO)
Extensive experience in the financial sector as a C-level leader of successful growth and transformation initiatives, combined with technology and expert financial markets and product knowledge
Nico Meier (Head of Product)
Successful track record and is experienced in product design, software development and finance, and his ability to bring these two worlds together.
Cosimo Violati (Head of Business Development)
Strong commercial knowledge and experience in working with Family Offices and UHNWIs.
Philip Hediger (Head of Wealth Servicing)
Many years of experience in the financial services industry and delivering client-focused service to UHNWIs.
The Altoo tagline is "Simplicity for Complex Wealth". What problems or concerns is the Altoo platform solving?
UHNWI need someone or something (Altoo) to create the overview.
They are generally "time-poor" and cannot keep an overview in order to track and control their total wealth accurately.
There is a lot of data and people to keep track of.
UHNWI often work with multiple banks, asset managers, and advisors and has investments in real estate, private equity or lifestyle assets across the world.
Investments are diversified, compartmentalised, and interlinked.
Managing a larger amount of wealth regularly creates complexity for private individuals and those supporting them.
It has to be easy for them to understand.
UHNWI are not necessarily financial experts and are looking for a simple as well as intuitive reporting solution.
Altoo was launched in 2017. Not only do you add up assets from different sources, but you also bring together the latest technologies with the hitherto conservative banking and investment business. How do you achieve that?
We are able to receive data from the custodian banks and then upload and reconcile it into the Altoo platform, providing the consolidated view the clients need. Since we are small, agile and independent from the banks, we are able to react quickly to new trends and requests from clients. In fact, we have releases every two weeks to keep everything up to date and to deliver incremental improvements rather than only a few times per year like traditional banking platforms.
A cornerstone of our platform is security, which plays a significant role in how we deliver and develop our platform containing extremely sensitive data. We do not, and will not, compromise in this area which also gives clients the assurance they need to work with us.
Can you list for our readers the 5 key benefits of the Altoo Wealth Platform?
Consolidation of assets: Your entire global wealth is reported in one place, reducing the complexity of data collection.
Collaboration: The platform provides the capability to share access with stakeholders who work for wealth owners. This can improve collaboration, transparency, and efficiency.
Security: The platform uses advanced security measures to protect the sensitive financial data of our clients.
Ease of use: The platform focuses on providing a user-friendly interface that makes it easy for our clients to manage and understand their assets.
Insights and Analysis: We provide tools for analysis and insights that can help our clients make informed decisions about their investments.
Altoo is making knowledge about wealth and assets more transparent. Will the Altoo platform replace Family Offices and dedicated asset managers?
In a word, no. We are not providing financial advice, so we are complementary to such businesses. We are helping them to work closely with their clients in a more transparent and trusting relationship which both parties find beneficial.
You mentioned several times that "security is in the DNA of Altoo and we apply many security-relevant concepts during the development process". Can you elaborate further on this highly sensitive matter?
Not without getting technical or revealing what and how we do it. Sorry! But I can say that we do employ the best and most secure methods, and that all client data is fully encrypted to the highest level. Financial data is only accessible within Altoo on a strict "need-to-know" basis.
Altoo has made several enhancements to its software since launching in 2017, including a host of new features such as cash flow forecasting, a liquidity planning tool, income and expenses reporting. What new developments are planned ahead?
We will be allowing clients to really drill down into their fund investments. FX Forwards is a key topic for those clients hedging currency exposures and we are enhancing how we deal with these instruments as well as other derivatives. There will be significant additions to the mobile app, allowing the seamless upload of images and documents so that clients can complete the repository of information they want to hold on non-bankable assets. We are also examining how AI might be useful for our clients in providing insights on their portfolio changes, but this is still in the early stages.
Where do you see Altoo five years from now? What are the key milestones ahead?
In five years, Altoo is likely to have significantly grown its client base. While the platform may continue to cater predominantly to the UHNW bracket, it might expand its reach to include clients beyond this demographic, though not as far as to include retail clients. This expansion won't be at the expense of the company's core values. Altoo is not a "grow at any cost" tech startup; instead, it's committed to creating a valued product for people who prioritise long-term trusted relationships. This dedication to client relationships will remain central to Altoo's growth strategy.
Altoo has several key milestones ahead, focused around traditional SaaS metrics. This includes targets related to revenues and client numbers. However, these milestones won't merely reflect numerical growth. They'll also be a testament to Altoo's commitment to providing a trusted, valued product to its clients, emphasising quality of service over mere expansion.
If you were to name one mentor who has inspired you in your career, who would that be?
I have been lucky to work with many inspiring individuals over my long career, and I hope to have inspired others as well, so this is a tough question. Some years ago, I was fortunate to have the opportunity to work with a top executive coach. He really forced me to examine my management approach and to become a better leader by not only knowing my strengths but acknowledging where I am weak and how to fill the gaps, either by myself or by deploying other resources better suited.
For more business reads, click here.
---