---
Properties / Homes
Lodha Reveals First UK Residential Development
Situated in-between Covent Gardens and the City of London, the nine-story Lincoln Square is, needless to say, prime real estate.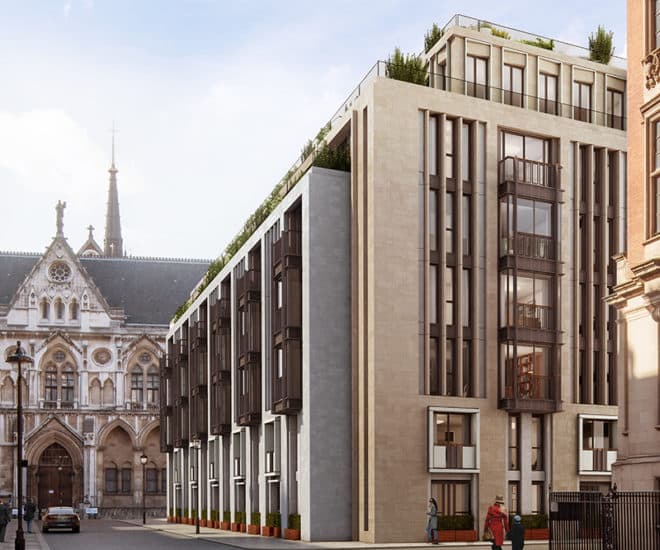 Lodha has just unveiled its first residential development in the UK, Lincoln Square. Situated in-between Covent Garden and the City of London, the 10-story Lincoln Square is, needless to say, prime real estate. Within a stone's throw you'll find the London School of Economics, the Royal Courts of Justice, Lincoln's Inn and King's College. The Lodha Group, India's largest real estate developer by sales and one of its most famous, is looking to make a big push into London with this prestigious project.
The apartment building is a collaboration between architect PLP, designer Patricial Urquiola, famous for her Mandarin Oriental design in Barcelona and interior designer Bowler James Brindley. The private courtyard, on the other hand, will be courtesy of Gustafson Porter who designed the Diana, Princess of Wales Memorial in Hyde Park. Lee Polisano of PLP Architecture commented: "The thoughtful selection of high-quality British and Portuguese sandstone provides visual continuity to the building's façades, each responding to the scale, form and palette of their surroundings: amongst them, the grand Victorian Gothic Royal Courts of Justice to the South, and the neo-Jacobean Land Registry building to the North."
Lincoln Square comprises of everything from studios all the way up to four-bedroom apartments and two penthouses. Residents will have access to a wide array of amenities including: a private cinema, 25-meter swimming pool, a private club and library, gym and a spa. Completion is set for 2018 and prices start from GBP895,000.
Visit Lodha Group for more details.
---