---
Cars / Cars and Bikes
This is the last Bugatti Veyron ever built
Bugatti has announced that the very last Veyron will premiere at the Geneva Motor Show, which takes place March 5 to 15.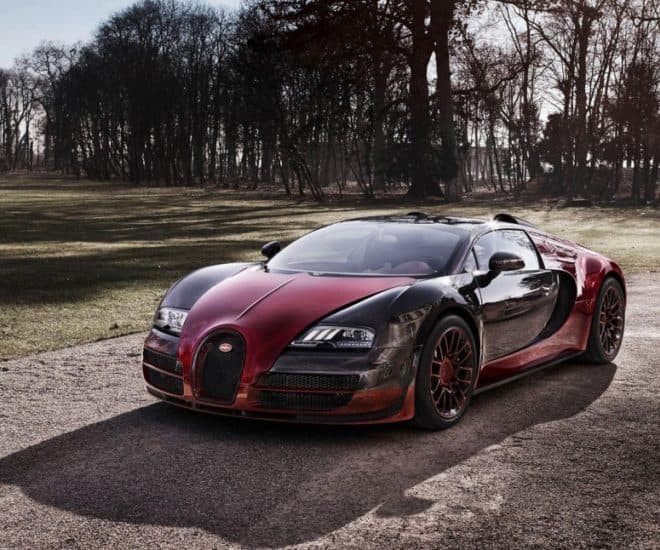 After 10 years of production and 450 multi-million-dollar examples, the hypercar that broke all records from top speed to price tag is bidding farewell at the Geneva Motor Show with the "La Finale".
The farewell model, a Grand Sport Vitesse, takes its exterior design cues from the very first Veyron — chassis #01 — and the two cars were unveiled side by side at the Geneva Motor Show on Tuesday.
However, while the very first customer Veyron was finished in black and red paint, the 450th example is finished in exposed red- or black-tinted carbon fiber, a technique the marque has pioneered over the past decade.
There are two other big differences: The 450th Veyron is a convertible rather than a hard top and its engine more potent.
The Bugatti Veyron 16.4 Grand Sport Vitesse has a W16 engine with around 1,200hp, which takes it from 0 to 100km/h in just 2.6 seconds.
With a record top speed of 408.84 km/h for the convertible version with the top down, the model is still the world's fastest production roadster.
Every Bugatti that leaves the factory does so with its prospective owner's input and La Finale is no exception.
The owner — the car has already been sold — has gone for subtlety. The only clues as to the car's significance are a small "La Finale" badge under the right headlamp and the same legend written on the underside of the car's airbrake spoiler.
Bugatti is now working on a replacement model which it hopes to debut next year and which promises to carry on where the old car left off.
---