---
The Lux List / Billionaires
The world's billionaires 2011
Carlos Slim Helu remained the world's richest person, but Asia is where today's big money is flowing, Forbes magazine said in its 2011 list of the world's billionaires. Slim, who is almost unknown to the general public outside Mexico, weighed in at a staggering $74 billion of net wealth thanks to his telecoms empire. Already […]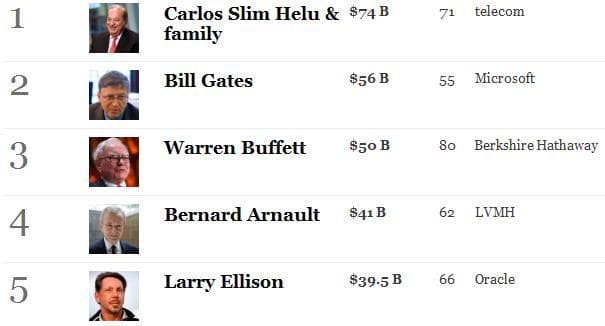 Carlos Slim Helu remained the world's richest person, but Asia is where today's big money is flowing, Forbes magazine said in its 2011 list of the world's billionaires.
Slim, who is almost unknown to the general public outside Mexico, weighed in at a staggering $74 billion of net wealth thanks to his telecoms empire. Already the top dog last year, he increased his fortune by $20.5 billion dollars.
In a now familiar second place was Microsoft founder Bill Gates with $56 billion. The relatively lowly ranking reflected his enormous philanthropic give-aways over the year.

Next up was US investment guru Warren Buffett and Bernard Arnault from the luxury goods group LVMH with $50 billion and $41 billion respectively.
But outside this cozy billionaires' club, a tidal wave of money is flowing across Asia, which helped lift the total world population of billionaires to a record 1,210 from 1,011 last year.
The United States still leads with just over 33 percent of the world's mega-rich, but that is down from about half a decade ago. Surging forward is the Asia-Pacific region, which overtook Europe for the first time.
"The global economy is recovering, but it's not spread all across the board," said Steve Forbes, editor in chief of the business magazine. "The list reflects the extraordinary changes taking place in the global economy."
The billionaire surge saw an increase in China from 69 to 115, Hong Kong from 25 to 36, India from 49 to 55 and across Asia-Pacific as a whole from 234 to 332.
There are "literally millions of people around the world who have the opportunity to be creative," Forbes said.
European gains, led by Russia's commodities barons, were largely due to Asian appetite for raw materials, or, in the case of LVMH, luxury goods.
"China really set the tone this year," said Forbes senior editor Luisa Kroll. "Asia for the first time has more billionaires than Europe."
Kroll said the dynamics behind Asian success were booming stock markets and business-friendly governments.
"It is much easier to get rich today if you go live in Shanghai. If I were 22 years old and an entrepreneur and maybe could speak Mandarin… I'd high-tail it there," she said.
With much of the world still feeling the aftershocks of a deep recession, the annual ritual of the billionaires list can at first seem out of touch with reality.
But Forbes editors said most of the names on the list were themselves people who had made good after overcoming difficulties and failures.
"These are people, contrary to the Hollywood myth… these are very scrappy individuals, very focused individuals," Forbes said.
Kroll said people who become billionaires need luck and determination, but also a little extra.
"They are unique people. Sometimes I think they're a little offbeat," she said.
Source: AFP
---