---
Style / World of Watches (WOW)
The Only Watch 2023 Auction Gears up for a Good Cause
The Only Watch auction is set to return this November, featuring unique timepieces donated by watchmakers that will grace the auction floor to raise funds for Duchenne Muscular Dystrophy research.
Louis Vuitton Tambour Einstein Automata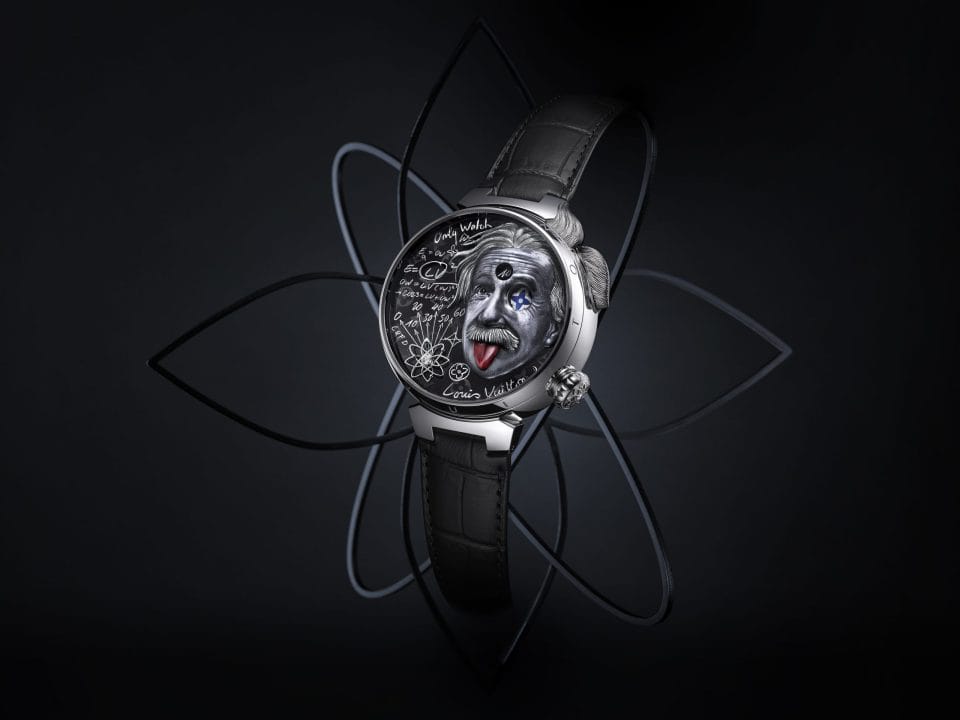 Louis Vuitton celebrates their tenth consecutive contribution to the biennial Only Watch charity with a micro portrait of one of the greatest minds of our time, Albert Einstein, in the Louis Vuitton Tambour Einstein Automata. The likeness of Einstein was brought to life in the La Fabrique du Temps Louis Vuitton workshop with two age-old techniques, namely micro-sculpturing and grisaille enamelling.
Engraver Dick Steenman fashioned Einstein's contoured face from white gold. 80 hours of work went into the meticulous detailing for Einstein's furrows and facial hair and another 40 into the steel lock of hair that forms part of the steel watch case and automata push-piece. Enameller Nicolas Doublel completed the piece by employing grisaille and miniature enamelling to bring the portrait to life. The former technique, once lost and revived a decade ago, involves layering white enamel over a deep black enamel base to achieve shades of black, white and grey. Each layer requires kiln firing, making it highly complex and time-intensive. The rest of the portrait elements are enamelled too, including the dial, scribbles and Einstein's tongue.
Chalk-like scribbles populate the left side of the dial — Einstein's mass-energy equivalence formula cheekily reads "E = LV²" along with other formulae involving the Louis Vuitton and Only Watch initials. An atom model showcasing four valence orbitals in the elegant Louis Vuitton Flower Monogram pays homage to Einstein's profound contributions to quantum mechanics.

Activating the automata push-piece engages four animations on the dial. The forehead aperture display that reads "T = ?" reveals the hour digit while a pointed end on the valence orbitals moves to the corresponding minutes. Petals of Einstein's Monogram Flower eye narrows as a wink of mechanical ingenuity while his tongue extends fully in jubilant certainty of solving the time equation. Given the amount of energy required to animate the automata, the LV 525 calibre offers 100-hours of power reserve. Should energy dip to critical levels, the formula scribble doubles as an indicator which reads "E = OW" instead of "E = LV²".
Bell & Ross BR 03 Cyber Rainbow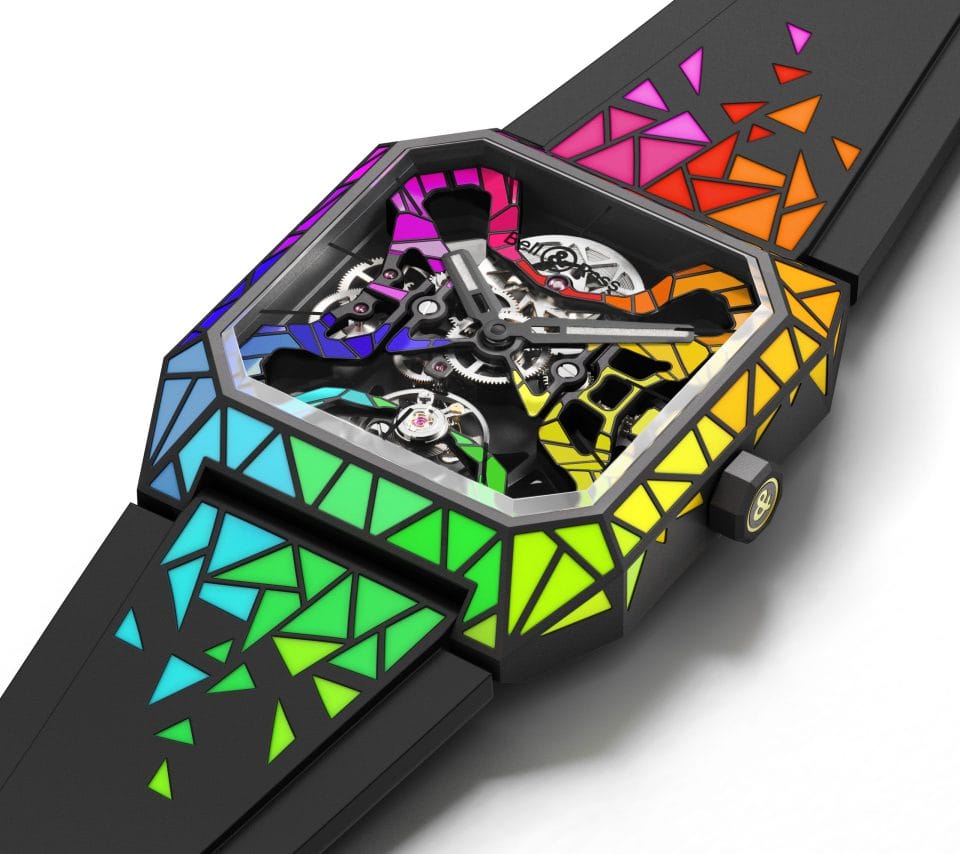 Colours get the Cyber treatment as Franco-Swiss brand Bell & Ross presents their submission for Only Watch 2023, the Bell & Ross BR 03 Cyber Rainbow. Call it bold or avant-garde or bold, but the elevated play on chromatics are only befitting for the special occasion and sets the narrative for the unique creation in motion. The familiar BR 03 case is decked out in a mosaic rendition of the rainbow as a symbol of hope, starting with red at the top before fanning around the watch from the strap, case and movement in a clockwise direction according to the rainbow's colour spectrum. Varnished pieces are responsible for bringing the effect to life, though various application methods are used for different surfaces. For instance, the bridges of the skeletonised automatic BR-Cal.383 specially developed for this watch are black DLC-coated and micro-blasted for a soft textured finish. Pockets littering the bridges are filled with coloured varnish, offering a sense of airiness and lightness to the dial. Over on the black DLC-coated titanium case, the mosaic pieces are painstakingly applied with a specialised process. Conversely, the pieces on the rubber straps are made from soft coloured materials to match the malleability of rubber.
Piaget Polo Skeleton Arty
Prepare to be captivated by Piaget's contribution for the charity auction, the Piaget Polo Skeleton Arty. At the heart of the watch is the Piaget Polo Skeleton, a symbol of a lifestyle that transcends mere functionality and stands as a testament to Piaget's commitment to innovative design and timeless style. The Piaget Polo Skeleton Arty edition goes the extra mile, combining artistic flair with technical prowess to make for a true masterpiece. At its core beats a coloured Manufacture Calibre 1200S1, drawing inspiration from the captivating Hexa Grace artwork by Victor Vasarely, prominently displayed in Monaco. The ultra-thin movement, measuring a mere 2.4mm in thickness, features meticulously crafted green, blue, and rose-gold skeletonised bridges that have been exclusively designed for this occasion. A harmonious fusion of form and function sees the watch encased in a sleek 42mm rose-gold case boasting a thickness of 6.5mm, complemented by an interchangeable blue strap.
Montblanc 1858 Geosphere 0 Oxygen CARBO2 Only Watch Unique Piece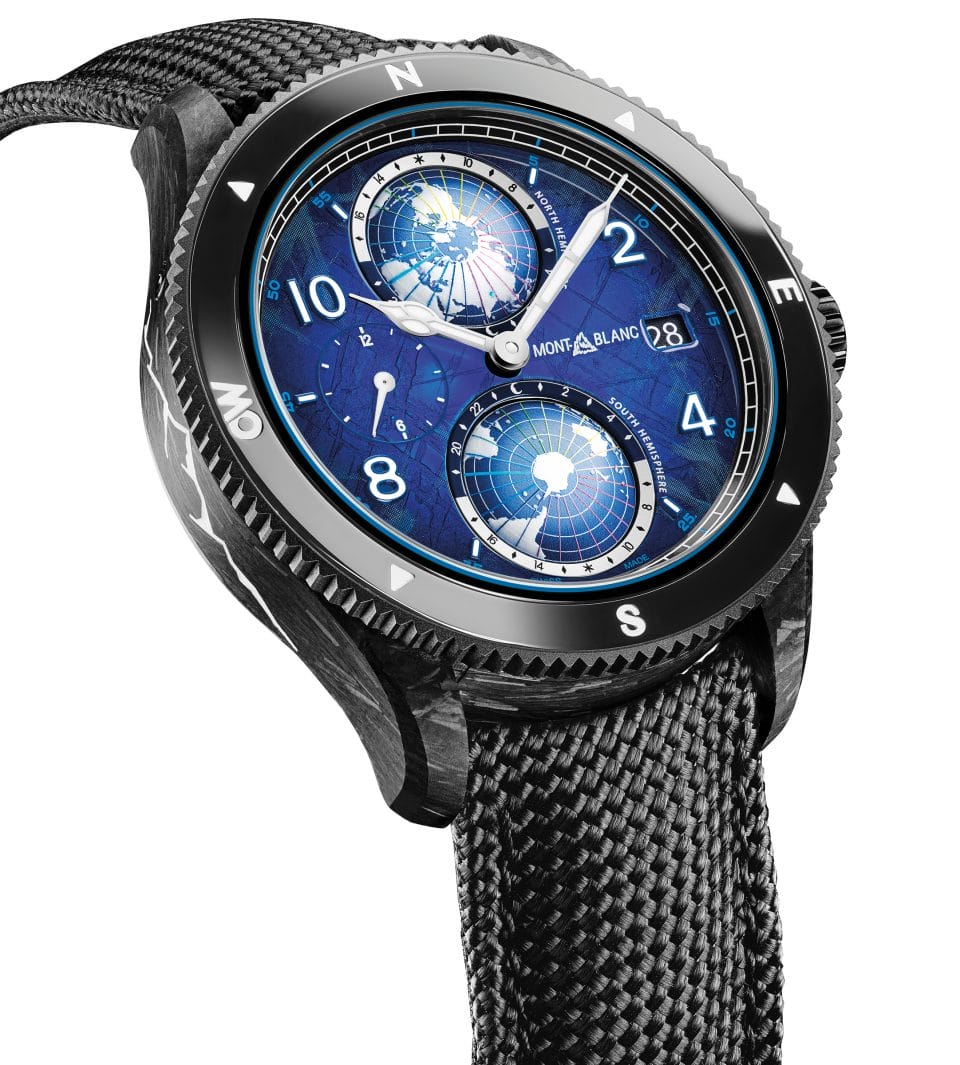 Montblanc presents a literal take on "frozen in time" with the Montblanc 1858 Geosphere 0 Oxygen CARBO2 Only Watch Unique Piece. The Montblanc 1858 Geosphere needs no further introduction, but the innovative case material named CARBO2 is not one to gloss over. A calcium dissolution and carbonation process captures CO2 from biogas production and mineral wastes from recycling factories. The powdered end-product is then mixed with carbon fibre resulting in an ultra-light-and-resistant composite material. Aesthetically, the case striations resemble a mountain's landscape with darker or light shades depending on the carbon fibre and CO2 composition. Montblanc's affinity with mountains continues on the case back — a photorealistic 3D laser engraving of Mount Everest is presented next to 13 other of the world's highest peaks. To protect the components of the Calibre MB 29.25, Montblanc incorporates their Zero Oxygen concept, ensuring an oxygen-free environment that prevents fogging and oxidation. The Montblanc 1858 Geosphere 0 Oxygen CARBO2 Only Watch Unique Piece will come nestled in an oxygen-free block of "ice" (safe, breakable glass). Apart from the watch, the winning bidder will be presented with an ice pick and written note donated by Montblanc's Mark Maker and world record-breaking alpinist Nimsdai Purja to shatter the ice and unveil the watch or keep it forever frozen in time.
Frederique Constant x Christiaan van der Klaauw Tourbillon Planetarium Only Watch 2023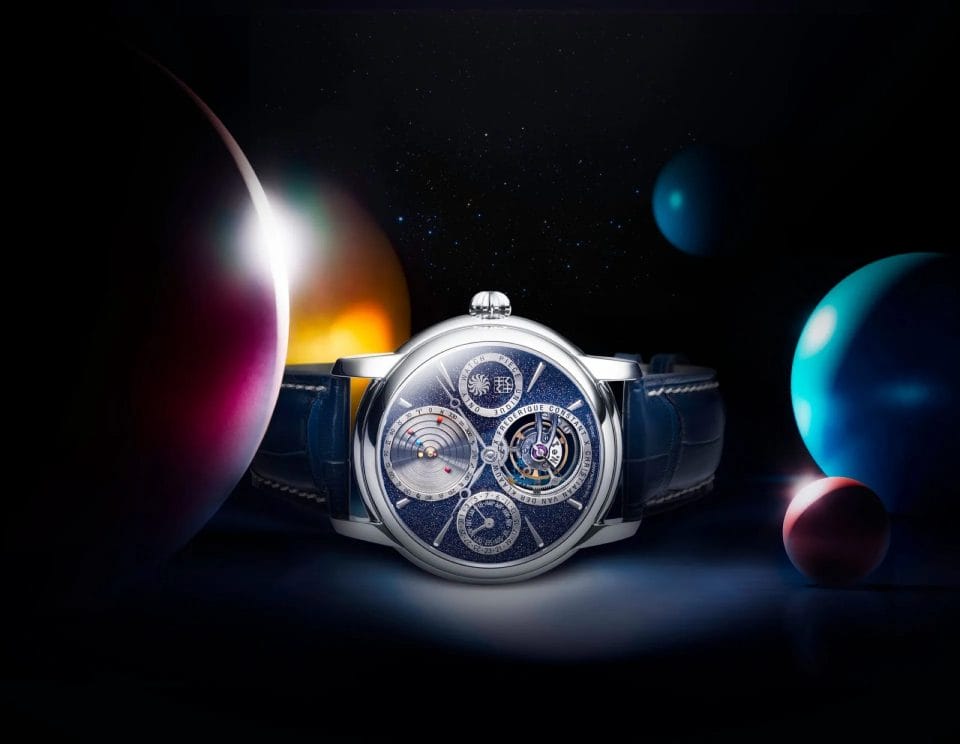 Frederique Constant and Christiaan van der Klaauw go Dutch for Only Watch 2023. A common thread runs through both watchmakers, having been Dutch-founded and Dutch-led. The horological friendship spanning over 20 years culminates in a historic union in the form of the Frederique Constant x Christiaan van der Klaauw Tourbillon Planetarium Only Watch 2023.
The groundbreaking collaboration showcases their respective expertise, Frederique Constant's integrated manufacture facility designs, develops and assembles up to 30 Manufacture calibres while Christiaan van der Klaauw Astronomical Watches is the only atelier in the world that is completely devoted to designing and producing hand-made astronomical watches.
A bulk of the heavy lifting falls on Frederique Constant's shoulders as they bring forth a specially developed 42mm platinum case shaped after the brand's evergreen Classic watch collection and the exquisite Manufacture Tourbillon meticulously designed, decorated, and assembled by hand in their Geneva manufacture. A combined date/ month display housed in a single counter at nine o'clock makes its debut in a Frederique Constant movement. While the complication appears simple on paper, it requires a great deal of competence and understanding in gear works to pull off.
Christiaan van der Klaauw's technicality and prowess in astronomical complications manifests as a planetarium sitting proudly at the top of the dial. Witness the mesmerising sight of six planets orbiting the Sun in real time in the world's smallest planetarium, with Saturn's orbit alone spanning nearly 30 years. Adding to the cosmic allure of this astronomical marvel is an aventurine dial. The enchanting material, another first for Frederique Constant, sparkles like the stars in the milky way as the watchmaker delves into uncharted territories of design and craftsmanship for a good cause.
A version of this article was first published on MENS' FOLIO Singapore.
For more watch stories, click here.
---