---
Style / World of Watches (WOW)
Platinum, Gold and Steel: The Appeal Of Precious Metal Timepieces
From its rarity to its undeniable versatility, timepieces made of precious metals are a collector's favourite for a multitude of reasons.
For majority of the 20th century, precious metals were the most highly valued materials in watchmaking. The undeniable versatility of steel or the elegance found in platinum, and the classic feel of gold watches are what drives the appeal of these rare timepieces.
For a number of years, luxury timepieces were crafted in solid gold and that was the standard, go-to metal for watch manufacturers. As time has gone on, we have seen the introduction of a variety of new metals that have taken the watch world by storm. While 18k gold is still the metal of choice in luxury timepieces, the entrance of steel and platinum timepieces has offered watch enthusiasts a welcome range of options that encompass luxury.
Going For Gold
Looking only to gold then, one fact says it all. The retail price of any given model in gold does not have much of a relationship with material costs. There are many examples to get into but one can simply count on the value of gold being just 20 percent of the price, and that is if we are being so generous as to count 18k gold as 24k gold, and if we use the cost price of the watch, not the recommended retail price. Apply this line of reasoning and you will find yourself in trouble.
To illustrate, I will use the Rolex Submariner as a benchmark since this collection features steel and precious metal variants – though not platinum. Reference 126610LN in steel is USD 13,890 while reference 126618LN in yellow gold is USD 52,340. That is a close to fourfold increase, which anyone can see has little to do with the price of gold. In Oystersteel and yellow gold, reference 126613LB, the price is USD 20,290, which seems a happy confluence. As an aside, Rolex watches in different types of gold have different prices, but this is not the case across all brands.
In fact, this is why so many collectors say it is better to pay the steel price than the gold one. Bringing platinum back into it, no platinum model exists in this Submariner example, but Rolex typically lists all prices on its website, with some notable exceptions. The Rolex Day-Date in platinum is one such exception. We infer from this that prices must be eye-watering indeed.
Signature Elements
This opinion of mine came to the forefront this year thanks to one particular watch, which you may have guessed is the Vacheron Constantin 222. In full yellow gold, it is a little more expensive than its peers from Audemars Piguet and Patek Philippe, to use just its peer group (and the other members of the classical trinity in Swiss watchmaking). Leaving aside the matter of any weight comparison, because the price ultimately has little to do with the raw material, this is tough to swallow for some collectors, as was evident at the local event showcasing the Vacheron Constantin novelties. Since I do not think the prices brands settle on have much to do with standardised value systems, it does not bother me. Those who love the 222 will find reasons aplenty to love the watch. Everyone else, not so much.
This is all tied to industry conventions, or perceived ones at least. The perception of value is king. Whatever anyone tells you, one cannot really tell platinum apart from white gold or steel, at least not by sight alone. For this reason, certain tropes, such as Rolex using a smooth bezel for its platinum Day-Date models made sense. This particular Day-Date defied the brand's established conventions, and casual observers might think it a reasoned and calculated move. Of course, we have heard a lot this year about why a fluted bezel in platinum was not possible before, and we look at the official word from Rolex on that elsewhere. To me, it all adds up to an acknowledgment that beliefs about watchmaking must be sustained somehow. People believe all kinds of things about watches and watchmaking, sometimes entirely independently of marketing talk.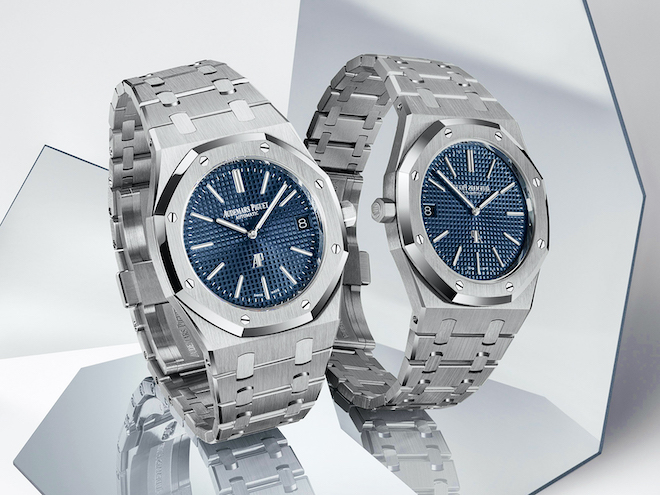 Brands can and use markers for platinum watches, above and beyond gold. Blue dials in special shades or tones, accompanied by straps in the same tone, or stitching in platinum, are just a few ways. Patek Philippe uses a diamond at 6 o'clock on the case middle, to mention just one specific example, and this is deliberate. You would not want to pay the platinum price and have steely feelings about it. Or even white gold feelings for that matter. If brands make an extra effort with platinum, it pays off for collectors in the know, and those brands in their circle who are likewise clued in. While that might seem superficial, I find the attention lavished on details like this to be quite special. By way of contrast, neither steel nor gold watches receive such attention, typically. Well, the grand success of the Royal Oak and the Nautilus can be partly attributed, if one is so inclined, to the special touches used for those steel models, and subsequently reserved for them. Before Audemars Piguet and Patek Philippe made those watches, no one had treated steel as anything particularly special.
Steel Loving you
To make these convoluted arguments more cogent, I will finish this point with a statement: it takes heart to buy watches in precious metals, and it is worth doing because the players battling it out for steel watches do not have their hearts in it. If collecting watches is your passion, it may be time to close the door on steely delights and move on to the world of precious metals (and complications, but that is another story for another time).
Having said all that, I think steel is still in the picture, but it is just not the whole picture. We have recently witnessed the return of the platinum and steel wristwatch. This is a reference to the Parmigiani Fleurier Tonda PF of course, but platinum is also used with other white precious metals quite unobtrusively. As far as precious metals go, its important to ensure that the quality of gold is up to standard and comes from a reliable source. This digression aside, the incredible success of the Rolex Oyster Perpetual Sky-Dweller in Rolesor white gold and steel, might be an indication that hybrid metal watches might not be two-tone or bi-colour in future. Another point in favour of this outcome is the recent decision at Montblanc to use white for its signature fluted bezels, even when the case is steel.
We think this approach is exciting from the perspective of countering some of the purported nouveau riche connotations of two-tone watches. When the metals coming together are the same colour (using that word loosely), then the fact that there is a precious metal in play becomes something of a secret pleasure, more for the wearer than for anyone else. Both Parmigiani Fleurier and Montblanc have all but said as much in explanations about these moves. Having handled both Parmigiani Fleurier Tonda PF models and Montblanc Minerva pieces at Watches & Wonders in Geneva, I can say that you cannot really tell that there are any precious metals in play. The watches do not feel notably heavier than they should, and there is no full steel model to serve as a frame of reference anyway.
Tone On Tone
Bi-metal watches also neatly skewer that old argument that some shades of gold work better on some skin tones, which to my eyes rings false. This is all about emotions anyway, and notions about skin tones and gold tones seem quaint in our present era. If the shine of steel is really what moves the market, then adding a bit of extra luminosity with precious metals functions both to sell any given watch, as well as to ask collectors to decide how they feel about a bit of precious metal adding heft to the price. To be blunt, the flippers are probably going to discount the precious parts, as they definitely do for the Sky-Dweller reference 326934.
By discount, I mean traders will ignore whatever they find difficult to understand. Consequently, this Sky- Dweller reference is frequently listed as just Oystersteel, even though no such watch exists. As I pointed out earlier, resale prices almost never take materials into consideration, other than making steel the default by dint of its supposed universal appeal. This also sidesteps those notions about skin tones. It is this notion of universality, flimsy as it is, that makes the monotone bi-metal watch an interesting option.
Finally, there is also the matter of safety, and I do not make this claim lightly. Living in Singapore, we take it for granted that we can go about being as flashy as we want. This is certainly not true in plenty of other places, including other global cities such as London. In other words, a full yellow gold watch might make you a target, but a white gold one might not. Any combination of white precious metals and steel or titanium likewise does not draw attention to itself, and consequently your arm. Unlike a pure utilitarian metal though, this sort of watch is a pleasure you can feel. Well, you will imagine that you feel it, but that is good enough. A sort of badgeless approach, as seen at H. Moser & Cie and Parmigiani Fleurier, is also worth noting here, although this is properly the subject of another story.
To sum up, there might not be a more relevant or exciting time for bi-metal watches than this very moment. After all, the 1980s are back again, in more ways than one, and there is a persistent notion that bi-metal watches are very representative of the 1980s. I am uncertain that this cultural context works in Singapore, or in Asia really, but this is a matter of opinion and I have no strong feelings, one way or the other. What I do have some feelings about, is the future of such hybrid materials as Omega's Bronze Gold. Essentially a 9k gold alloy, it might be the right fit for other brands that could use it to greater effect, say Longines, or Tissot or even Rado. Fancy a Bronze Gold Captain Cook anyone? I know I would, depending on how the brand determines the price on this. On that note, Bronze Gold could also be useful to resolve any Tissot PRX half gold price misgivings. This sort of gold alloy can also be used in bi-metal watches to offer competitive pricing. We shall see where these musings take us all. See you in five years or so.
For more watch reads, click here.
---