---
Style
Navigating Tradition – Tissot Heritage 1973
Tissot takes a drive into its own past with the Heritage 1973, reminding us all of its automobile racing history.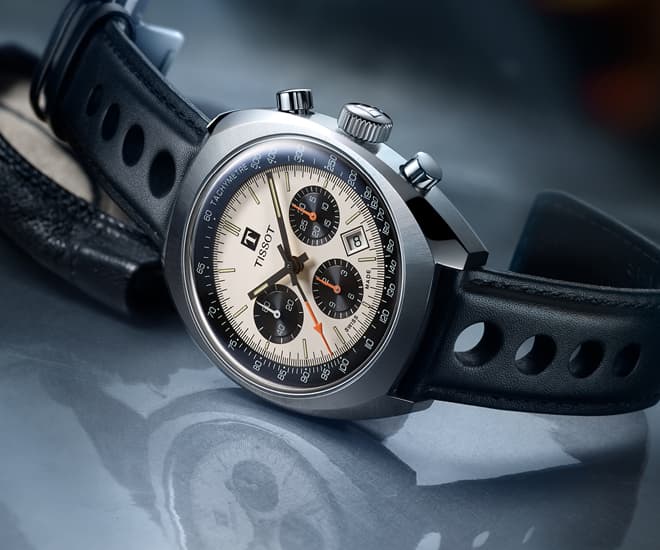 Plenty of Swiss brands have great catchphrases, mottos and "House Words," if Game of Thrones is your kind of thing. They're really just taglines when they're part of marketing stories, but there are some that require their brands to step up. Tissot's "innovators by tradition," is one of these, and a watch such as the Tissot Heritage 1973 presents both opportunities and challenges. For any brand, the main challenge regarding reissues is how to make things contemporary while also preserving the very appeal that made the new watch possible. Tissot opted to create a timepiece that pays tribute to its legacy over updating a modern classic.
To address certain realities head-on, the new Heritage 1973 is inspired by the Tissot Navigator chronograph of 1973. Both watches are automatic chronographs, but the similarities don't extend much further. Of course the Heritage is not a watch that was present in the 1970s, and the Navigator is no longer part of the Tissot family. In fact, the year 1973 was selected more as a celebration of Tissot's close links with motor racing; that was the year the brand first participated in the Monte Carlo rally, with the winning Alpine team.
This is important in its own right as Tissot is much more famous these days for its links to the world of motorcycle racing. There's also a link to aviation, via the racing driver and pilot Loris Kessel, who competed in Formula1 in 1976 under the Tissot banner.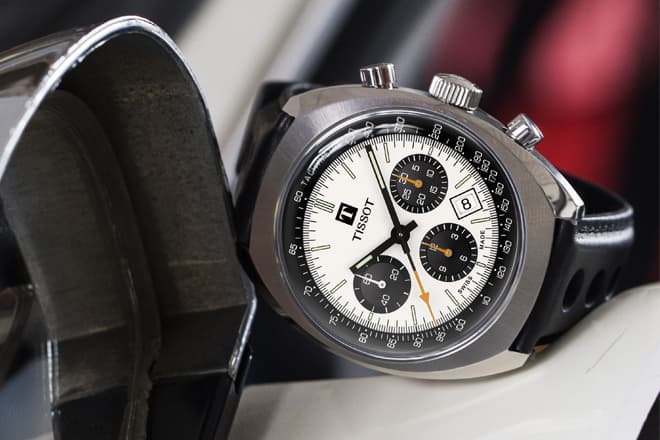 Echoing this, the Heritage 1973 features designs nods to a number of different watches from the 1970s – from its cushion-shaped case with short (virtually non-existent) lugs to the Panda dial, and the box crystal shape (although this would have been acrylic in the 1970s, not sapphire crystal as it is today). The shape of the watch is actually quite daring, and something we have a soft spot for. The case and sapphire crystal are curved, as is the caseback, to provide a better fit on the wrist. This is important because the Heritage 1973 is a big fella at 43mm, compared with the more modest 39mm of the old Navigator.
Via the exhibition caseback – another contemporary touch – the automatic calibre 7753 peeks out; Navigators reportedly used Lemania calibres, back in the day. No doubt there won't be quibbling about the movement, given that Valjoux and Lemania are both part of Swatch Group now, just like Tissot. Both the Navigator and the Heritage 1973 have date windows, although done quite differently.
Tissot Heritage 1973 Price and Specs
Movement Automatic Valjoux calibre 7753; 46-hour power reserve
Case 43mm in steel; water resistant to 100m
Strap Black calfskin with black racing style overstitching
Price TBC
---