---
Style / Accessories
Tiffany & Co. launches New Men's Collection with accessories, homewares and games
The iconic go-to jewellery brand of choice when it comes to anniversaries and birthdays wants men to buy Tiffany & Co.'s products for themselves
To modern gentlemen, Tiffany & Co. has been a go-to staple for anniversary gifts, last minute presents and a treasure trove of birthday curios for loved ones of the opposite gender. Today, the iconic jeweller wants men to get something for themselves with the launch of the brand's new men's collection of men's jewellery, accessories, barware, home objects, games and more.
"Tiffany Men's is centered on craftsmanship as the foundation of our company. Tiffany 1837 Makers is a nod to the workmanship and time-honored techniques used in creating jewelry—the idea that there's a person behind each object," said Reed Krakoff, chief artistic officer, Tiffany & Co.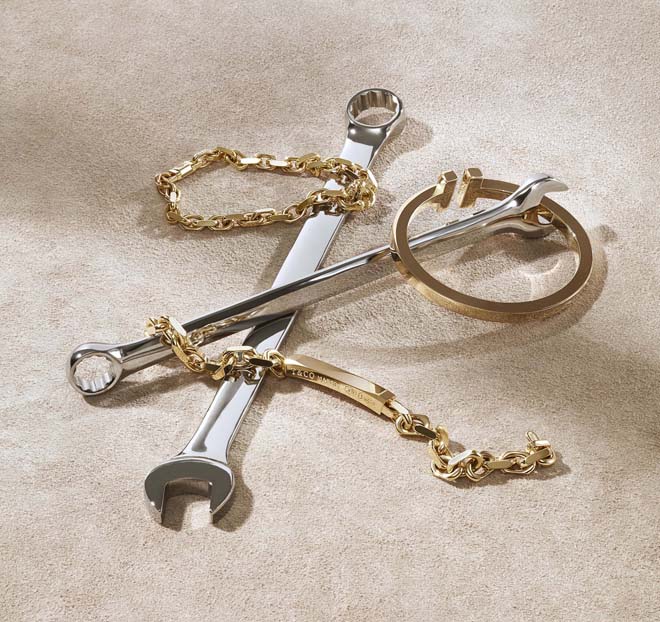 According to Euromonitor International, the women's jewellery market generated US$33.2 billion but men's jewellery segment has been growing, achieving US$5.8 billion in 2018.
Tiffany & Co. launches New Men's Collection with accessories, homewares and games
Founded in 1837, the brand's modern history and iconic blue boxes have an indelible association for femininity (thanks to Audrey Hepburn's (and the movie's) near universal appeal and popularity) and elegantly refined female-marketed jewellery.
That said, Tiffany & Co. has the provenance of being a respected crafter of masculine metalware as well – in 1862, Tiffany supplied the Union Army with Model 1840 Cavalry Sabers, an elegant if deadly implement of war inspired by the 1822 French hussar's sabre. In 1877, the atelier also made Medals of Honour, at first for the New York Police Department and later, for the the United States Department of the Navy which became known as the "Tiffany Cross" version. Given the company's historical production of martial goods, it is not entirely out of left field to debut a comprehensive Tiffany & Co. men's collection.
According to Washington Post, some critics feel that the glitz and glamour of Tiffany & Co. have long departed from the brand's more masculine creations, however, it is our contention that under Reed Krakoff's deft artistic touch, the maker of the Tiffany 1837 Makers and Diamond Point collections, venturing into men's accessories and jewellery is emblematic of its heritage of as a precious metal artisan with a rich silversmithing legacy.
Available in stores from October, the Tiffany & Co. men's collection will include close to 100 designs encompassing the gamut of accessories, barware, home objects, and games, with prices going up to US$15,000. Uncomplicated and rooted in expert craftsmanship, Tiffany Men's embodies the spirit of the modern man: bold and confident, casual yet refined.
Made to order, the Tiffany 1837 Makers collection is inspired by the jeweller's hollowware workshop and its 160 year tradition of handcrafting sports trophies. Designers experimented with concave and convex forms, flat edges and motifs evocative of utilitarian hardware when creating jewelry, barware and more. Stamped with symbols like "T & CO MAKERS," "NY" and "AG925," Tiffany 1837 Makers honours Tiffany's silversmithing heritage while referencing the fact that the luxury house set the U.S. standard for sterling silver (925 per 1,000 parts silver).
Where Tiffany 1837 Makers is artisanal and utilitarian, Diamond Point represents the elevated, classic end of the style spectrum with a strong, graphic pattern. Die struck and hand polished to achieve its iconic textures, the motif appears as a subtle accent or a prominent overlay on jewelry and Home & Accessories pieces like the Diamond Point rectangle pendant in sterling silver, cuff in sterling silver and cocktail mixer in lead crystal and sterling silver.
---