---
Style / Accessories
Gucci for Unicef – Snowman in Africa
Gucci has announced its 5th anniversary charity campaign which will benefit the United Nations Children's Fund (UNICEF). This year's collection is inspired by Snowman in Africa, the sequel to the best-selling children's book Snowman in Paradise. Between November 16th and December 31st the book will be sold only through Gucci and 100% of its revenue […]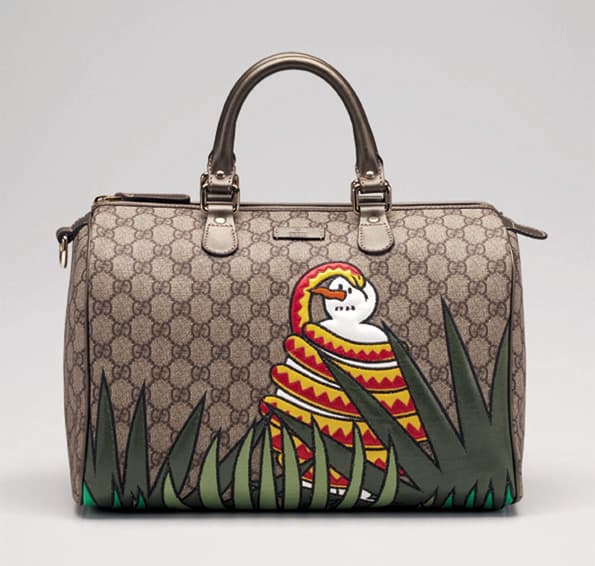 Gucci has announced its 5th anniversary charity campaign which will benefit the United Nations Children's Fund (UNICEF).
This year's collection is inspired by Snowman in Africa, the sequel to the best-selling children's book Snowman in Paradise.
Between November 16th and December 31st the book will be sold only through Gucci and 100% of its revenue will be donated to UNICEF.


In addition, several other accessories will be released alongside the book which will be available exclusively through Gucci.
Each is inspired by the unique illustrations found in Michael Robert's book.
Symbolic charms represent different characters from the book and can be used as key rings or add on charms to any accessory.
The collection will also feature two medium sized Gucci Joy Handbags displaying magical illustrations from Robert's book.
And, a series of leather goods including a wallet and coin purse will be for sale featuring animated print from Snowman in Africa.
The Joy Bags, charms, small leather goods, and gift cards will be on sale in Gucci stores in more than 20 countries until December 31, 2009, and 25% of the retail price of each item will be donated to UNICEF.
In the past five years the designer handbag brand has raised almost $7 million to support UNICEF's efforts in education, healthcare, protection, and clean water.
---