---
Style / Jewellery
Jewelry from Sabido & Basteris
Italian-Mexican fine jewelry designer Victor Sabido Basteris has updated the classic friendship bracelet using eco-friendly, recycled silver filigree thread. The inspiration for the collection stems from the beauty and vivid colors seen on the murals within the Mayan temples of Mexico. The collection also uses gold, gemstones, wood, crystal, leather, and mother-of-pearl in a wide […]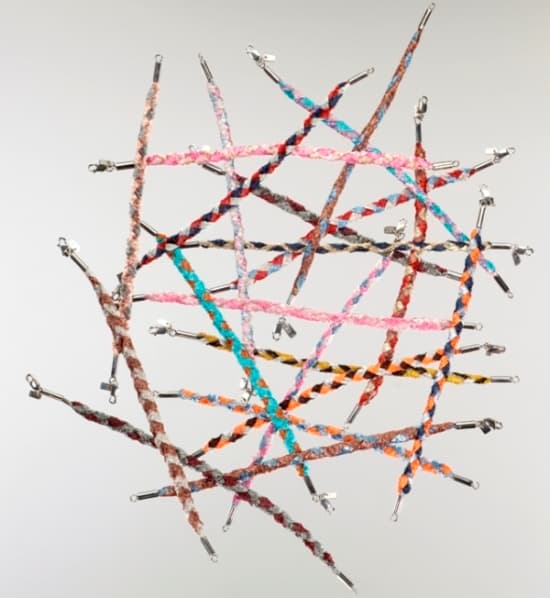 Italian-Mexican fine jewelry designer Victor Sabido Basteris has updated the classic friendship bracelet using eco-friendly, recycled silver filigree thread.
The inspiration for the collection stems from the beauty and vivid colors seen on the murals within the Mayan temples of Mexico.
The collection also uses gold, gemstones, wood, crystal, leather, and mother-of-pearl in a wide palette of colors to make dramatic one of a kind neckpieces.

The dyed silver is next weft together in an entirely new way, creating ribbons of rainbows unlike anything anyone has seen before.
Besides being aesthetically beautiful, Sabido & Basteris is also eco-chic, using only "green" silver in many of their elements, meaning that by recycling silver that has already been mined, it avoids the energy use and pollution caused in mining large quantities of silver.
Recycling the silver in no way diminishes the quality, and only adds to the individuality of the brand.
While Sabido & Basteris is internationally renowned, this effervescent line is being introduced to the US market for the first time in Spring 2009 to high anticipation.
Their pieces range from $80 (for a basic dyed silver friendship bracelet) to $30,000.
The bracelets featured above are available in a multitude of colors including rust, mocha, pale pink, ocean blue, mauve, copper and moss.
---