---
Style / Beauty & Wellness
Meet Jean-Claude Ellena, 'scent writer' for Hermes
Jean-Claude Ellena is a perfumer who never wears perfume, whose tools are pen, paper and memory, and who sees his work as "nose" for the French luxury house Hermes as that of a "scent writer". "In a perfect world, I wish perfumes were never worn at all," smiled the 64-year-old master perfumer as he welcomed […]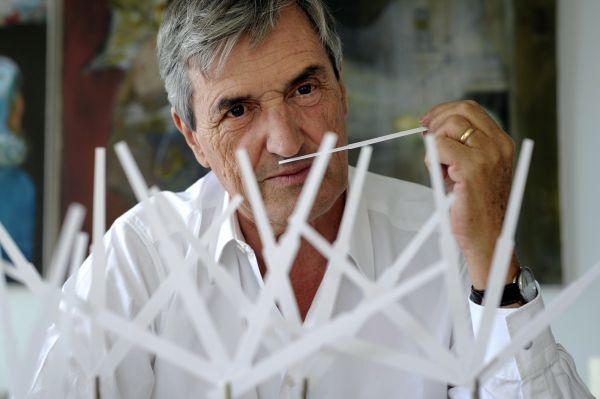 Jean-Claude Ellena is a perfumer who never wears perfume, whose tools are pen, paper and memory, and who sees his work as "nose" for the French luxury house Hermes as that of a "scent writer".
"In a perfect world, I wish perfumes were never worn at all," smiled the 64-year-old master perfumer as he welcomed AFP to the Hermes workshop, in the pine-clad hills above the bay of Antibes on the Mediterranean coast.
Ellena sees his perfumes as "artworks" — fine art that has sent annual sales at Hermes' perfume division soaring from 65 million euros when he joined in 2004, to 138 million euros last year.

Earlier this year, he published "Journal of a Perfumer", which narrates a year in his life and reveals recipes of 22 scents out of a desire to share "tips" with the younger generation.
Ellena claims to be the "nose" who uses the fewest ingredients in the world — composing with fewer than 200 substances, compared to between 1,000 to 1,500 for a typical perfume.
"To create a perfume, I need to tell a story," he explains in his book.
Born to a perfumer father, Ellena grew up in France's southeastern perfume capital Grasse, which produces the lion's share of the natural scents used in the country's flourishing perfume industry.
Today he lives back in his home region, in a village near Antibes, and works in a modern architect-designed house in the hills above, whose vast windows overlook a pine forest and plunging sea views.
"Welcome to the workshop of Hermes perfumes," he quips with a smile.
Ellena moves back and forth from his light-flooded study, where he devises formulae at a desk, pen and paper in hand, to the lab where ingredients are plucked, measured and mixed, from two carousels loaded with vials of scent.
He uses around one third natural ingredients, and synthetic scents for the rest, dosing milligramme by milligramme.
As a perfume takes shape, he returns to the study to smell touches on strips of blotting paper, repeating the to and fro sometimes dozens of times.
Scents, he says, are neither masculine nor feminine: "The idea of putting a gender on perfume is a recent and commercial one."
When his trials are just nearing completion, whether men's or women's perfumes, he puts them on to "see their imperfections".
But otherwise, Ellena wears no perfume to be "as neutral as possible" when working.
Inspired by visits his wife Susannah used to pay to a specialty tea shop, Ellena was the first perfumer to use tea in his creations — an ingredient that has become something of a signature.
But he also likes to work with darker, mustier smells — like the notes of sweat which he added to "Terre d'Hermes", created for the house in 2006 and today France's fifth most sold perfume.
"Skin smells are interesting," explained the perfumer, for whom "smelling is a skill."
"Smell what you eat, what you drink. Smell bodies. Think about smells, become aware of them," he says by way of a recipe.
"From there on it is a question of digging into my memory to discover what is contained in a smell. At first you will spot a hint of this, a hint of that. But little by little you narrow it down.
"Then you have to strip away your own emotions," he says, "because you cannot put memories into a bottle — it doesn't work."
"And from that point you build something that triggers a new emotion. And you have a perfume."
"When I imagined 'Voyage' for Hermes," he said, "I wanted to create a tense kind of scent. Without that tension I had in mind, it wouldn't work. I got there in the end — but it is something quite abstract."
Ellena took his first steps in the perfume world aged 16, in a factory in Grasse, and was taken on three years later as a perfumer's assistant at Givaudan in Switzerland.
After stints in New York and Geneva, he moved to Paris in 1975 with his wife and two young children, and the following year — aged just 28 — encountered his first major success with "First" for Van Cleef and Arpels.
Ellena has come a long way since "First" — "a piling-up of ingredients" — with a minimalist search for "purity" now at the heart of his work.
Before joining Hermes, he set two conditions: to stay close to his native Grasse, and to be free of marketing constraints.
When devising a new scent, he works directly with the head of the firm's perfume division — and together they make their choices without focus groups or market surveys.
Each year he creates a perfume on the garden theme — "Un Jardin en Mediterrannee", "Un Jardin au Kerala" — travelling each time to the place in question to seek inspiration.
He also regularly adds to a collection called "Hermessences", which he calls perfume "haikus".
Ellena has the final say on the names and prices of his perfumes, and also helps select the bottle design: "The name of a perfume is the story's title."
But his vision for a perfume, he explains, "stops the moment it is put on the market.
"From that point onwards it is a child setting off on its own. Its is no longer mine to own — people make it theirs, and that is fine by me.
Source: AFPrelaxnews
---