---
Properties / Interiors & Decor
The Rock Creek House is a Modern Example of Progressive Architecture
The Rock Creek House is home to an abundance of natural light, private spaces that peek into public ones, and hallucinatory design elements.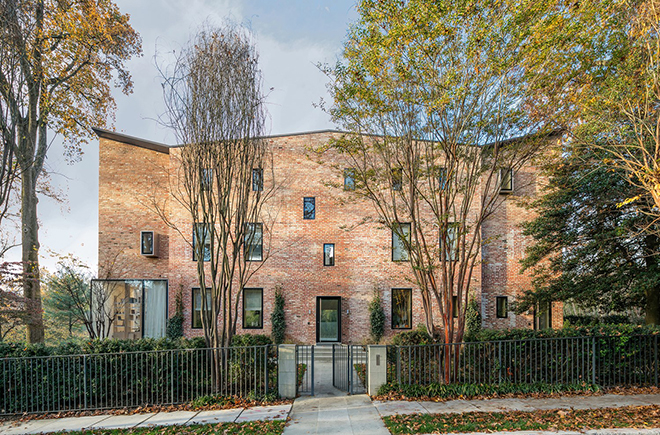 Led by principal designer Nadar Tehrani, NADAAA is a platform for large scale design investigation with a great geographic reach. Their projects which range from furniture to architecture and urban design, focus predominantly on craft, construction, and digital fabrication. Of the innumerable commercial, industrial, and private spaces the Boston-based architectural firm has elevated, the Rock Creek House in Washington DC, is by far their most notable.
In an adaptive re-use project of a 1920's brick structure, the Rock Creek House was originally composed of two floors, with a mechanical basement and attic. Through leveraging the site's robust and existing structures, NADAAA successfully lengthened the home, expanding its functions into the landscape.
The structure, now twice its original size, features a north-and-south glazed street façade, which establishes a more precise relationship between rooms and their respective apertures. Where one side is formal, insular, and composed, the other facilitates a significantly open dialogue with the surrounding nature.
Reimagined as a 'modern series of experiences', the residence is highlighted by two multi-height spaces – The first: a palatial living room which dominates the lower garden level and connects to the entry level via an elusive opening and stairway, and the second being a three-story central stairway which links the entrance to its former attic level.
Showcasing an array of laminated plywood, NADAAA hints to striated reorganization of space that marks the site's transition from old to new – a concept that rings consistent throughout the home, right down to the closets, seats, and window frames.
Expanded from two levels plus a basement to four finished floors, the building's brick envelope is the launching pad for an irregular pattern of windows that hint at the new and more sectionally complex interior. Characterized by a multitude of private spaces that peek into public ones, and by privileged views, the Rock Creek House is home to an abundance of natural light and hallucinatory illusions.
---