---
Properties / Hotels
Top 10 Most Luxurious Villa Rentals in Asia by The Private World
The Private World presents the top 10 most luxurious and top-class rental villas in Asia. Ideal for your next holiday trip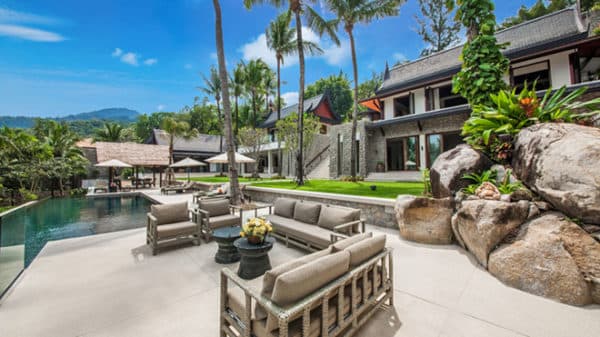 Luxurious Rental Villas For Your Next Trip To Asia
To redefine luxury villa rentals in Asia is one bold ambition. And yet, as experienced by many of their guests, that ambition has found transpiration into reality in the services of The Private World. How? Through a masterful orchestration of three things: unconventional luxury, ultimate privacy, and personalized experience.
Aside from having arguably the best collection of top-class villas in Asia, The Private World also prides itself with its detail-oriented bespoke services. Armed with years of knowledge in luxury villa and homes rental, it offers to fulfill the dream holiday of every elite traveler, in many cases even surpassing their expectations. From arranging private massage sessions to making reservations in the finest dining places in town to chartering yachts and private jets, guests are guaranteed a truly personalized experience.
These key elements equate the perfect recipe that has truly captured the dream holiday of the numerous luxury travelers who have discovered what the company has to offer. Should you wish to find it out for yourself together with your family or friends, we have listed the top 10 luxury villa rentals in Asia from The Private World's collection:
Villa Analaya Phuket
Poised gracefully on a seafront in Phuket's divine Kamala area, Villa Analaya welcomes you to a six- bedroom haven bathed in traditional Thai aesthetics and spruced up by artistic Buddha statues, lovely stone carvings, and endearing Wat style roofs. A zero-edge pool necklaced by elegant furniture make up the outdoor facilities which also include a private gym and a trampoline.
The interior is composed of a spectacular open-plan kitchen and a glorious living room overlooking a lush lawn whose walls are lined with Thai art and lit up by subtly shaded sofas. The master bedrooms, on the other hand, come equipped with an all-around technological package encompassing state-of-the-art baths & showers and an immersive flat screen alongside other niceties.
Villa Sawarin Phuket
Villa Sawarin, one of the most luxurious villas to rent in Phuket, is a magnificent combination of past and present with a wave of beautiful modernity accentuated by legendary Thai charm sweeping an opulence and exclusivity that is simply breathtaking. Standing majestically in the spectacular Cape Yamu setting where water and untouched vegetation bow to the awe of this designer village, Sawarin claims acres of enticing tropical gardens.
Modern-day grandeur is evident in a lineup of eight lavish bedrooms, an enthralling pool that sits alluring against a lavish front yard overlooking the sea, a living room overflowing with an expensive brown and a fully equipped media room boasting the latest in entertainment necessities.
Akatsuki Koh Samui
What happens when fabulous interior design and age-old customs meet ingenious masonry and a scintillating landscape? Well, the answer is this delicious two-story serving on the magical coast of Koh Samui. It comes with mesmerizing individual bungalow appetizers spread out across gorgeous lands which neighbors an ashy white coastline holding back turquoise backdrops that stretch out as far as the eye can see.
Villa Akatsuki engulfs you in a village-esque theme borrowing a leaf from the "Land of the Rising Sun" imploring traditional Japanese roofing to finish off winsome contemporary designs. Home to an infinity pool that cascades over three levels, Akatsuki is just as adept on the inside as it is on the outside with a glossy wood finishing reverberating throughout all the rooms. Villa Akatsuki is one of the most sought-after beachfront holiday villa rentals in Koh Samui by luxury travelers.
Villa Sangkachai Koh Samui
Sangkachai is a hilltop villa suffocated by panoramic views of ravishing tropical seascape and it is one that is desirable as it perfectly ticks all the right boxes with regards to the epic Thai villa. It presents four decadent bedrooms, a vibrant games room sheltered by nostalgic yesteryear themes, and a living room & dining room taken up by sleek accessories and elegant furniture.
The retro-classic cinema and games room steal the spotlight and deservedly so but the villa also has much else to offer. The sumptuous L-shaped infinity pool falls in that category and so too does the adept gym and funky front that is composed of laid-back sun loungers and a well-placed sala that peers into the gorgeous horizon.
Villa Amarapura Phuket
The island of Phuket is one of overflowing treasures the highlight of which is this immaculate luxury villa that brings your dreams into seven classy bedrooms of bewitching reality. From the get-go, it appeals to the senses with its magical jugged vantage perch that towers over a domineering white yard punctuated by a shimmering infinity pool. Transparent glass edges and sparkling stone patterns demarcate the layout superbly.
Venturing inwards, a custom-installed golf simulation awaits paving way for bedrooms generous in white linen and boasting regal outdoor Jacuzzis. The subtle white that clings to walls and the delicious bamboo that claims the floors spill over to other rooms cementing a lavish and sparkling look of modernity.
Villa Padma Phuket
Holiday bliss is the order of the day at Villa Padma. It stands nonchalantly as the only piece of prestigious civilization in an area overrun by a vivacious indigenous forest, sandy contours and a scintillating watery backdrop that spans for miles on end.
The villa oozes classic comfort and chic style which permeate across its four bedrooms while the interior in its entirety avails a jaw-dropping combination of endearing white concrete paired with charming bamboo variations. The outside meanwhile continues the traditional Thai theme evident inside, providing a trademark sunken Sala and an infinity pool that turns invisible in the turquoise backdrop.
Villa Kaba Kaba Bali
Kaba Kaba is an eight bedroom masterpiece that is the very epitome of luxury villas in Bali. It sets the pace with a dazzling surrounding consisting of holiday trees, a well-kempt yard encompassing rolling lawns, a state-of-the-art helipad and an assembly of four wittingly crafted pools. Stunning views of volcanoes and rice fields complete the presentation engulfing you in a serene family-friendly getaway perfect for a quiet but elegant vacation.
The sprawling estate earns plaudits for its unparalleled art design and immense size which is taken up by several rustic pavilions that gracefully tone down the vibrancy of the outdoors. Curated decor composed of whimsical modern art sprinkled with the pixy dust of Indonesian culture takes over the living room, dining room and bedrooms providing a finishing that you can gaze into for hours.
Villa Jamadara Bali
Jamadara is an oasis on the edge of a cliff which brings forth picturesque views everywhere you look. Raw unspoiled nature lies side by side with sybaritic architecture that offers the expected delicacies of a villa of its stature including an idyllic courtyard and a generously sized infinity pool surrounded by pleasurable furniture.
The devil is in the detail with this villa as each room takes on its own distinct style although the construction generally taps into the traditional Balinese theme albeit with a welcomed touch electric décor and present- age amenities. Roman touches wonderfully round out an irresistible atmosphere that kicks you right in the feels.
Villa Paradiso Phuket
For a villa named as much, it's safe to say the Paradiso lives up to its billing. Its bird's eye view atop the marvelous Naithon beach aside, the hillside holiday home offers much in the way of eye candy. From glossy timber flooring and ceilings to slithery white floors and walls, it serenades you in lavish opulence evident from room to room.
The living style is luxurious as the five bedrooms are filled with king-sized fluffy beds while the living and dining rooms are spoiled with minimalist décor that stands out in rooms bordered by wall-to-wall glass windows.
Villa Anavaya Koh Samui
Last but by no means least is the villa Anavaya that has a serious case of the wow-factor. Heavenly shots of a beautiful interaction between sea and landscape can be taken in from a rooftop lounge that is outstandingly poised on the first floor which is accentuated by adorable granite edges and little sections of invigorating green.
A glance across the interior reveals that this six bedroom magnificence matches scintillating views with an enthralling design. Ingenious masonry incorporating precious stones breathes life into a playfully lit cinema room while a dining & living room fitted with immersive white seating and a lovely wooden layout scream utter royalty. An orange-hued sunken sala and a seamless infinity pool complete the picture of the prestigious villa which is certainly worth more than a thousand words.
This article is adapted from The Private World
The Private World promises a luxury holiday experience draped in exclusivity and bespoke luxury. Should you wish to make a reservation, a team of highly-trained villa specialists is ready to receive inquiries any time of the day.
Website: www.theprivateworld.com
Email: [email protected]
Phone: +852 8120 8488
---