---
Properties / Hotels
InterContinental – Concierge Insider Guides iPad app
InterContinental has launched a new, content-rich iPad app which offers extensive information about destinations for travelers. The new app was designed to tap into the knowledge of its concierges, offering information on recommended restaurants, shops and nightspots, as well as other topics such as local culture and attractions in more than 120 destinations. Other features […]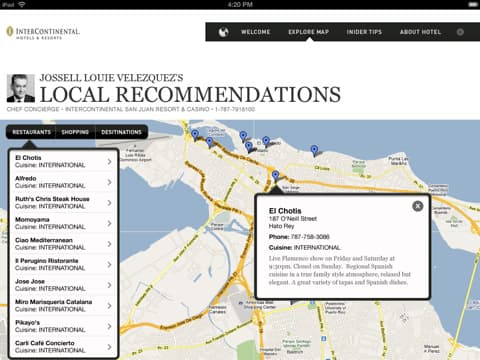 InterContinental has launched a new, content-rich iPad app which offers extensive information about destinations for travelers.
The new app was designed to tap into the knowledge of its concierges, offering information on recommended restaurants, shops and nightspots, as well as other topics such as local culture and attractions in more than 120 destinations.
Other features include interactive maps, destination-specific streaming videos, suggested itineraries and insider tips on subjects such as what to pack, detailed information about each property and an online booking capability.

Although app guidebooks from publishers such as Lonely Planet are widespread, competing content is now being offered by hotel chains.
In August, luxury chain Fairmont released its own app, which offers a similar selection of picks designed to help visitors enjoy their destination, such as local businesses, restaurants and other attractions.
InterContinental's Michael Menis said that its app was a response to a change in the way consumers are using their smartphones while travelling.
"Consumers continue to use new forms of wireless devices to not only search, shop and book travel, but they are increasingly turning to wireless tablets as modern day magazines to explore locations in a much deeper and richer way," he said.
Source: Relaxnews – Download the app here
---