---
Culture / Events
Veuve Clicquot Polo Classic Is Back
Prince Harry will be in New York City to once again attend the Veuve Clicquot Polo Classic on Governors' Island on June 27th. Polo is played on horseback; teams of four try to score goals by hitting the ball into the opponents' goal using long-handled mallets. He will again face off against Argentine polo player […]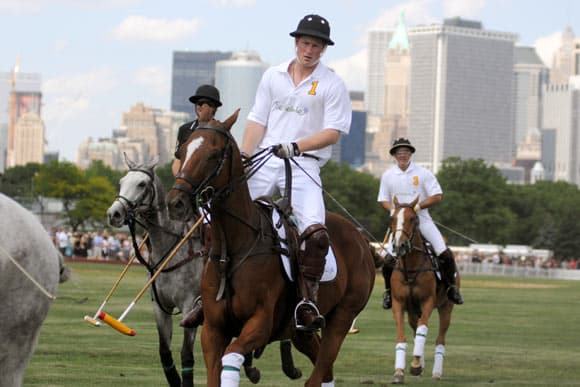 Prince Harry will be in New York City to once again attend the Veuve Clicquot Polo Classic on Governors' Island on June 27th.
Polo is played on horseback; teams of four try to score goals by hitting the ball into the opponents' goal using long-handled mallets.
He will again face off against Argentine polo player Nacho Figueras, who is also a model for Ralph Lauren.

The event will benefit American Friends of Sentebale, the U.S. arm of the global charity co-founded by Harry and Prince Seeiso of the Lesotho Royal Family.
"The Veuve Clicquot Polo Classic is the revival of what polo used to be in the 20s and 30s; the real history and glamour of polo in New York City," said Figueras.
There are two ways to join the VIP experience at the Veuve Clicquot Polo Classic: purchase a table in the VIP Marquee or buy a picnic ticket for a champagne lunch on the lawn.
In reverence to the long-time tradition, classic polo style is requested: women in hats; men in summer suits.
Last year's event was a smash success, drawing over 6,000 picnic-goers and VIP spectators like Madonna, Kate Hudson, Marc Jacobs and Chloe Sevigny.
---