---
Culture / Events
The world's top auto shows in 2012
Automakers spent 2011 trying to woo car buyers with ever-greener powertains and ever-more advanced technology, a trend that looks set to continue in 2012. Here, a round-up of the most important auto shows of the year. 11th AutoExpo January 7 – 11 / New Delhi, India India's burgeoning population is turning from two wheels to […]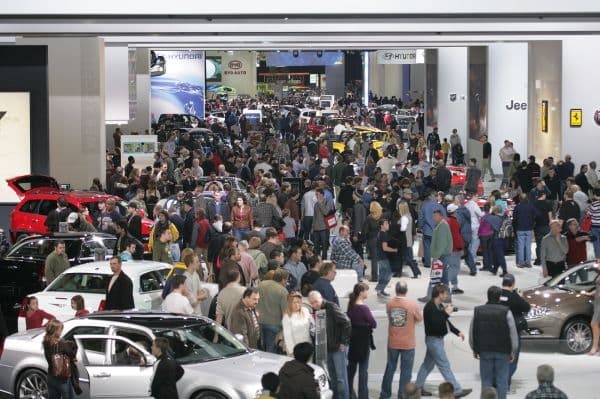 Automakers spent 2011 trying to woo car buyers with ever-greener powertains and ever-more advanced technology, a trend that looks set to continue in 2012. Here, a round-up of the most important auto shows of the year.

11th AutoExpo
January 7 – 11 / New Delhi, India
India's burgeoning population is turning from two wheels to four in droves, and Indian automakers — and the rest of the world — know it.
New models from giants such as Tata and Maruti will likely hog the spotlight, but Indian-specific versions of global cars are also worth keeping a look out for.
24th North American International Auto Show
January 14-22 / Detroit, Michigan, USA
Despite losing some of its sheen in recent years, NAIAS is still one of the biggest events of the year, the place where US and international automakers debut new models set to go on sale around the world.
Look out for the finalists for the European Car of the Year and the winners of the North American Car of the Year, both announced January 9.
82nd Geneva Motor Show
March 8-18 / Geneva, Switzerland
Europe's first major show of the year sees major automakers from across the continent vying for the attention of the masses, with Germany and France always among the best represented.

12th Auto China
April 27 – May 2 / Beijing, China
If there is one event in the year likely to outshine NAIAS and Geneva, this is it. Auto Beijing is the one place the world's automakers will be desperate to put in an appearance at, but don't forget the local brands also keen to keep their piece of the world's largest auto market.
62nd Pebble Beach Concours d'Elegance
August 19 / Monterey, California, USA
The world's most prestigious concours d'elegance is increasingly becoming an auto show in itself, with luxury automakers choosing to debut concept or production models on the lush green grass of the Pebble Beach Golf Course.
64th IAA Hamburg
September 20-27 / Hamburg, Germany
The world's most significant commercial/industrial vehicle event in 2012 is likely to see significant debuts from Germany's plethora of bus and coach makers, with a particular focus on green and electric public transport solutions.
Paris Motor Show
September 29 – October 14 / Paris, France
Likely to rival Geneva as one of the year's biggest automotive events, the biennial Paris Motor Show adds more glitz and glamor to motoring than anywhere else.
A host of accompanying events makes this event an ideal family day out, but don't be fooled — it's likely to host some of the most significant debuts of the year and the industry will be watching closely.
With 1.2 million visitors in 2010, Paris is the world's most visited auto show.
Los Angeles International Auto Show
November 30 – December 9 (press days November 28-29)
Los Angeles, California, USA
Widely regarded as the greenest show on the block, the Los Angeles event is a popular place for automakers to showcase their best eco-friendly concepts and new models. Look out for the Green Car of the Year award, announced during the press conferences.
---