---
Culture / Celebrities
Dita Von Teese in a sexy Perrier commercial
Sultry model and pin-up girl extraordinaire Dita Von Teese is the new face and Body of Perrier in an interactive web site. On this site (Perrierbydita.com) we are invited to join Dita in his mansion named "Perrier Mansion for a sensual experience, exciting and unique. As users follow Dita to enter a mansion, they have […]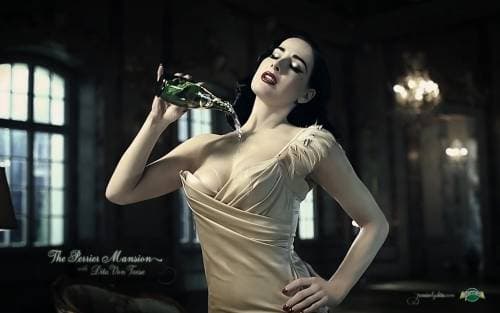 Sultry model and pin-up girl extraordinaire Dita Von Teese is the new face and Body of Perrier in an interactive web site.
On this site (Perrierbydita.com) we are invited to join Dita in his mansion named "Perrier Mansion for a sensual experience, exciting and unique.
As users follow Dita to enter a mansion, they have to pick between two doors.


In the one on the left, marked 'the dark room', you take pictures of the star in sexy poses.
But it's the door on the right that will leave fans needing a good cooling off – as Von Teese plays a game of dice that sees her act out whatever is rolled.
Watch Dita strip and pour sparkling water all over her peach colored silk lingerie, all in the name of Perrier:
Dita Von Teese's images also grace a limited edition line of Perrier bottles and cans.
---