---
Culture / Auctions
Sgt Pepper Drum Skin Sells At Auction
The drum skin used on the cover of The Beatles' Sgt Pepper album has sold for £541,250 ($1.07m) at auction in London, almost four times the estimate. The skin was a hand-painted item that was only ever used for the cover of the classic 1967 album. Sgt Pepper's Lonely Hearts Club Band was not only […]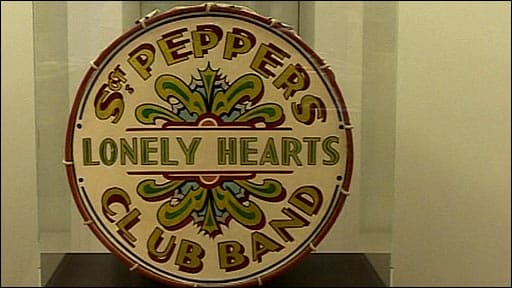 The drum skin used on the cover of The Beatles' Sgt Pepper album has sold for £541,250 ($1.07m) at auction in London, almost four times the estimate.
The skin was a hand-painted item that was only ever used for the cover of the classic 1967 album.
Sgt Pepper's Lonely Hearts Club Band was not only one of The Beatles biggest albums, it was also one of the most important albums ever from the rock era.
The Beatles began recording the album on December 6, 1966 and spent the next 129 days in recording. That was an amazing time for a recording in the 60s.
The Sgt Pepper skin was just one of many Beatles items that sold at the auction : a pair of tinted prescription sunglasses belonging to Lennon, which the singer wore for the cover of the single Mind Games, raised £39,650 ($78,400) and the hand-written lyrics to "Give Peace A Chance" sold for £421,250 ($833,000). Source: BBC
---